Here How to Turn Off Autocorrect on iPhone and iPad whether you want to get rid of it or turn it back on.
Autocorrect comes in handy when you have a little time to notice your message what you are typing before you hit send. Ensure you know what you wrote and whom you just sent it to; the rest is almost taken care of by Autocorrect and predictive text algorithm.
The iPhone and Android users can vouch for this tool as it's the only feature that serves the same purpose. Whether assistive or frustrating, smartphone users have mixed opinions on its use.
How to Turn Off Autocorrect on iPhone and iPad
The rush hour texting can land you in utter shambles if the text you intended gets converted automatically into something else and gets read on the other end in a whole different meaning.
If you are one of the users tired of seeing their texts changed, here is a step-by-step assistive guide to let you go manual and turn off auto correct on iPhone with iOS 11 and above. The same steps works on iPhone 6, iphone 7, iPhone 8, iPhone 10, iPhone 11 etc.
From the home screen of your iPhone tap settings icon.
Tap on General option on the menu that pops up.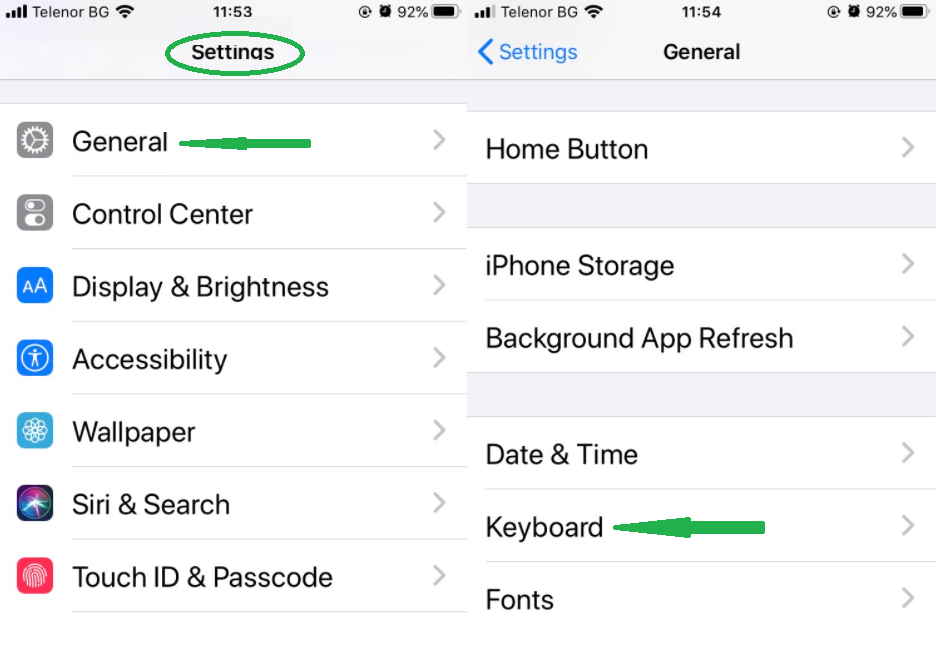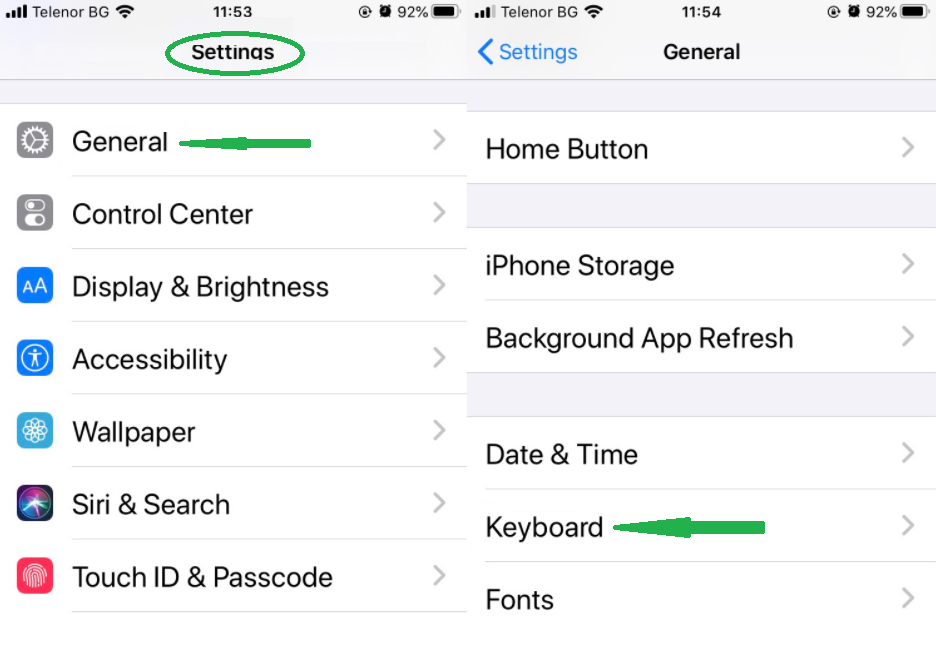 The new screen that appears has the keyboard settings, find the all keyboard settings.
Locate Auto-correction and toggle the button next to it.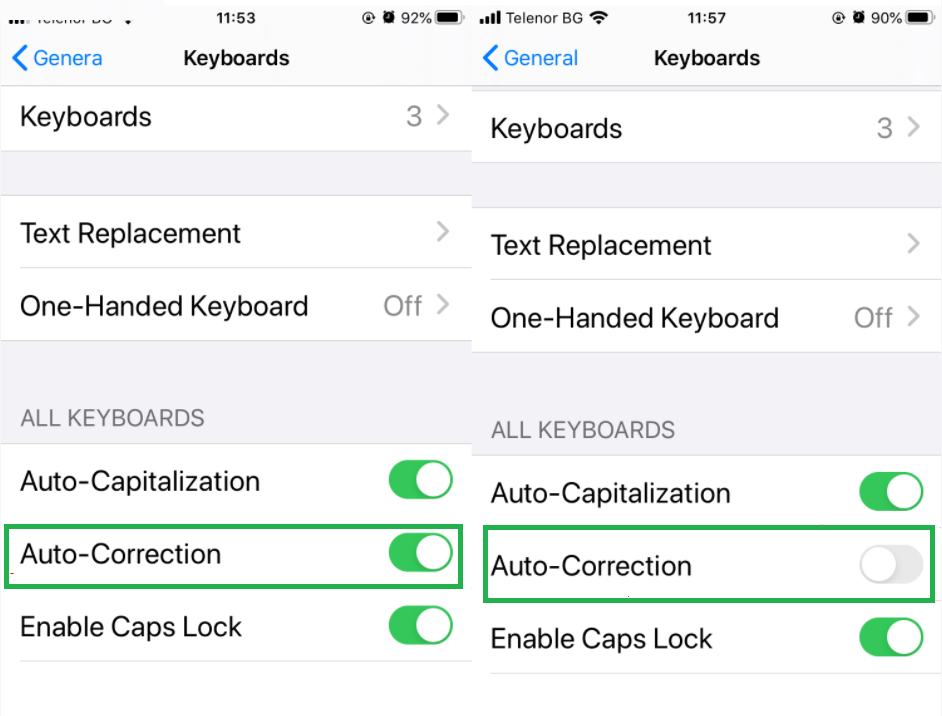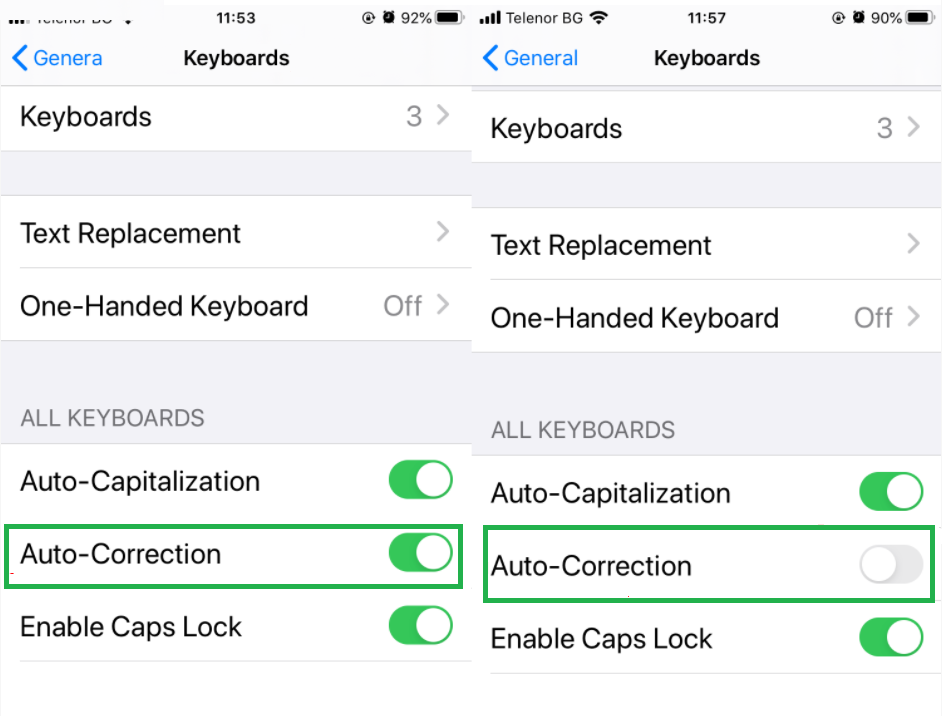 Once you tap it, its color turns from green to white.
That's all you have to do to disable autocorrect on iPhone. If auto-capitalization is also one of the annoying problems you face, you can handle it the same way; it's on the very list of options there. From there, you can disable all of the options to go manual. And that's how you'd have to rely on your vocabulary only.
There's no way you correct spelling automatically for any complicated word. The plus side is, you are always in charge of this feature. So, if you think turning on Autocorrect on iPhone seems instead a good option, you can enable the spelling checker, predictive text, etc.
How to Turn on Auto-correction on iPhone
Your iDevice corrects misspelt words using the Keyboard Dictionary as you type. To use it, you just need to go to the same place as explained in the above steps and turning the disabled auto-correction option back to green.


Why is Better to use predictive text?
It's obvious, everybody wants to get things done quickly, if you are a fast typer, you can complete your sentences within a few taps with the help of predictive text algorithm. As you type the first 2 or 3 letters of a word, you will be given choices of words and phrases (just like Gmail) based on your writing style and past conversations.
How to turn on/ off Predictive text
It's simple one-step solution to enable or disable it. Touch or hold (emoji) or (global language) in your text screen beside the text box.
Method 2: Go to Device settings> Keyboard settings > Toggle the button displayed against Predictive Text.
How to turn of Autocorrect on iPhone completely
There may be times when you have added wrongly spelt words in to your iPhone's Dictionary. This is resetting the dictionary is the only way to get rid of those incorrect words permanently. Every smartphone has a small database of words users tend to use in daily conversations or chats.
Chances are, with everyday conversations taking place, more incorrect words will add up to your dictionary without your notice.  The answer is to reset the dictionary and wipe every word off it. The solution to it is right there where we started.
Go to Settings> General> Reset Keyboard Dictionary.
Word of Thought
You need good vocabulary, at least to avoid the use of autocorrect unless you are a spelling bee contestant. My suggestion would be to go off the autocorrect feature for a while and rely on my own typing skills. If you are fast at typing and chatting, predictive text is absolutely made for you.
Be careful of what you type with autocorrect is on for the ones cautious about their spelling mistakes. In case you want to know How to Turn On or Off Auto Correct on iPhone, there's just a couple of steps you actually need to enable or disable it; no rocket science.
We Write on Latest Tech News, How to, Guide, Android, iPhone, Windows, MAC,  Reviews  and more.  Do you like TechZeal? We Count on You! Don't forget to follow us on Facebook, Twitter, Instagram …!
FAQs
How do I turn off iPhone Autocorrect?
On your iPhone or iPad, Tap on Settings > General > Keyboard Settings > Auto Correct (turn off Auto Correct)
How Do I Turn off Autocorrect on my iPhone 12?
Just follow the steps to Turn off Autocorrect on your iPhone 12 , Tap on Settings > General > Keyboard Settings > Auto Correct (turn off Auto Correct)