Best Android Launcher – Personalizing is what everyone likes to do with their smartphones. Every little thing, whether it's theme, homescreen, and icons or the way your device acts, things should be as per your need. Launcher apps have always been known to enhance your device's features and productivity. Today, I have found Best Android Launcher phones that would certainly redefine what personalization is.
With a variety of features, the launchers these days let you experience just about every function in a whole new way. Here, have a look at the top Android Launcher Apps 2022.
What is Launcher?
Android Launchers are an application program which will allow there user to customize their phones home screen and add some additional features to it will increase functionality and user experience.
In simple word, an android launcher is an android app which customize phone's home screen (phones desktop), user interface ex – launch mobile app, make mobile calls and perform other tasks in different interface.
List of Best Android Launchers you should have     
Grab the one that meets your expectations as this lattice brings you a set of launcher apps for android upon comparison, user ratings, and recommendations. As of now, Google Pixel Launcher is the only app that's still unbeaten in terms of customizing your smartphone. The only shortcoming is its compatibility issues with other smartphone brands. So, to enjoy similar features, these best launchers seem to fit right in.
Poco Launcher 2.0 – Customized, Fresh & Clean | Best Android Launcher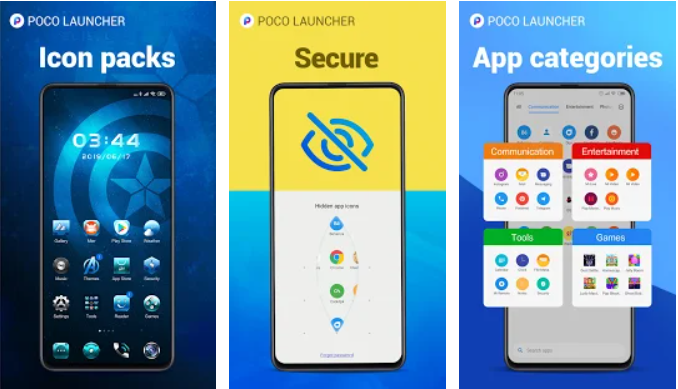 Poco Launcher ranks first among the best Android launchers apps list a few good reasons. It's free to use and officially developed by Xiaomi Inc. Its minimalist design keeps all the apps in your apps drawer, making the home screen look tidy. You can resize the home screen and icons, apply themes and animation, or even update third-party icon packs to your device.
Initially, Xiaomi had released it as a stock launcher for Pocophone, but you can also try it on your device. This app is optimized to deliver the best performance on slower systems. You can resize the homescreen and change the layout of the app-icons anytime.
Apply customized themes, wallpapers, or top-class animations. If you want some apps to work on your device discreetly, Poco launcher is the right choice for it.
One of the Fast and lightweight launcher designed for android smartphones
Customize your Phones interface by applying customized wallpaper, themes and animations.
Third party icon packs to give your smartphone very new look
Hide icons to keep your app privet
Apex Launcher– Customize, Secure and Effective | Best Android Launcher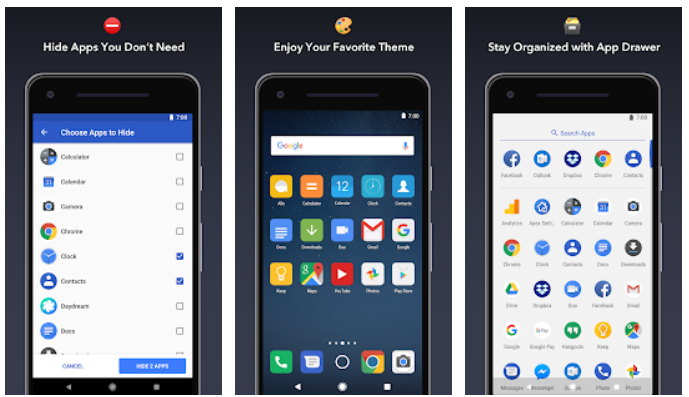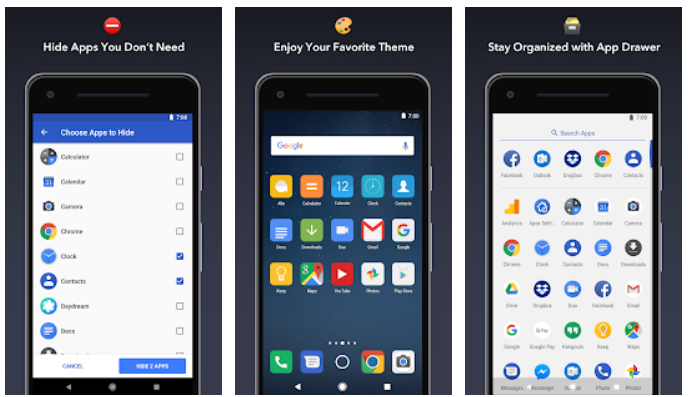 Apex android launcher would turn your device into a house of productivity and a smartness. Applying 3D transition effects is easier by using personalized customization features. You can do more using its free set of icon packs personalizing your phone's interface. Apex Launcher boosts your productivity further as you get along its Quick search, gestures, backup & restore tools.
Apex android launcher also comes with smart security and privacy feature that let you put security locks on each of the apps that reside on your phone. Its scrollable dock enables you to access multiple apps instantly displaying 10 icons per page and up to 5 pages.
You also get to customize the apps drawer and hide the ones you don't want. Enjoy the smart features using its basic swipe, pinch, and double-tap support. If Apex android launcher is enough to impress you, go for its paid version to unlock its advanced features.
Free custom themes and icon to customize your phone's screen
Quick search, gestures, backup and restore to increase your productivity
App hide and app lock facility available to protect your privacy
Nova Launcher | Best Android Launcher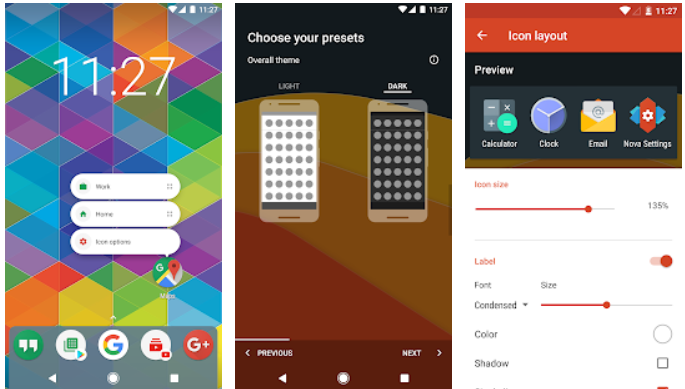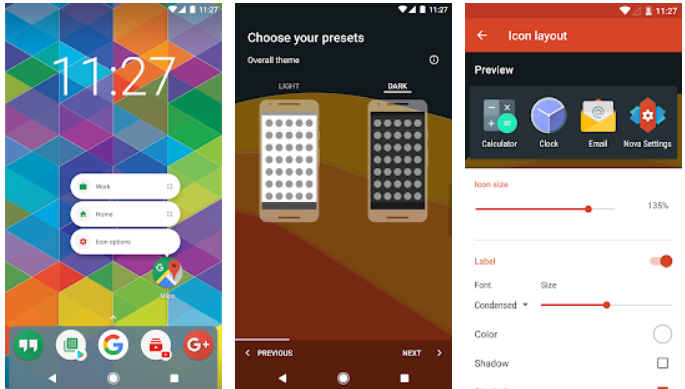 Nova android launcher is a sophisticated, smart, and most reliable tool to replace your unorganized homescreen. It's been on the list of top best android launchers for a while now. Nova is the perfect answer for all the android users when it comes to custom icon themes, app drawers, subgrid positioning, and the backup & restores features.
The laundry list in Nova android launcher is going to take you by surprise as you'll find gesture support and many other customizable features there. You can assign smart swipe gestures to your phone and turn your device into a brand new fortress with optimized performance. It's free to use, and if you still doubt its credibility, you are free to read full reviews given by many happy android users.
Supports thousand of icon themes
Dark mode and night mode is available
Light speed, highly optimized with smooth animation this will make your boring interface fastest.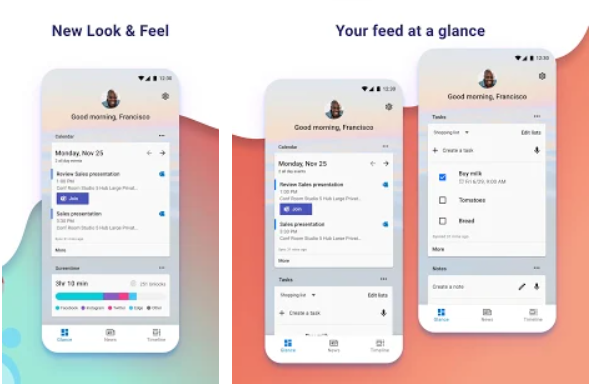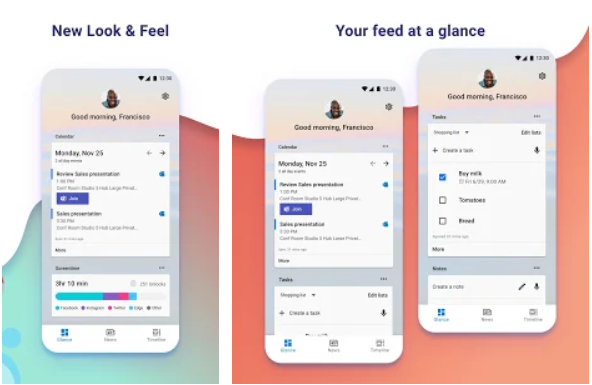 This free app came by the name Arrow android Launcher which was later owned by Microsoft and is now famous as Microsoft Launcher. Well, that happened back in 2017; but now, the app is rebuilt and developed on an entirely new database with lots of customizable features that helps you keep your phone organized.
Now it's easy to manage your calendar, to-do list, and sticky notes on the go with Microsoft Launcher, which is absolutely free. Once you set up MS Launcher as your new homescreen, you can revamp your favorite apps or import the existing homescreen layout.
If you want to undo the changes, you can do it without any fuss. Dark mode, a personalized news feed, better battery, and interactive wallpapers from Bing are some of its prominent features to look out for.
Give your phones to a consistent look with custom icons
Get Every day fresh new wallpaper for your home screen
Light and fast launcher which provide smooth experience, battery efficient.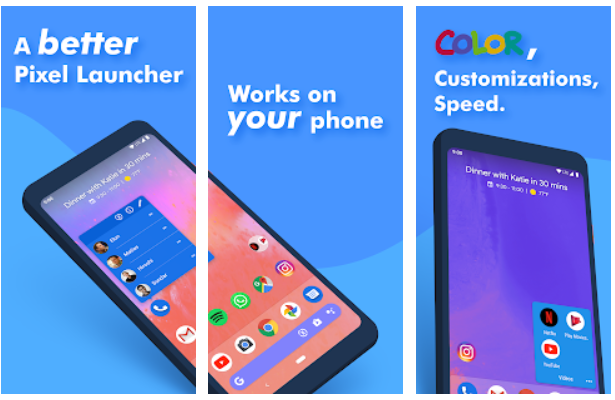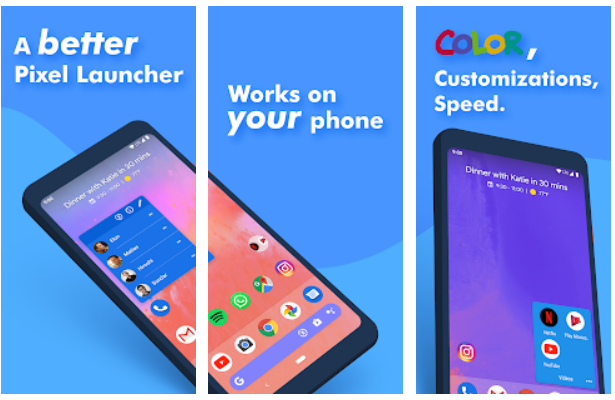 Action android Launcher has been a long-time favorite for many users. The latest edition of Acton launcher is based on Pixel launcher that pretty much outcompetes its counterpart with multiple customization and unique features. You'll find all the pixel launcher features in it namely a customizable dock search box, app shortcuts, a built-in weather widget, quicktheme, and quickedit.
Its theming and customization elements add another complement to its reputation by sporting smartsize icons and covers. Smartsize icons automatically resize and acclimate to the device's materialistic design, whereas, covers give you a unique functionality.
Tap on a cover to load an app, and swipe it to show a hidden folder. This launcher app is available for free, to make it more configurable, you can opt for a premium app.
Based on pixel android launcher to reveal new features ex- all app mode, tint the dock, folder style etc.
Fully control to color and customize the search box and its icon
Improved Android 11 compatibility
AIO Launcher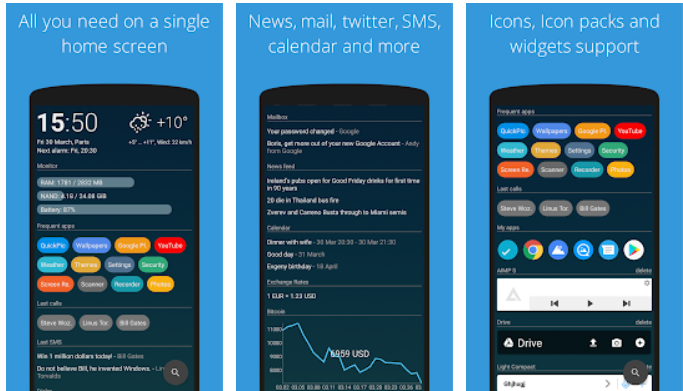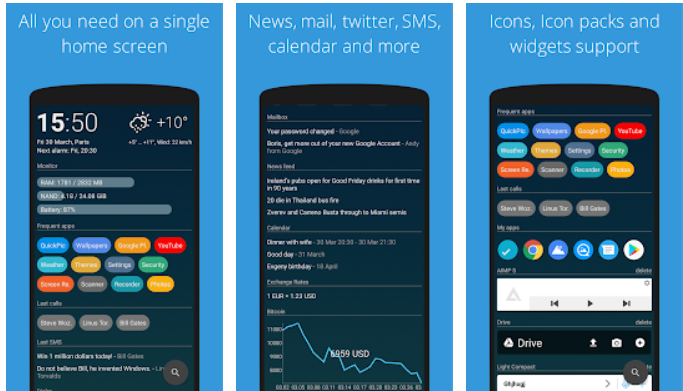 AIO android Launcher transforms your homescreen into something not less than extraordinary. It uses your screen to display all the major notification on your device's home screen. This unique feature makes it stand out the list of Best Android Launcher.
If you are a bitcoin trader, trying this launcher is must, because not only does it bring weather, exchange rates, and RSS feed, but also keeps you updated with the daily news and analysis of bitcoin market.
You get to choose multiple themes, attractive icon packs in customized shapes, font size, tasker integration, and widget & plugins support. Organizing your phone is way easier using this android launcher as you can use swipes and taps to perform complicated functions. AIO launcher is also available for free, so you can invest your time tweaking your phone. To get the most out of it, you can get it at a dollar and 99.
Many different themes with icon packs supports
Advance search system, change font size, contacts, files and information on the internet
Plugin and widget support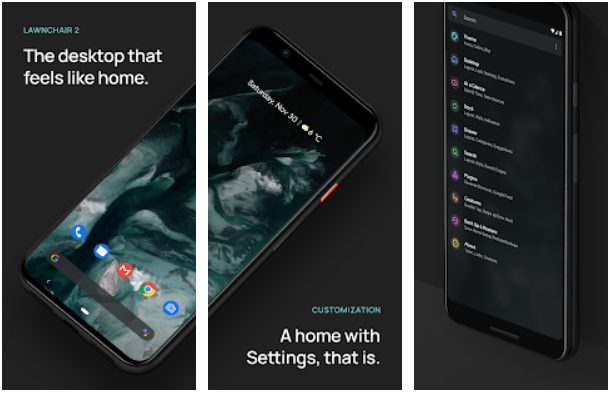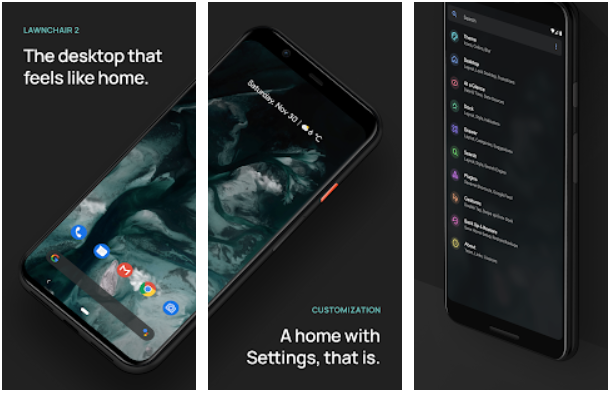 Lawnchair 2 is a powerful android launcher that's specifically built to deliver you a fantastic experience. It supports adaptive icons, dock & drawer features, integration with recent files and folders, etc. This open-source app is identical to Pixel launcher and easily integrates with Google Feed and homefeeder.
The developers have made it available for Android 9 in beta version. It's one of the modern launchers for android you can use for your latest android handset. Lawnchair 2 is still in the testing phase; you can expect support for Android 10 in future. So far, this launcher has been reported with any bugs.
Support for adaptive icons and themes
Automatic dark mode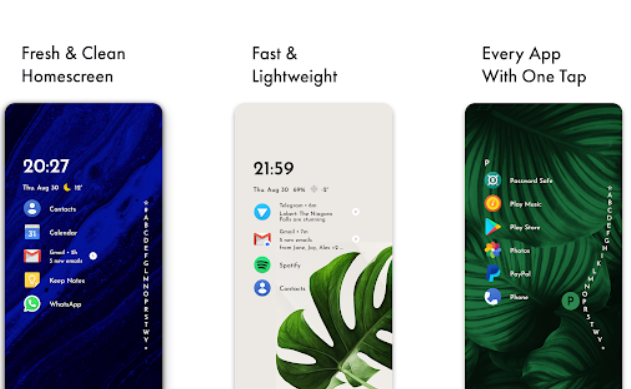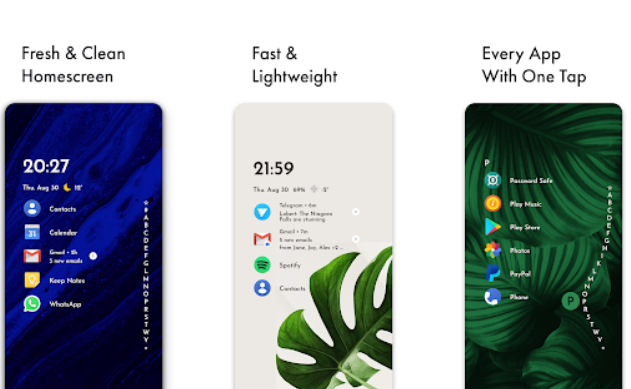 Niagara android Launcher is a well-known app to make your phone organized and presents all the apps in a simplified list. What makes Niagara Launcher different is that it brings you essential information about every received message directly to the homescreen. It's the only launcher that lets you multitask and access your device single-handedly. All the apps are within reach of your one hand where you can scroll and launch the app quickly.
Niagara android Launcher is a lightweight app that enhances your phone's productivity by hiding unwanted apps, lets you get quick access via shortcuts and more supportive features for Android 10. Choose either dark or light mode, loads of icon packs, and there are icons to choose for your apps too.
Available with very unique features and user interface
One of the light weight and fast launcher
The feature you will like to hide all pre loaded apps, to get a clean phones screen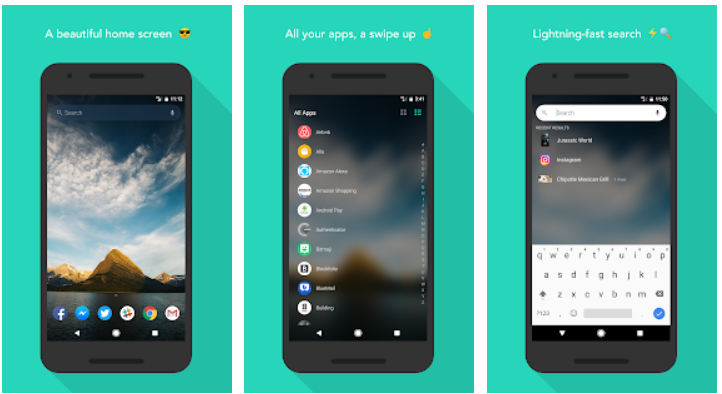 Developed officially by Evie Labs Inc., this launcher app takes 7th spot on the list of 10 Best Android Launcher. This app has bagged many awards since its launch. Its universal search feature is the one worth looking for. You can search for any installed app in one place, saving you time. The quick navigation and custom shortcuts tend to save much of your time as simple swipes let you shift control through apps instantly.
If you want a shortcut to a particular app, do it instantly. If you aren't satisfied with the new personalized features, you can switch back to the previous state. Customize the layout, wallpaper, icon size, app icons, and icon size to turn your homescreen unique. The time lock feature enables you to lock your device with a double-tap without requiring any admin permission.
Rootless Launcher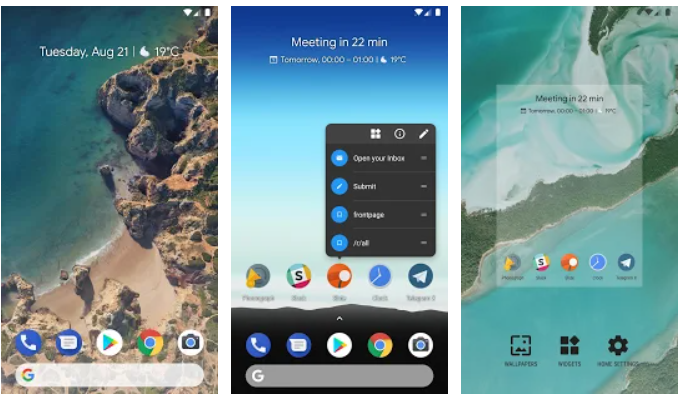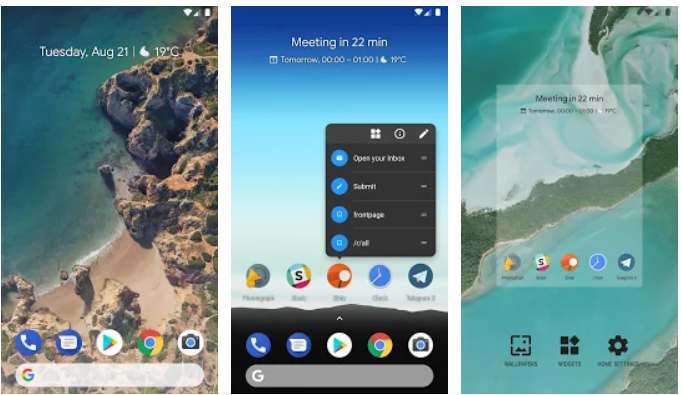 Here comes the last one to total this list of Best Android Launchers 2022 with impressive features. This decently created app lets you enjoy customizable features redefining the way your device looks and functions.
Rootless launcher lets your search for any app from your homescreen using its smart search bar at the bottom. Not only can you customize your phone's theme, but you can also change icon shapes, font size, and add Google News Feed on your homescreen to stay updated.
This free tool transforms your device in terms of appearance and adds life to your device. All you need is to download its plug-in to make work on your device. Rootless launcher runs flawlessly on Android 8.0 and above.
Winding Up 
Lie I use to say, paid versions always come with an extra set of features and functions. Personal suggestion, you can unlock the necessary accessibility features using any of the free launchers I mentioned here. However, there are a few on this list of Best Android Launcher that you can opt to purchase to boost your phone's productivity, turning your device into a masterpiece.
We Write on Latest Tech News, How to Guide, Android, iPhone, Windows, MAC, Reviews and more
Do you like TechZeal? We Count on You! Don't forget to follow us on Facebook, Twitter, Instagram …!