Paraphrasing apps are extremely helpful for writers and bloggers for the production of unique and quality content.
We are living in the year 2022, the advancement in technology is at another edge. In these modern times, writers do not waste their time and effort in thinking unique ideas for content production.
Manual content writing is not an ideal case scenario if you want to boost your content production however, you need to switch to paraphrasing apps to boost your writing skills.
Paraphrasing apps are totally legal to use because these apps produce content by changing the sentence structure and replacing words with their synonyms.
In this post, we will discuss the three most extremely helpful paraphrasing apps that writers can download on their smartphones and use whenever they want without the need foran internet connection.
Explore with us.
3 Best Paraphrasing Apps in 2022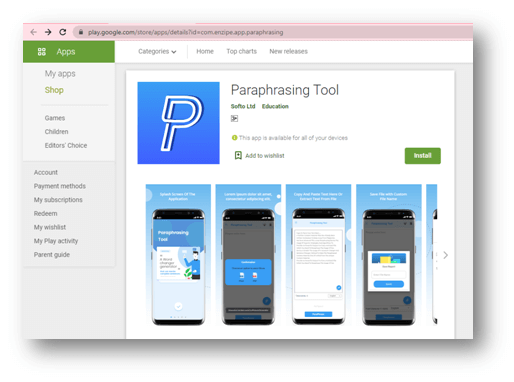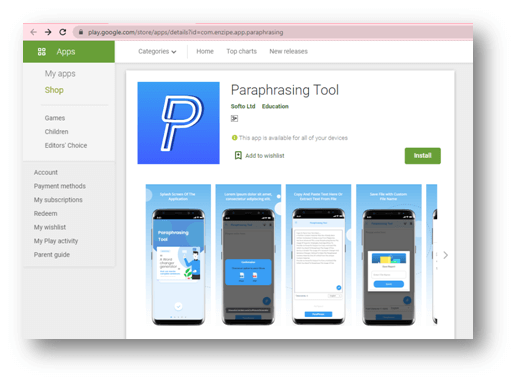 The first paraphrasing app that we will discuss in this post is 'Paraphrasing Tool' powered by Enzipe and it is one of the most extensively used paraphrasing apps in 2022.
If you are a writer or blogger and you have to create a bulk of content on daily basis then this app is ideal for you.
Why do we recommend this app?
The reason for the recommendation of this app is, it paraphrases content without disturbing the actual meaning of the context.
And instead of rewriting the whole content it just replaces words with their synonyms and even allows users to pick the best synonyms they like.
You can download the app from: https://play.google.com/store/apps/details?id=com.paraphraser.articlerewriter
List of features
· SEO-friendly content
With this paraphrasing app, writers can create SEO-friendly content in no time. Search engine optimization is the top-notch content writing skill that every writer must practice.
For beginners, it is not possible to learn and practice all of the content optimizing strategies but with this app, they can create SEO-friendly content to some extent.
The app creates unique content free of plagiarism and checks for all the grammatical and spelling errors in the paraphrased content.
For a search engine like Google, content should be high in quality which means no hidden grammatical mistakes and no poor sentence structures.
·Human-friendly readable content
Google made it clear that the content must be human-readable otherwise it is useless. Many people assume that the content produced by paraphrasing apps is poor in readability.
Well, it is not true! With this paraphrasing app, users can generate totally human-readable content as the app does not rephrases content by using complex vocabulary and it maintains the true meaning of the context.
Many writers fail to write content that is up to human readability level and it is a very demanding skill in the content writing field.
But, with this app, writers do not have to worry anymore.
·Great for everyone
The most amazing part about this app is, it is not designed just for writers and bloggers but for everyone. Students can use this app for writing essays and assignments.
All it takes is to copy the source content and paste it on the app and the app will paraphrase content fastly and professionally.
iParaphrase
The second paraphrasing app in our discussion is 'iParaphrase' powered by Noon.Ai. This is another great rewriting app for people in order to create high-quality content.
Why do we recommend this app?
The reason behind recommending iParaphrase is, it generates content with extreme accuracy and does not leave a chance of risking the originality of the content.
The job of a content writer and blogger is to produce unique, accurate, sweet, and high-quality content, guess what? The app is promising all of that.
List of features
·Highly advanced algorithm
This paraphrasing app is built on a highly advanced artificial intelligence algorithm that ensures content accuracy, uniqueness, and does not leave a chance of any mistake that could spoil content's quality.
When the user uploads source text in the app, the advanced algorithm initiates the process of scanning and deeply scans the whole content before rewriting.
·Secure and free to use
This paraphrasing app is free to use, does not hit users with subscription plans every time they open the application.
However, the free variant of this app only supports 500 characters long text. If you want to create content longer than 500 characters, you need to divide content between 2 to 3 halves.
Users can also buy paid packages but if you can not afford to pay for the premium packages, the free variant is your seal deal.
The app does not ask users to register themselves before using the application. It means the app is totally secure and users do not have to worry about data stealing.
·Rephrase text without altering the meaning
Writing bulk of data manually on a daily basis is very hectic and we often end up writing useless content that does not portray the actual meaning of the context.
If you are tired of working hard on your content production and still not getting enough traffic it means you are mistaking at something.
With this paraphrasing app, you can actually improve your content writing skills as it rephrases content without altering the meaning.
Once you provide readers with the content that provides the best information and is easy to read and understand, your content writing skills will eventually flourish.
NLP Paraphraser
Last but not least, we have an 'NLP Paraphraser' app powered by Bandhi. This application is built on natural language processing for precise outcomes.
The NLP Paraphraser is a great addition to your paraphrasing apps checklist as it utilizes multiple APIs and is best for all of your devices.
Why do we recommend this app?
The reason behind recommending this app is, it produces new text based on the user's information. The app rephrases text by eliminating plagiarism.
The interface of this app is quite user-friendly and simple. Users just need to copy the source text and paste it on the app and let the app does its magic.
List of features
·Support multiple languages
With this app, users are not limited to creating content only in English. Users can access a huge library of languages and create content in any language offered by the NLP Paraphraser app.
This feature is helpful for international writers and bloggers because international firms prefer creating content in their national languages like French, German, and Spanish.
·Easy to use
The interface of this paraphrasing application is very simple and user-friendly, users do not have to have any technical expertise in order to interact with the app.
Users just have to download the app on their smartphones, copy the content they want to rewrite, paste it on the app, and they are done.
·Quality output
If your content writing skill is deprived of the quality outcome, it is the right choice for you to improve your content quality with this paraphrasing app.
The app is free to use and provide you with precise outcome that will make your content writing admired by your colleagues and bosses.
Conclusion
In this article, we have discussed the three most effective and tested paraphrasing aplications in 2022 that allow writers to improve their content writing skills with quality results.
If you want to improve your writing skills, give this article a read and find the best paraphrasing app to support your writing.
Thank You!