Best Voice Changer App for Android – Want to prank your friends with a male to female voice changer app during call OR robot, devil, bee, old man, child, celebrity voice effect? Smartphones are definitely getting smarter that you can now transform your voice into someone else's.
Moreover, you can add some cute and creative background effects to fool your friends. Let's start with the suggested best voice changer app for android you can try to poke fun at your buddies.
When every second app goes by the same name usually, it's hard to choose between the good and the best one, Uff..! The stiff competition between the developers. Here is the thing, I tagged the developers along with the list of best voice changer apps for android to kill confusion.
Voice changer apps for Android – Male to Female Voice Changer App
You'd find many apps that resemble each other, surprisingly. One option to find the best ones is to try each of them; the other way around is here. So you might as well save your time and take a look through the ones I have mentioned briefly in the following segments.
Voice Changer Voice Recorder – Editor and Effect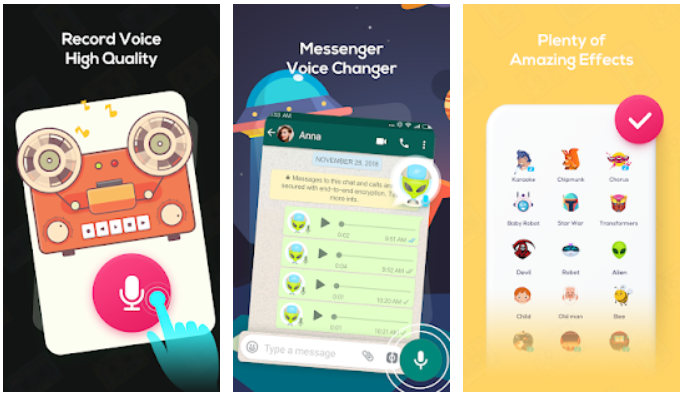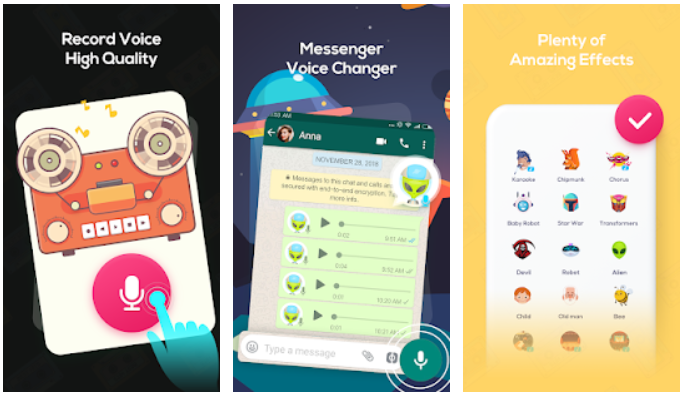 It's a voice changer and recording tool that gives you a funny voiceover such as older man, girl, alien, chipmunks, and many others. Give a funny side to your voice and turn your voice into superheroes or minions.
With a mine of good sound effects for singing and editing voice, this app lets your record your voice first. After that, you can add the impact of your choice. This app is free laden with ads; however, you can purchase its premium version to get rid of them.
Change voice with lots of funny effects
Change your voice to a alien, superhero, female, man, robot, devil, bee, old man, child etc.
Improve your voice qualify for singing with chorus effect, studio effect, karaoke reverb, concert reverb etc.
Change your voice to movies superhero effect including star war, minious, transformers etc.
Voicer – Celebrity Voice Changer Prank Meme Videos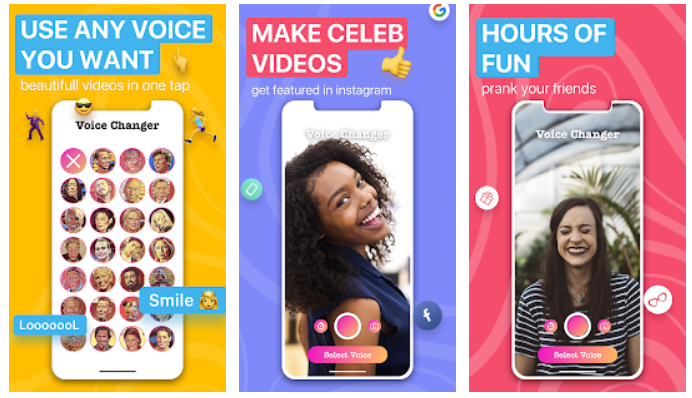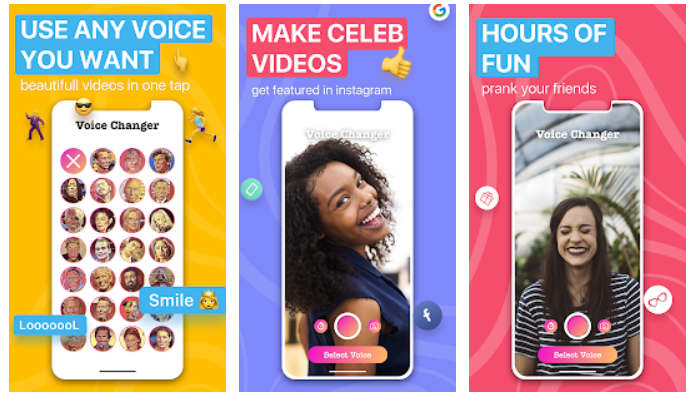 It's a voice changer that turns your voice like a celebrity. Pick from tens of hundreds of celebrities, and prank call your friends. Dial them, and enjoy the laugh as you have made this moment a memorable one. The receiver would be impossible to identify your original voice as you add background effects in the middle of a phone call.
You can use a famous voice memo and even can change your face instantly. Voicer also has tons of ringtones ranging from funny to scary sounds. There is a unique collection of pre-recorded celebrity sounds that would make your experience more delightful.
Taking just under 8 Mb of your storage space, this app also has 10+ girls' tone voice.  It's a free voice girl changer app, you there is no harm trying it anytime.
Hundred of famous celebrities and actors to change your voice into celebrity voice
Pranks are recorded by professional voice actors
New pranks updates regularly
Professional audio editor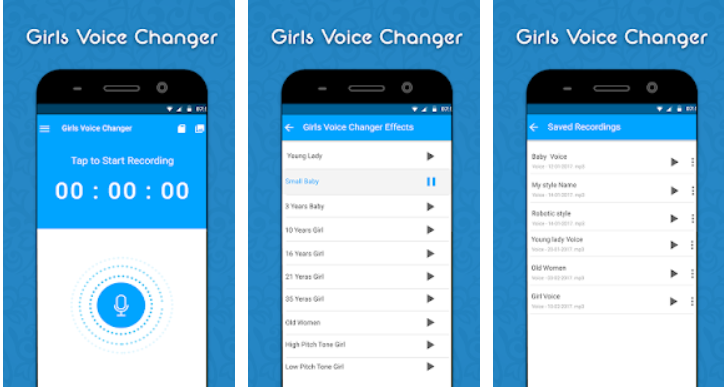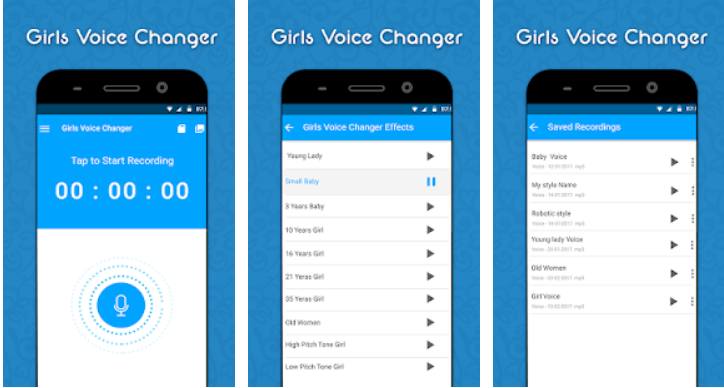 This app is the only one in Girls Voice Changer apps where you can change your voice to a girl of any age. The tone generated in the end would be fun to hear. Girls Voice Changer app is the ultimate fun stop when hanging out with your friends' group.
Record your voice and listen to any version of yourself specific to age. This app saves the converted voice in your device memory so you can enjoy listening to them later. You can set your tone between a 3-years baby girl and an older woman. There are many age categories to choose from in this free app.
Top rated girls voice changer app
Young lady, funny baby, baby voice according to age effect
Useful voice changer app for fun pranks and entertainment
VoiceFX – Voice Changer App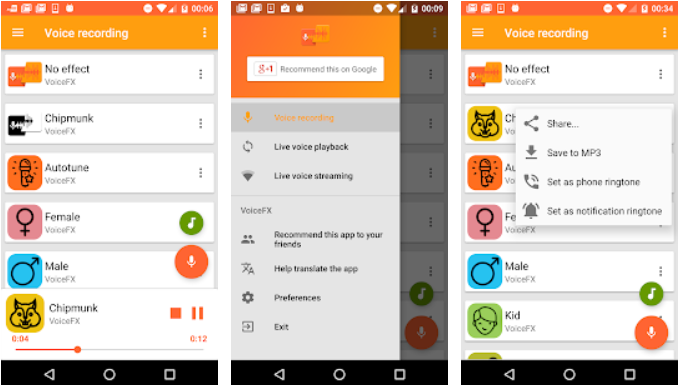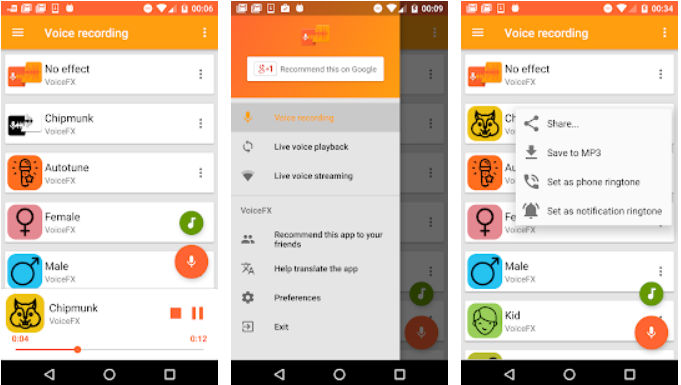 Are you still looking for the best voice changer app for android? VoiceFX has you covered. You can find plenty of options to convert voice from male to female. You'll get to see many audio effects to change your voice superbly. Its other voice changing options are also noteworthy, which allow you to change your voice, such as male, female, robots, monster, space, kid, drunk, cave, space, etc.
Besides giving your voice a changeover, VoiceFX is also a great tool to let you make an exciting piece of music where you can apply multiple audio effects. Try your music editing skills without paying anything. It's available for free from the Google Play Store.
Record voice and change into funny effect by applying audio effect
Live playback your headphone and change voice live
Save and share as MP3 OR set your changed voice as phone ringtone & notification ringtone.
RoboVox – Best Voice Changer App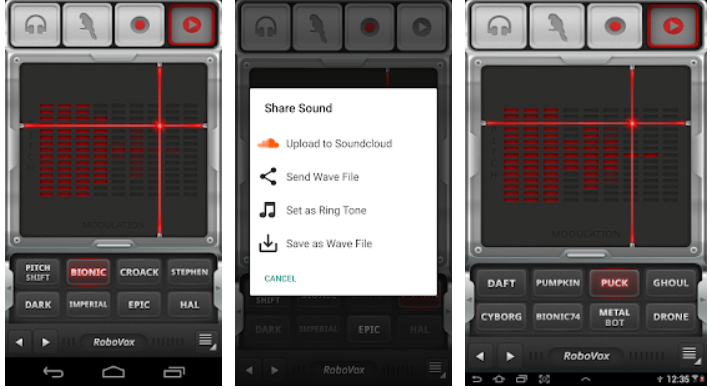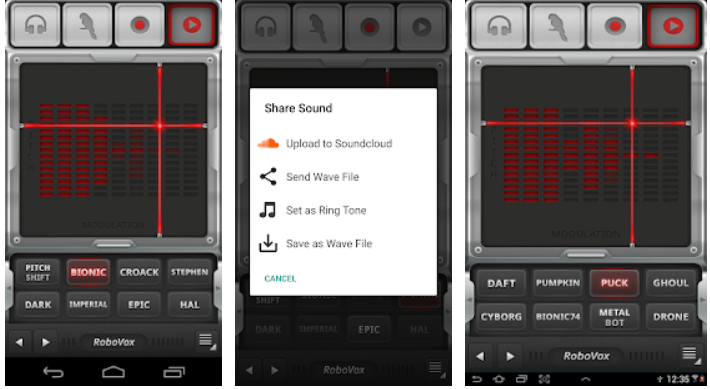 Try this decent voice changer from Mikrosonic that guarantees to astonish you with its multiple built-in features like voice filters and strength controller. Not only can you change the male voice to female, but also you can adjust the strength and pitch for the converted audio.
This app also has a voice recorder that saves any sound to a ringtone. Backed up by two other modes, namely, real-time and parrot, make it an exception among the best female voice changers for android. With RoboVox, you can save all the recorded and converted sounds to soundcloud directly and share your creations with your friends.
30+ voice modules like shift, discobot, badman, cylon, dalek, singing robot etc
3 different modules – real time, parrot and recording
Real time mode with microphone
Share results directly on SOundCloud, email etc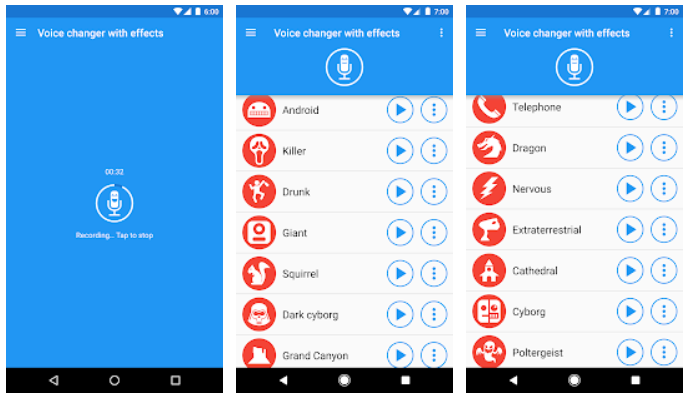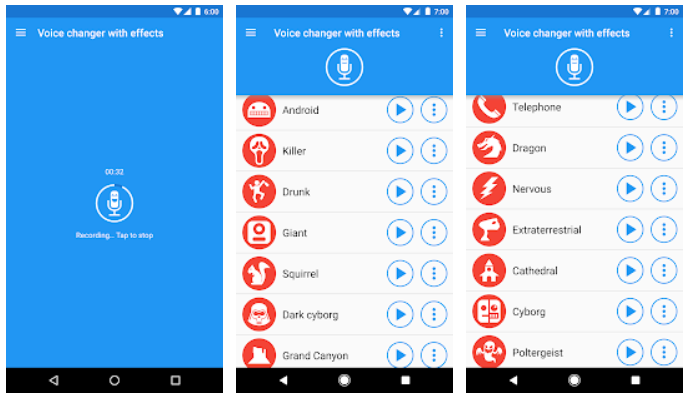 Available in both premium and free versions, Voice Changer with Effects is an amazing app with lots of features. It's a voice recorder that transforms your voice from male to female along with several different effects that you can share your converted voice with your friends and have fun.
You get to choose over 40 sound effects such as Helium, Robot, Giant, backward, monster, alien, zombie, squirrel, drunk, etc. This voice changer app is free to use and has dozens of options unlocked with its premium version. If you like, go for its premium version to try some advanced level features.
Change voice and have fun listening to your modified voice
Record voice, apply effect and share with your friends
Mort then 40 voice effects including robot, drunk, zombie, alien etc
Direct share modified voice via whatsapp, email etc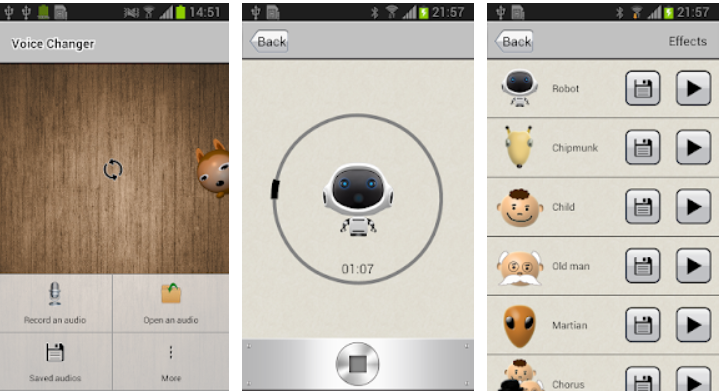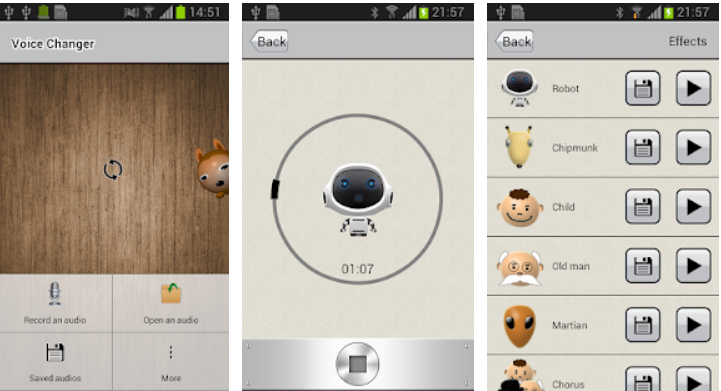 This voice changer app is probably the lightest one on the list of best voice changer app that literally outnumbers its memory by its features. With dozens of sound effects such as Old Man, Martian, Horse, Drunk, Girl, Woman, and others, it's hard to avoid fun.
Record a sound and get to apply different filters and share it with your pals over social media. You are free to use counts of listed effects several times to create hundreds of other effects for your voices. Yes, if it's free, it does come with ads.
Best voice changer app with bit different UI
Record audio and apply an effect on it
Open recorded audio and apply an effect on it
View, edit and save audio to new OR saved audio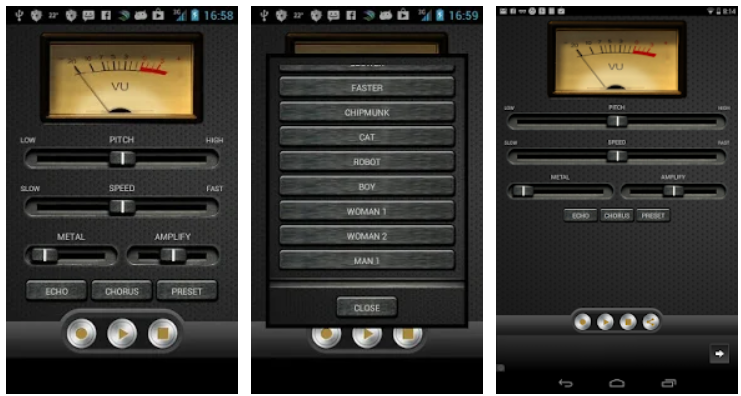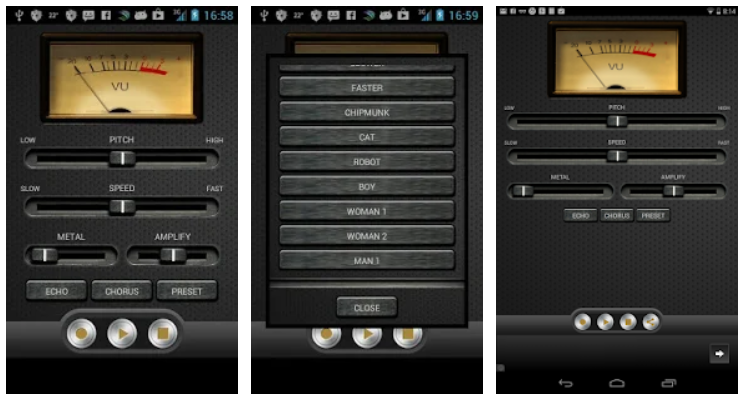 It's simple to use yet a powerful tool to get your voice transformed as you wish. Change my voice lets you change your voice from man to woman and vice-versa. This free female voice changer app consists of several effects that don't even compromise the original quality of sound.
You can use its tools and sliders to furnish your own voice through modifications, changing pitch, speed, adding echo, and more. Change my voice is the most flexible voice changer app with an infinite number of voice changing options that are certainly lovable. Once you are done modifying your own voice, this app gives you the option to share it with your friends right away.
One of the user friendly and fixable voice changer app
Record voice and change your voice from many pre- defined voice
Use the tools and sliders to create your own voice modification by changing speed, pitch, adding echo and more effects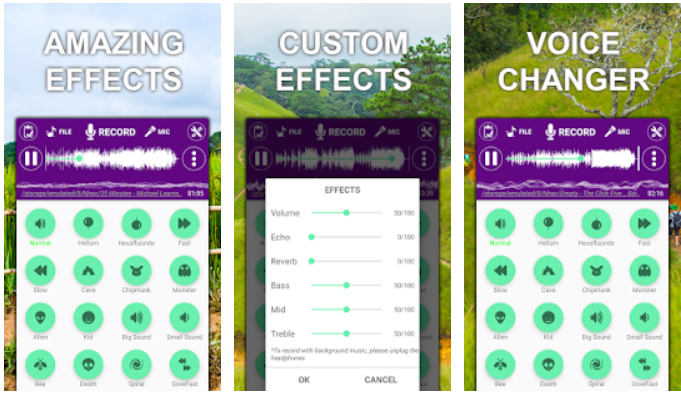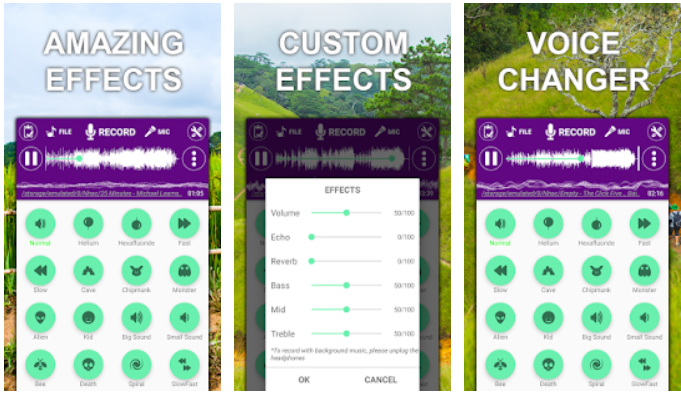 If you are looking for a more professional looking female voice changer app, Voice changer sound effects is your final ultimate stop. Try this amazingly light and fast app with loads of effects in the background and the foreground.
You can opt for any effect from plenty of given options like slow, fast, chipmunk, monster, alien, woman, older man, old woman, bee, along with numerous background effects. I would like to mention that it's one of the oldest apps that's still people's first choice on the Play Store. You can think of investing your time in it.
One of the fast, convenient and easy to use voice changer app
Number of effects including helium, normal, fast, slow, monster, alien and many more
Custom sound effect including echo, pitch, volume, bass, mid, treble etc
Save, share and set as ringtone by your records
MagicCall – Best Voice Changer App During Call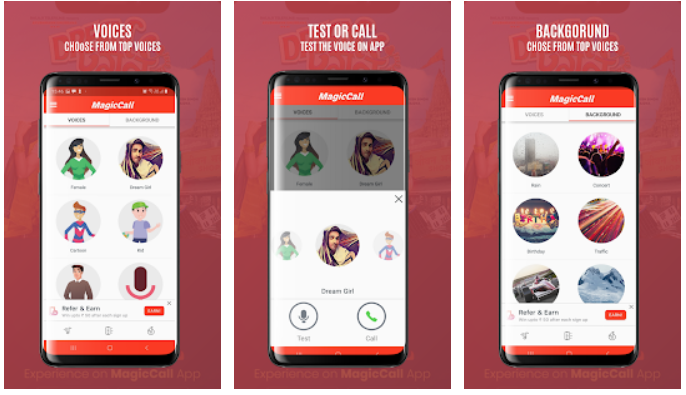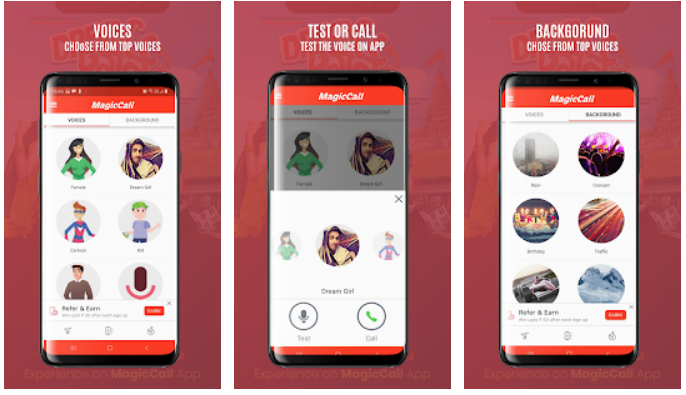 The last one is what millions of users have found efficiently useful, and millions are still searching for. This real-time female voice changer app is loaded with different features that can turn your voice into a lady's voice during the call.
You can switch between a woman's, a kid's, and a cartoon's voice in the middle of your conversation. The best way to prank your friends and family is MagicCall that lets you switch your voice instantly from original to fake and from fake to original. All you need to do is to register at this app to try it for free. There are extra credits for the first registration too.
Change your voice in real time and have fun with your friends
Switch between voice during the live call
Test your voice before making the phone call
The Bottom Line:
In my opinion, the 3rd and the 10th are the best girls voice changing apps to try at least once; you can also opt for other ones mentioned for a similar experience. Searching for the best ones makes you stressed out.
This list on the best voice changer app for android gave me a similar experience. How helpful was it to you? Let me know so I can help you furthermore with some other findings. Leave your comments in the space provided below.
We Write on Latest Tech News, How to, Guide, Android, iPhone, Windows, MAC,  Reviews  and more.  Do you like TechZeal? We Count on You! Don't forget to follow us on Facebook, Twitter, Instagram …!