How to fix Unfortunately App Has Stopped Error on Android – No matter how great your phone is performing, how superior it functions, there is an error that would creep up out of somewhere. It says, Unfortunately App has stopped. You can put YouTube, WhatsApp, or any xyz app that resides on your phone.
When you get too many notifications like this, I bet that's the moment you need to take preventive action. Here I have culled out the answer to How to fix Unfortunately App Has Stopped Error on Android Phone.
Why this Error occurs and what Does it do?
Unfortunately, there is no specific reason as to why it occurs; fortunately, it does not harm your device. It only becomes more annoying when you are in the middle of doing something using any app, by any app I mean to say it could happen to any of the apps on your android device.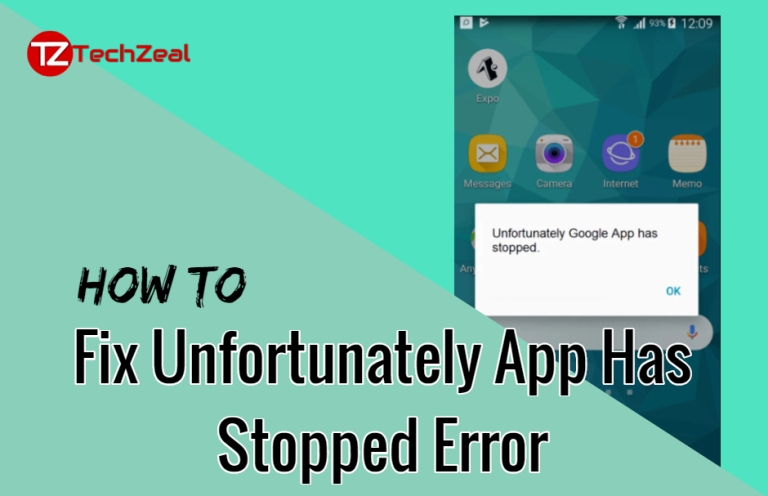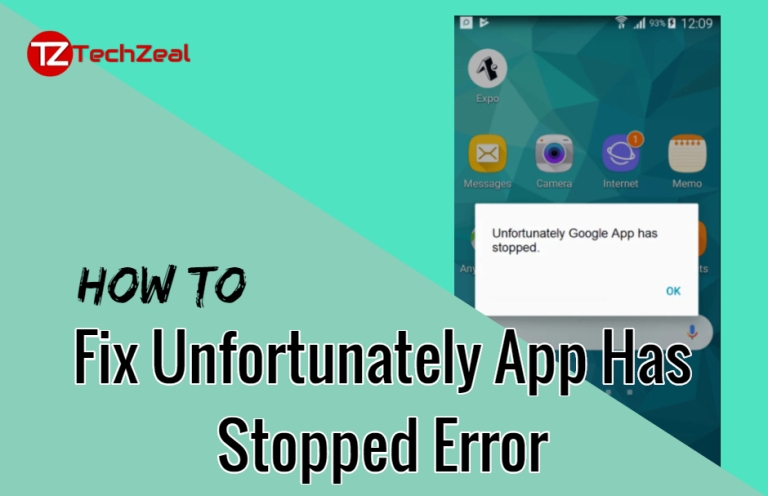 The most probable cause of this error is due to a technical glitch that leads to data crash it a particular app. As I said, it's not a fatal one; in this situation, your phone stops running an app and terminates it abruptly.
An unstable internet connection, corrupted cache files, or redundant database of apps anything could be the cause of this error message, Unfortunately App Has Stopped. Some users believe that there might be a virus in the app or it's not compatible with their phones. Well, you can't be sure on that one.
How to fix Unfortunately App Has Stopped Error on Android Phone
What you need to do is carefully look into the possible solutions and opt for a corrective method. If you have been facing too many messages such as Unfortunately, WhatsApp has stopped; Unfortunately, YouTube has stopped; or unfortunately, Facebook has stopped, make sure you follow these following remedial actions. Let's dive in.
Clean out the app's storage
Apps staying on your phone not only deplete your memory space, but also make it clogged with temporary files. Launchers and gaming apps are the one to take the blame mostly. So here is the usual thing to do.
Go to device settings.
Tap on Apps to choose the one that's troubling.
Tap on Storage.
Tap Clear Cache.
Clear cache is the option you can use to remove redundant files but be careful as cache helps you load the apps faster. Once you clear it, the apps are going to launch slower than usual. But that's a negligible price to pay compared to Unfortunately App has stopped working error every once in a while.
There's a button just below Clear Cache named Clear Data, if you tap on it, the app's database including saved emails, passwords, linked accounts, and custom settings will be wiped from this app. In other words, this app will erase all the file settings and reports, and you'll have to start all over again. Try it only when there's no option left.
Look for Technical fault in SD Card
A faulty memory card is a possible cause of this error even if it looks alright from outside. You still may be able to perform read and right operations on your memory card, but there's a problem that can only be detected when you connect your memory card to your PC. Better is to move all your apps to the phone memory and try launching the apps again.
A corrupted SD card can lead to more troubles in the future. If you are able to run the problematic apps smoothly, there are you are.
Delete the App and Reinstall the app
Try uninstalling the troublesome app and reinstall it to get rid of the error message. Go to the Play Store and find the app, uninstall it flush its files from the manager first. Reinstall it from the Play Store and see if it's working properly.
Restart your Device
Restarting your device is what you can do simply to sort the problem of Unfortunately App has stopped working. This simple yet effective method has been in use for a long time now. Switching off your phone and turning it back on doesn't sound a risky step to take either.
When all else fails you need a factory reset
Opt for a factory reset finally, but first, backup your necessary files including contacts, messages, and emails. A factory reset will erase all the data residing on your phone and will set its default settings to action.
Doing so, all the problematic errors and bugs will also be gone forever. The backup you take before resetting your phone will be useful in restoring the files that are important to you.
Have you got the right answer to the error message?
I hope to have found you the right ones on How to fix Unfortunately App Has Stopped Error on Android Phone. These methods have been useful for a while and are the least risky. How helpful were these methods to you? Do share your thoughts in the comments section.
We Write on Latest Tech News, How to, Guide, Android, iPhone, Windows, MAC,  Reviews  and more.  Do you like TechZeal? We Count on You! Don't forget to follow us on Facebook, Twitter, Instagram …!