How to Charge your Phone Battery Faster:- Believe it or not, we've all been there. When your phone's low battery levels remind you to charge it a little further in no time, this problem hits you right at the eleventh hour.
So, what's the last-minute hack to try to juice the battery? Here are working tips to charge your Smartphone Battery Faster without fast charging Support to get your job done. Check Also – Best Android Video Downloader
How to Charge your Phone Battery Faster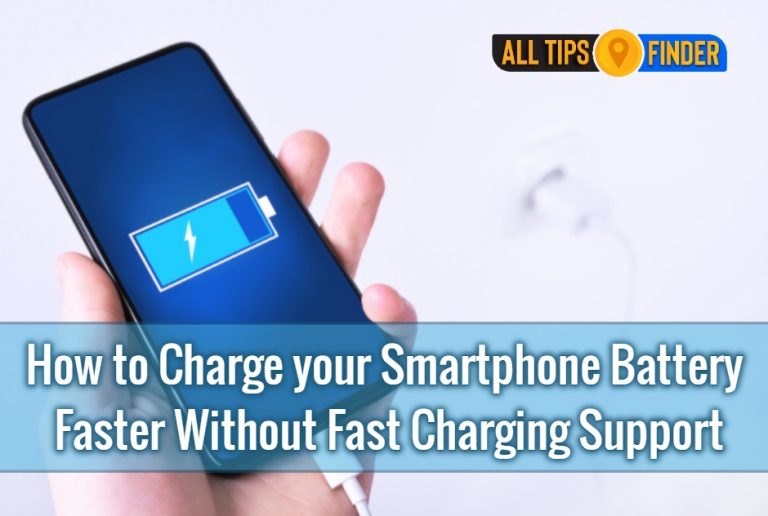 Giving a battery boost in, say, 15-20 minutes with no fast charging options can be cumbersome. Battery life depends on several different form factors. And how intelligently you use your time and power unit is what matters on such short notice.
First and foremost, you need to have the right combination of charging unit and reliable technique to pump your phone's power supply. Let's scroll down and find out how you can make it possible.
Turn on the Battery saving mode
The latest versions of Android come with plenty of battery saving features. You can find this option in the device settings section. Head to Settings > Battery > Power Saving Mode. Just tap on this option to optimize your phone's battery.
Doing so will restrict unnecessary background apps in your phone and optimize the display so that your device can utilize the minimum power source.
If you are habitual of keeping mobile data on always, the ultra-power saver mode restricts transmission of data so you can best use your phone for a while, focusing on things that matter at the moment.
The other option this mode controls is your device's locking mechanism. Your device would automatically be locked whenever it's idle for 15 seconds or so.
Switch to Airplane Mode for fast Charging
Luckily, the Airplane or Flight mode comes with multiple benefits. Not only does it stop unwanted callers, but this mode helps you turn off network services restricting the apps that consume your network off the screen.
There are always some apps that rely on a constant supply of mobile data and network operators.
Bluetooth, Wi-Fi, and Radio, and cellular network all eat up your cellphone's battery pretty smartly that you barely notice what's going on. Since your phone is not consuming any battery power, the only benefit of it is faster charging.
Prefer a Wall Socket to connect your charger
Your phone comes with a wall charger that's been given to you for a reason. So, if you think of using a USB cable to charge your phone while driving or connecting it via a laptop, think again.
Your phone charger comes with instructions and specifications with necessary amperage and voltage supply to your mobile's battery. In case you overlooked those instructions, read them again.
Not only the random charging support is deteriorating your phone's battery life, but it is also reducing its efficiency. The best is to use the wall socket charger the way you are told. Don't opt for compatible chargers as they can also lead to the same problem. The original chargers that came with your phone should be used to juice the battery up.
Turn your Phone off to let it Cool
Even machines need cooling time to perform better. Switching off your phone while charging it amplifies the process of charging since the display unit, processor, and memory unit of your phone stop utilizing its battery.
As 0% of the battery is used, these options come in handy when you are on the run. Some users won't find this option an amicable one as turning off your phone means you won't be able to communicate with anyone via texts, internet, or calls, or even use other apps and services.
Use Only High-Quality Cables and USB Chargers
Equipment or utilities from offshoot brands often seem attractive at first. But the real problems surface up after a while. Your phone may be compatible with local USB cables and Charging units, but they may affect your device for the long term.
Firstly, differentiate between the cable structure and how much power it's made to supply to your device. Remember that all the USB cables are not meant for Data transfer and power supply. For example, there four individual cables inside the data cable, Red, Green, Black, and White, with one pair for data transfer support and the other for power supply.
Choose the right one for your phone. On the other hand, if you have a Samsung smartphone, always choose a power bank from Samsung for the best compatibility.
Hurry Up, Try these tricks now
Time is of the essence everywhere, so why not think about these best ways to charge your phone faster without any support. Delete some unwanted apps, let your phone's battery reach zero percent so it can replenish the levels better next time.
Try restarting your device once before connecting the power unit to it. The rest will be done by these tips to charge your Smartphone Battery faster.
We Write on Latest Tech News, How to, Guide, Android, iPhone, Windows, MAC,  Reviews  and more.  Do you like TechZeal? We Count on You! Don't forget to follow us on Facebook, Twitter, Instagram …!