SMS bomber Online OR SMS Flooder Online OR Bomber SMS is an online tool that allows us to send an unlimited SMS to any mobile number very easily. In this tutorial you will know what SMS bomber is? Purposes of SMS bomber and best online SMS bombing tools in 2022 Like sms bomber.co.in Call Bomber | bombitup online | bombitup online SMS | Great online tools for sms bomber
Get rested for a while and read further as your search for a free SMS Bomber Online has led you to the right place. There are countless reasons why you need an SMS bomber, pranking, frustrating someone, or even wasting their time is one them. Check Also – Best mobile number tracker with google map
This article brings the Best Online SMS bombing tool in 2022 to have fun with your friends or, who knows, your girlfriend. But first, let's talk some more about SMS bomber or flooder quickly. Check Also – Download Manager for iPhone
SMS Bomber Online | Bomber SMS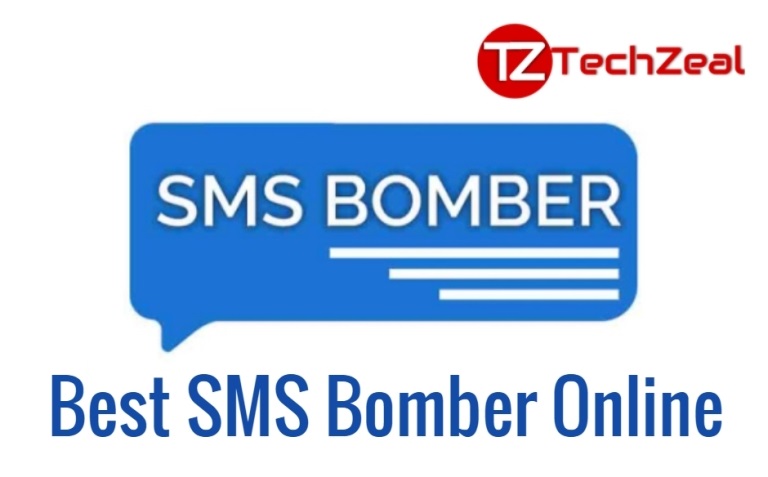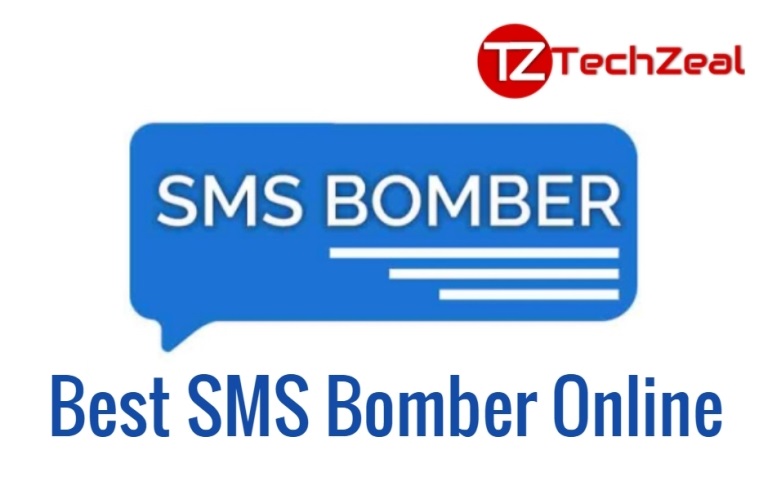 What is SMS Bomber OR SMS Flooder OR Bomber SMS ?
It is a tool that many use to prank others by sending bulk SMSs to the target recipient. If you had a wordy scuffle with your friend at school or college, the SMS bomber is the best way to irritate them.
An online SMS bombing tool can send hundreds of SMSs simultaneously, so the receiver would certainly be confused about what to do. You can also set a frequency for SMS; the higher the frequency, the faster SMSs will be sent.
The good side of using an SMS flooder or bomber is you can use it on anyone residing anywhere globally. Please keep in mind that the intention behind creating these SMS bombers is just to have fun, nothing serious.
Other Purposes of Using SMS Bomber Online
The Short Message Service is a pretty effective way to promote and grow your business. If you are an entrepreneur starting a small scale venture, you definitely must have heard of SMS marketing. That's where bulk SMS marketing can be a cost-effective solution to promote your business.
Literally, SMS marketing can turn out to be an excellent propeller for your small start-up. Here is to give you an idea of what you can achieve with SMS marketing, there are 5 Billion+ subscribers with active cell phones with SMS service enabled.
What are the Benefits of Bulk SMS?
It's a quick and easy way to send your messages to the audience simultaneously.
It's a big-time money-saver as compared to other advertising methods such as TV or Print media.
The probability of people checking their inbox sent via online SMS bomber is higher, which means most people will check their message sent via Online SMS Bomber services.
The best benefit of using an Online SMS Bomber software is you know your audience already. The audience is already interested in subscribing to your services, and that's a win-win for you detailing your intention to them.
SMS Marketing These Days
Every ecommerce business firm follows these tactics, whether it's Walmart, Amazon, or your local Grocery store. They send you an SMS alert for every new deal on the latest products to attract. The other reason to send the bulk messages is to let you entertain some discount on a range of products using promo codes or Coupon codes via a link to their website.
Best Online SMS Bombing tool in 2022 to try
Well, there are lots of websites you can find in a quick search in your browser. Each website or software uses different methods to allow you to SMS Bombing service depending on free usage, SMS frequency limited, and other features. Let's have a look at those.
mytoolstown.com- SMS Bomber
This site offers you to send up to 200 SMS simultaneously, however, you can increase the limit to 225 upon a signing up. You can also use My Tools Town App on mobile for further ease. Some of the intriguing features of this tool is that you can schedule your SMS and check it anytime, you can protect your number from SMS Bombing tool. You can also set speed at which your SMS should be sent to the recipient.
How to use My Tools town SMS Bombing Tool?
Open My Tools Town and open the SMS Bomber.
Type the Recipient's Number.
Enter Count i.e. the number of SMSs to send.
Click on Start button and there you go.
SMS Bomber Online | Bomber SMS


Sms Bomber Online is one of the trusted and Best Online SMS Bombing tool in 2022 people use to prank their friends. The next is your turn probably as it's free and easy-to-use tool to prank your friends and embarrass them. This tool can be used on mobile phones in case you don't have a PC. Check Also – Best Call Bomber Website
This service allows you to SMS bomb online your friends for up to 10 counts per use. To use the unlimited SMS Bomber, you need to use a separate tab and which keeps sending bulk SMS until you clos the tab.
How to use smsbomber.online
Use this URL to reach the website and enter your friend's number.
You can also download the app directly from the web page.
Remember if you have planned to send unlimited SMSs.
Once you start SMS bombing, it won't stop unless you choose to click stop SMS Bombing. 
greatonlinetools.com | Bomber SMS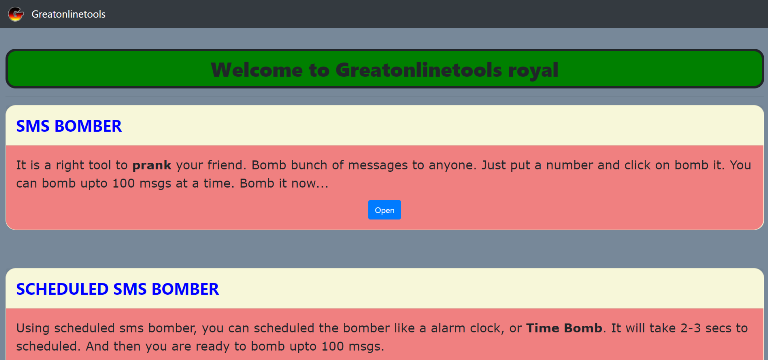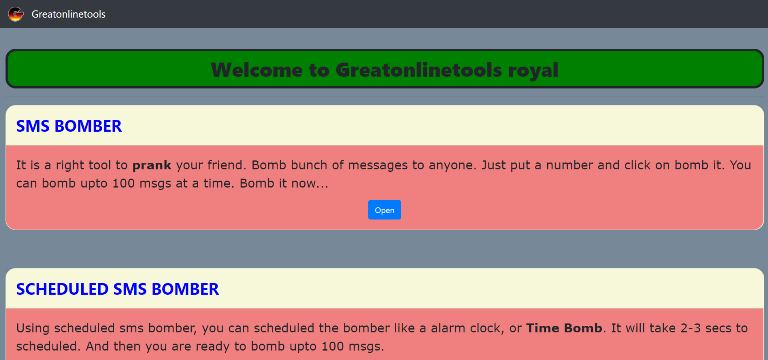 If you are looking for the Best Online SMS Bombing tool in 2022, you must try this tool to prank your friends. This website boasts of sending the fastest SMS using automated programs. This site is equipped with an easy and comprehensive User Interface and allows you to send SMS on the go.
Just make sure to enter the recipient's correct mobile number and a count from 1 to 100. If you face any trouble on this site, you can contact the support team at support@ greatonlinetools.com to get the problem addressed.
How to Use SMS Bombing Online at greatonlinetools.com      
Type the contact number you intend to surprise.
Enter the count ranging from 1 to 100.
The program automatically verifies the number.
Hit the Bombit button to let the program take care of the rest.
Close the tab ort refresh it to stop SMS bombing your friend.
SMS Bomber
SMS Bomber is an another Free SMS Bomber Online website that increase the frequency of your sms. User can use online sms bomber software to send many duplicate messages as they want to they want to the recipient they wish to.
Note: – above listed SMS Bomber tools link are extracted from the internet. So, TechZeal.org is not responsible for any misuse of the following links. This tutorial is only made for education purpose.
This online SMS Bomber website is also a great portal from which you can send unlimited SMS bombe. You can send up to 100 SMS per submission. This website is the first to provide SCHEDULE feature in SMS bombe. This site also starting call bombing facility along with SMS bombing. So, I think this is a great tool for SMS bombing lover. most of user search sms bomber.co.in or smsbomber.co.in, both are same.
Online SMS Bomber App | Bombitup online SMS
Online SMS Bomber APK | bombitup online SMS– there are many SMS bomber App available over the net but some of them are working fine. That's why we are sharing the working SMS bomber App APK or Text Bomber app. The working SMS bomber App called BOMBitUP.
Online SMS Bomber App Features
App Name – BOMBitUP
Version – 4.3.1
App Size – 8.68 MB
Required Android – Android 2.2 or Above
Official website – BOMBitUP.net
Use SMS Bomber App in Android
Using this SMS flooding app, you can do many tasks like miss call flooder, bomber for sms bombs, unlimited SMS bomber spamming messages etc. so, just download SMS bombing app from given link and enjoy SMS bombing.
You May Also Like
Final Thoughts
As I mentioned above, you should limit the use of these sites for fun purposes only. Using Online SMS Bomber for pranking your friends or relatives is what these tools are made for. Besides fun, you can also try these Best Online SMS Bombing tool in 2022 to promote your products and services.
These are the best SMS Bombers that let you send counted as well as unlimited SMS to prank your buddies. Did you find these tools useful? Let me know in the comments section.
SMS Bomb Online, SMS Bomber Online Free, SMS Flooder Online, SMS bomber online, SMS bomber website, sms bomber online website, Bomber SMS