Best iPhone Video Downloader – Since YouTube and other social media platforms don't allow to download the videos on the iPhone, you need to look for options to get it done. Here are Best iPhone Video Downloader to let you watch videos anytime and anywhere.
An ideal iOS video downloader should be faster and simpler in fetching links and saving them on your phone. Using these apps, you can download videos from YouTube and Dailymotion within a few taps.
Why Choose a Video Downloader for iPhone
There are always some videos/ songs that you want to watch again and again. And for this, you definitely won't want to stream the internet; the only best method is to save your favorite videos once for offline viewing. Best Download Manager for iPhone
Presently, most of the internet is taken over by streaming websites. Tumblr, Dailymotion, Instagram, etc. add insult to injury by restricting users from downloading videos. Video Downloader apps for iPhone save you from a rainy day and lets you enjoy media offline. In this article, you'll be able to find out the best iPhone Video downloader apps so you can pick the one that suits your needs. Let's dive in and have a look.
Best iOS, iPhone, iPad Video Downloader
There may come a time when the internet is unavailable; only you know the pain of not being able to access your favourite videos when you feel like watching one. This is why you think of downloading your desired videos in one place never to stop the fun. An ideal iPhone video downloader must have the capability to save links, resume broken links, and play the video seamlessly. Let's start with the ones given below and get along.
VideoProc Converter provides safe and speedy solutions to download videos and music from over 1000+ sites, including Instagram, Vimeo, Facebook, YTB, etc. Supported by full-GPU acceleration, this robust software enables smooth and fast batch downloads.
Downloaded videos can be converted into 420+ output formats with custom options, but iPhone users can simply use the ready-made presets for iPhone devices. Besides, built-in toolkits allow users to edit downloaded videos, such as merge, cut, and add effects. The straightforward interface makes it an easy experience even for beginners to download iPhone videos.
In addition, VideoProc Converter can also record screen and digitize DVDs. It's a feature-rich and user-friendly tool to process videos. Try VideoProc Converter now and download your videos.
CVP Pro is a versatile iPhone video downloader that's also available on Apple Store for free. You can download your favorite videos from any site and save them on your iDevice. It's a single-tap solution to keep the media safely onto your device storage system.
Considered as the universal iPhone video downloader, it supports different video formats such as MKV, MP4, m3u8, AVI, FLV, WMV, etc. It also comes with password protection that lets your downloaded media stay in the safe zone while others are accessing your iPhone.
If you have a video is some other languages, worry not, this video downloader lets you download videos with subtitles. Simple UI and extensive functionality make this downloader one of the best iPhone video downloader in 2020.
Document 6 | iPhone Video Downloader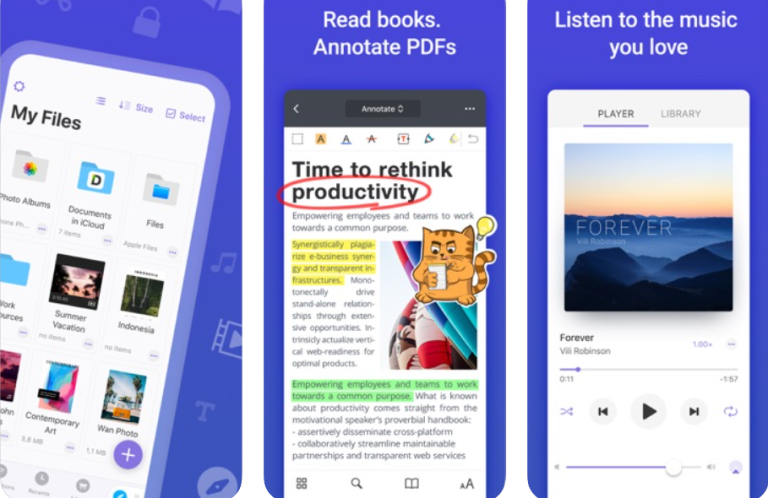 If you want to save YouTube videos directly on your iPhone, try Document 6 video downloader which is yet another tool to grab the video files from anywhere. Document 6 is a light
and simple app that is getting popular because of its functions. This app supports iOS 11 and above and comes free to solve your problems. You can download videos with a quick single tap.
You need to check-in at "savefromnet" and paste the video link in the box there. Finally, you need to select the video quality and save it to the device memory. You can also rename video if you want.
iDownloader | Best iPhone Video Downloader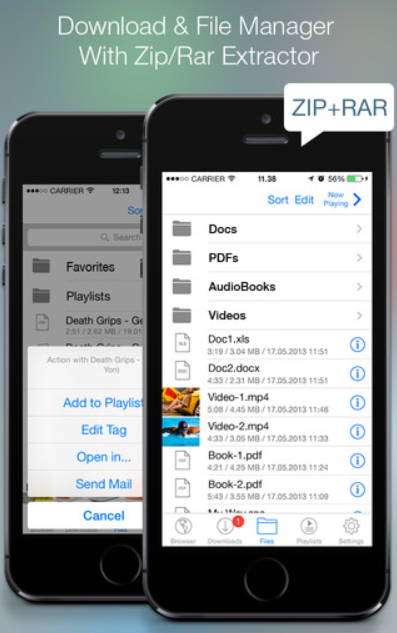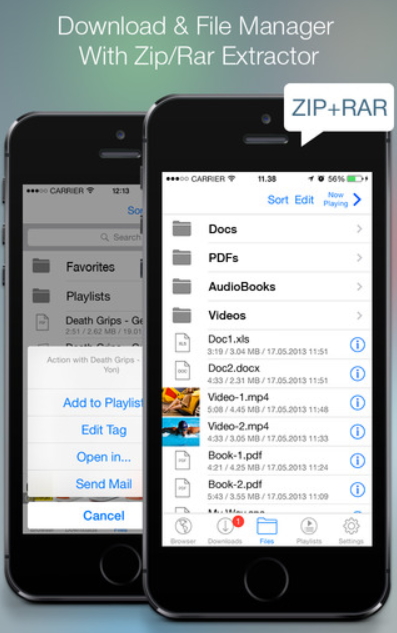 iDownloader is a simple, straightforward app that doesn't even require you to copy-paste an external link. This iPhone video downloader app runs in the background and gives you a download option to every file available on a web page. Preview every file before downloading using its built-in viewer.
Not only it gets video files, but can also help you download different files hosted on a particular website. If you intend to grab restricted videos, iDownloader can get them for you quickly.
If you have a mammoth list of video files, fret not, iDownloader is explicitly built for bulk downloads without compromising your network speed. Share your downloaded content via WhatsApp with your family and friends; it's got built-in share support as well with no cost.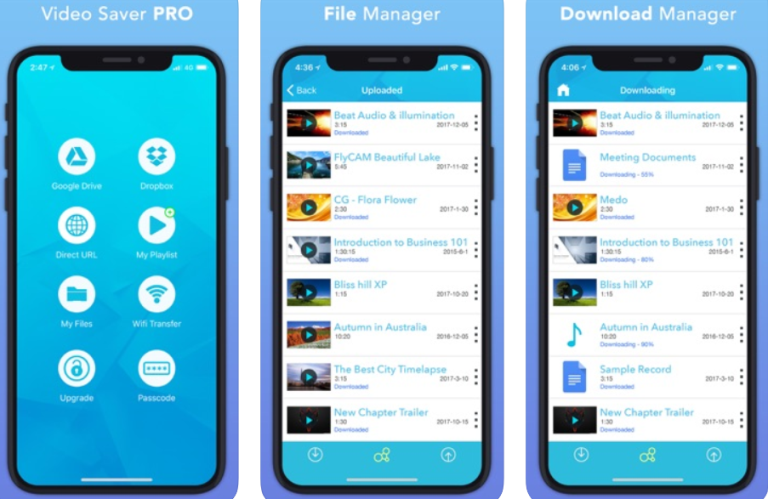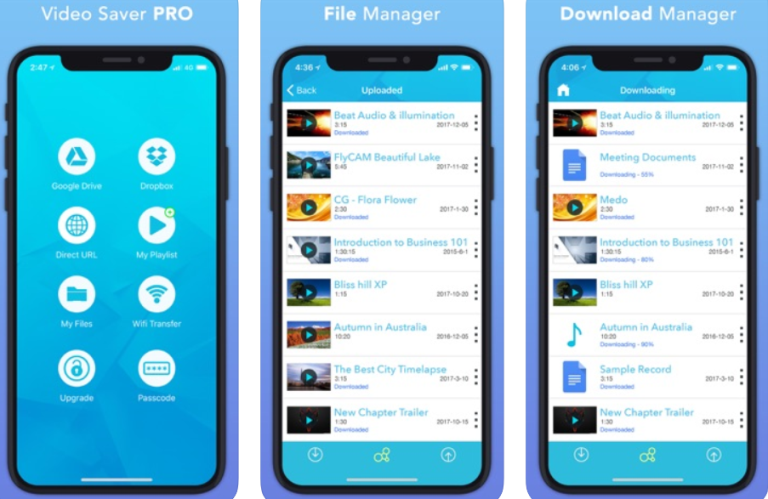 Stream and download videos at once using Video Saver Pro+ as it supports multiple video formats for your further ease. This iPhone Video Downloader App works across various websites and is free to use. You can find this video downloader app on the apple store with extra web security features.
It's, as the developers say, the magic tool to get you any media content from all over the internet. Unlike other apps, this downloader app is dedicated to managing video files on your iPhone. It's a dual-purpose tool to let you upload files to a cloud server with download support from any website.
It's a free app to download media files, including compressed files, simultaneous downloads, and a built-in video player. If you are worried about security, don't, because it's the latest update comes with a password protection mechanism.
My Video Manager and File Transfer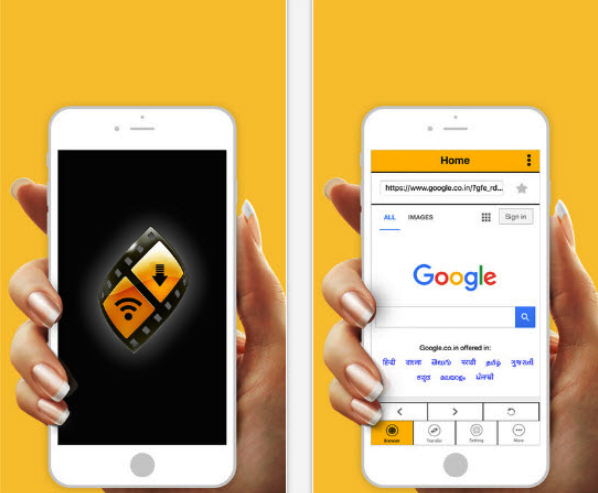 Video Manager App is one of the trusted and the best iPhone video downloader for iDevices. It's the most straightforward and lightest tool available on the apple app store that can handle multiple video downloads simultaneously. You can save your favorite videos offline and watch them anywhere and at any time.
Video Manager App supports multiple video formats and can take on bulk downloads at a time. It's a great tool as compared to its counterparts since you can use any of the two types of security methods, either fingerprint lock or password system.
Ads detection is one of its best features; however, users have recommended the developers with a few more tweaks which are being considered by the team seriously.
Ultra Downloader Plus | Best iPhone Video Downloader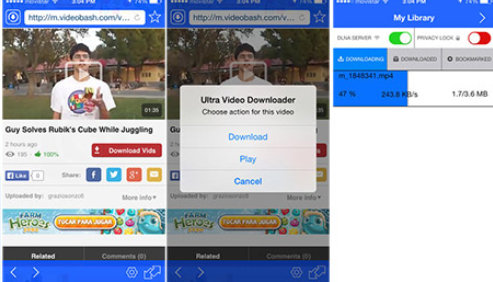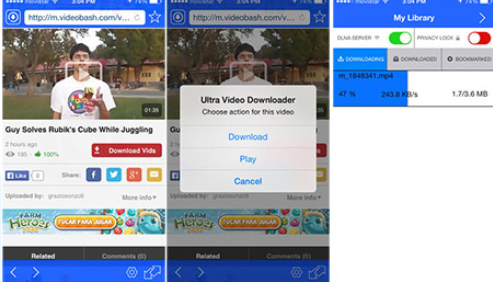 UDP is a handy tool when you have several video-sharing websites to deal with. It can download HD quality videos from world-famous streaming platforms such as NetFlix, SmartTV, Vimeo, and YouTube, just name it, and you have it.
It doesn't even tamper your video quality. It's the safest app for your iPhone, however, if you are trying to download it from unauthenticated sources, be sure to install an antivirus program for additional protection.
Download all your favourite videos and watch them in Ultra High definition using UDP's built-in media player anytime and anyplace. Ultra Downloader Pro is an excellent handler of multiple video downloads.
Once you are done downloading your files, keep them in a safe vault using password-protected directories. Add or remove your favourite videos in just one tap. For quick and easy search, try its built-in browser using its short play/ stop/ resume/ pause controls.
Freemake- Free Video Downloader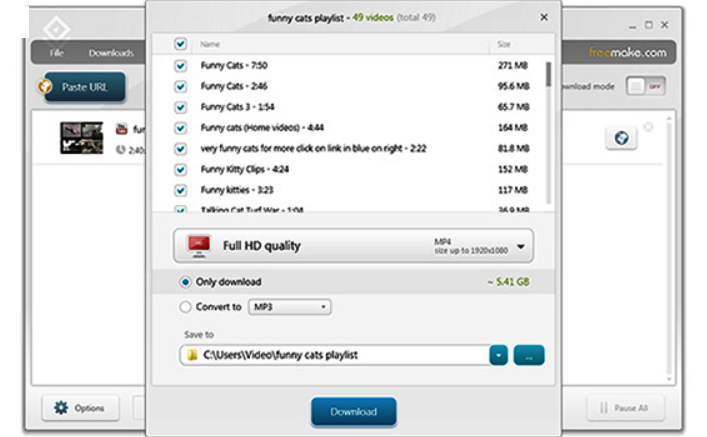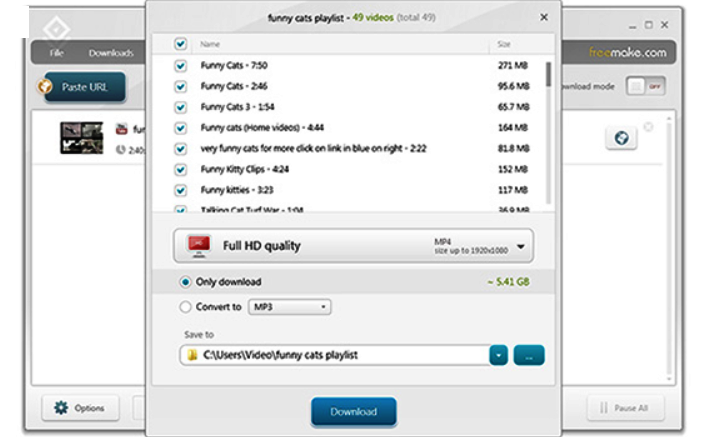 10 years and Freemake is the most appreciated iPhone video downloader for as many as 93 million users worldwide. Freemake iPhone Video Downloader is your one-stop solution for downloading videos from famous video-sharing platforms like YouTube and others. You can save an unlimited number of videos and save them in HD formats such as MP4, MP3, AVI, 3GP, FLV, etc.
This free-to-use tool preserves original video quality by grabbing original links and ripping web links to AVI, MKV, WMV, iPhone, PSP, Android, Amazon Kindle Fire, phones, etc. Multitasking has never been easier before as Freemake Video Downloader can save several web videos at once. This fastest tool boasts of supporting downloads from over 10k+ video-sharing websites.
Best Video Downloader ranks No 6 on the list of Best Video Downloader for iPhone and iPad. Intriguing effects and extensive features are the primary reasons why it's a widely used app among iPhone users. You won't have to work extra on downloading your favorite videos from anywhere.
BVD downloads and saves all the media files securely which you can play later using its built-in video player. If you are giving it a shot to fetch YouTube links, go ahead. This tool continues to play your video even after you close the app.
Put the device in the sleep mode by setting a timer on your selected video. If you are worried about the video quality, breathe easy, it doesn't harm the quality rendering everything audio and video in crystal clear format.
Finding easy compatibility with iPhone 6 and above, VDSP++ is a super version of all its predecessors built for iPhone users. You can download an unlimited number of videos using this app. Think of any website, and this tool brings you the solution. Video Downloader Super Premium++ makes the downloading process effortless on a range of iOS devices.
Many users have already found it a great help to deal with restricted videos such as YouTube, Instagram, and Vimeo. It supports all the available video formats such as mp4, MOV, m4v, 3gp, and MPEG with superior support for .m3u8 format, which is the one you stream.
It's light, and simple interface is even better to handle and gets the job done within three or fewer steps. Go to the web page, tap on the link and select download. It has a built-in browser and a file manager as well.
When they say it's free, you better believe them to give it a try. Free Video Downloader is a lightning-fast video downloader app for iPhone that can fetch video links from any website. If you have lists of YouTube video in the cue, install this superb tool and get the job done.
Free Video Downloader comes with multi-platform support and is compatible with Android, Mac, and Windows OS. Like other downloading tools, it's also loaded with HD quality video support, playback support in the background, a built-in browser, and a mini player. On the other hand, it works well as a file manager.
You May Also Like
Choose the one you like
Provided that most of these Best iPhone Video Downloader Apps are free to download and use, choosing the one that fits your need is a win-win for you. Make sure it supports restricted websites without a problem. These apps are tried and tested before being reviewed here if you have any further suggestions, fire away in the comments segment.