Fake GPS Apps For Android Without Mock Location – GPS Apps like Google Maps has made it easier to find your location now. It wasn't as easy to imagine about a decade ago. Thanks to the smartphones and the developers who created such finest and accurate apps. You can get directions to even unknown destinations to enjoy your journey.
But sometimes, you don't want to be tracked or recorded by your GPS app due to privacy issues. Your friends and family may detail your location while your mobile's GPS sends then your information. These best free fake GPS apps for Android come in handy to save your privacy at times.
Reasons why Fake GPS Apps are used
You'll need these apps primarily in the wake of your privacy concern. Many users find fake GPS locator apps handy to switch geographical locations while using Instagram, Snapchat, WhatsApp, or even Google Maps. You might also find fake GPS locator apps useful at times when you have to avoid someone from tracking your coordinates.
Best Free Fake GPS Apps for Android Without Mock Location
This article has recently been updated with some apps to Fake GPS Location without detection. You can easily choose a random location to be your current location. All you need to do is choose a location on the map or set your coordinates and leave the rest to the app. Some of the Fake GPS Apps Without Mock Location listed below would be different in operation but lead to the same result. Let's dive in and find out more.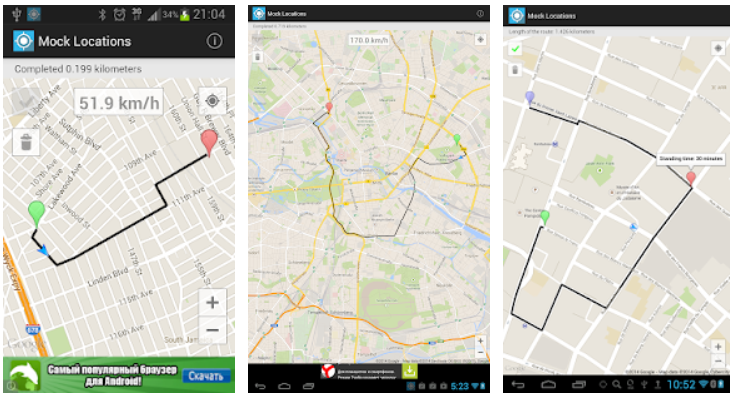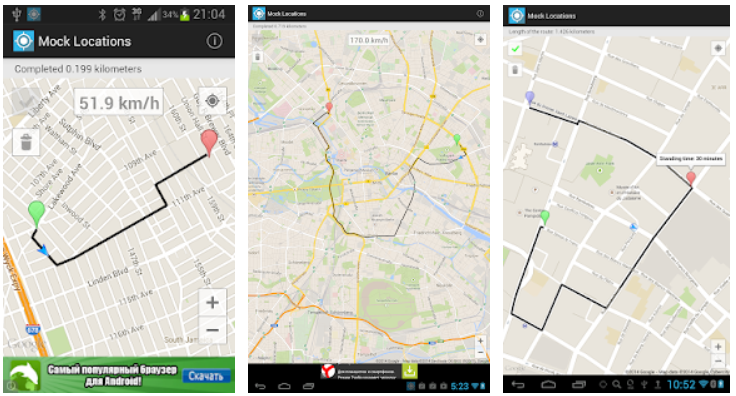 Cited as one of the best Free fake GPS apps for Android, this fake GPS path app uses your network operator and GPS to fake your location details. It works well when you press the "Go" button on your app's screen after selecting a location on the map. This tool emulates GPS according to the network service provider, creates fake routes on roads, build routes along a closed path, and much more using its easy to use features.
Furthermore, this app supports rooted as well as non-rooted devices. Mock locations app has a virtual joystick to let you access games from a different location. The developers have outlaid instructions for news users. Even if you face trouble after installing it, you can contact the friendly support team anytime.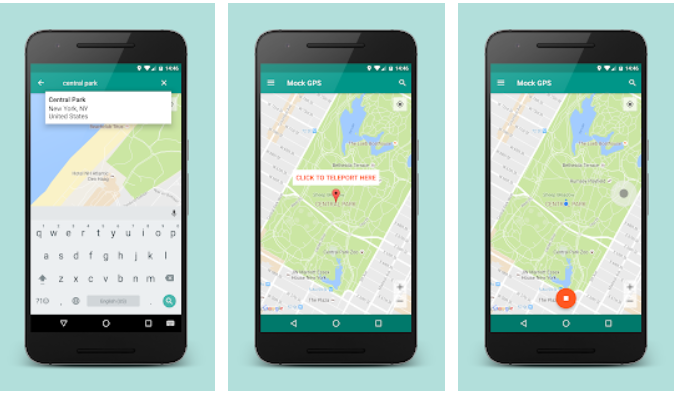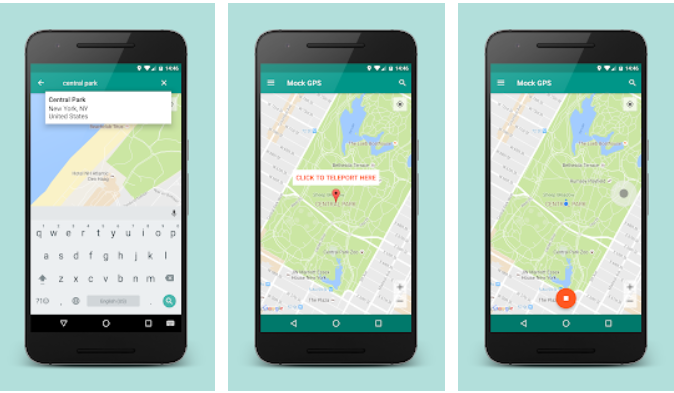 Mock GPS app also comes with a joystick and can fake your GPS location preparing your device to run any location-based app. This app is one of the best GPS spoofing tools which starts with instruction as soon as you launch it. Just allow the app to access your phone's resources, and it will start within seconds.
Its interface is simple, integrated with Google Maps viewfinder to pinpoint a spot to fake your location. The rest is done by the joystick mode that allows you to move that point in real-time. This app is highly accurate and easily configurable.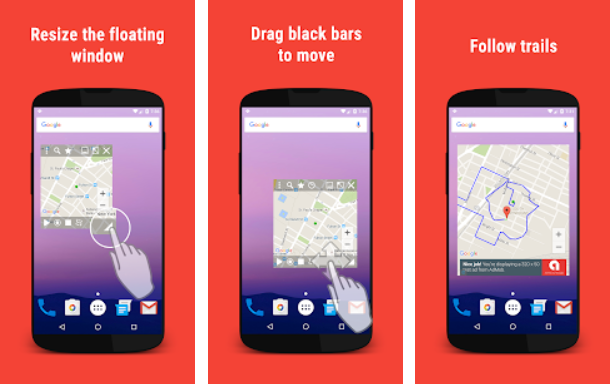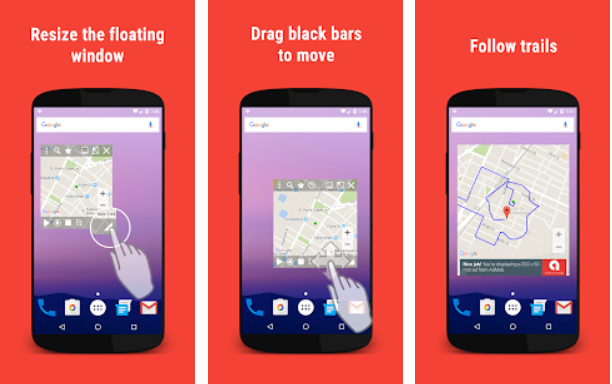 Floater app enables you to instantly change your GPS location to use any apps along with it. Its floating design is easiest to handle, which makes this whole process instantaneous. Floater app is most famous among developers and pranksters. You can be virtually anywhere you want using the floater Fake GPS app.
Floater app also records location history for better location spotting, and you can also add a specific location to your favorites once connected. So, you don't have to spend time reconnecting to a particular location. Operating this app is more straightforward, just start the app, move the map (the location where you want to fake location), and follow the green dots.
Fake GPS Run | Fake GPS Apps Without Mock Location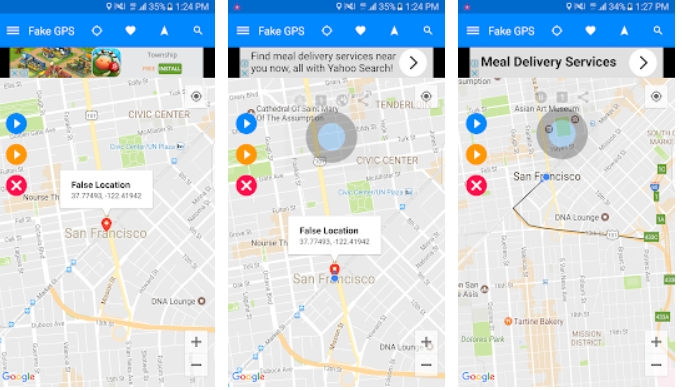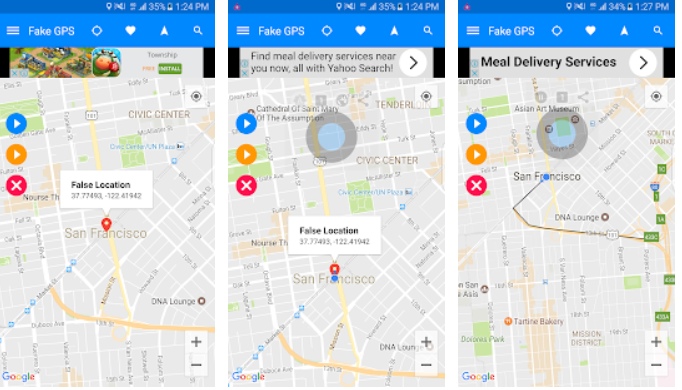 Prank with your friends and fool them by changing location using this 4th free fake GPS apps for Android. This app is a two-click solution to changing locations. It does it smartly enough that every app on your phone starts operating according to the newly assigned location. You'll need Android 6.0 or higher to run Fake GPS Run smoothly.
Also, Fake GPS Run is compatible with rooted android devices and is considered the best choice for coordinating with other apps on your phone. This tool is free to use with in-app purchases and would work if you grant it some permissions.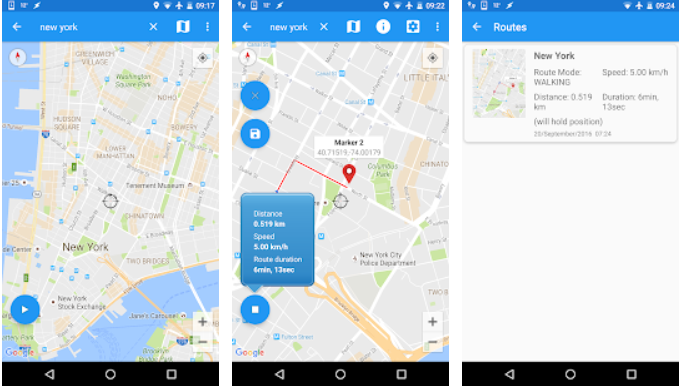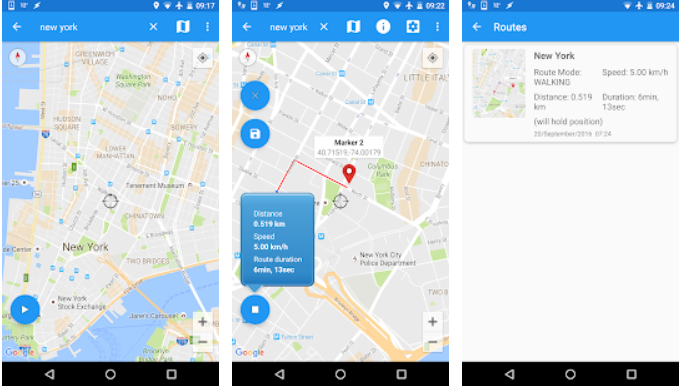 Equipped with standard features in the free version, Fake GPS GO Location Spoofer is an all-in-one tool that takes less space on your device's storage. This app keeps your favorite locations saved so you can reconnect within moments. Many one of the best pranking tools can also easily change your location, making your friends believe you are somewhere else.
Its functions are easier to handle; just choose your faked location and press the play button. The app will then put a fake GPS go location into your android phone on the fly GPS. Its paid version comes with lots of other functionalities such as building routes, expert spoofing options, and joystick controls.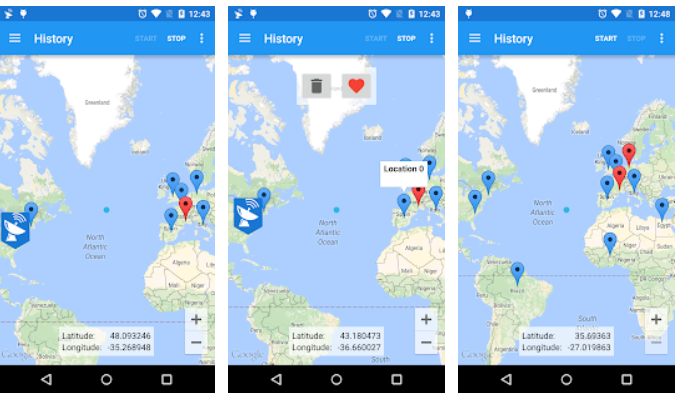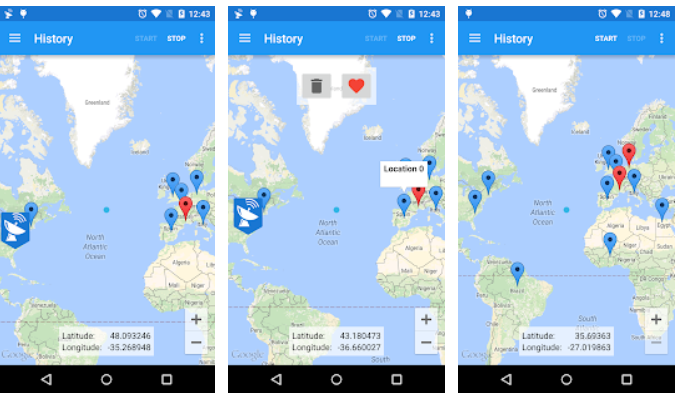 Fake GPS is a simple GPS Mocking tool that even simpler to use. It's a free-to-use app with lots of outstanding features, and if you are bothered by ads, you need a little amount to pay to get rid of them. In order to run it smoothly on your phone, ensure turning on "Allow Mock Locations" on your device's Development Settings and switching on location mode to GPS only.
Do a test run this app before running any other apps on your phone. The app is just under 8 Mb in size, so that won't affect your device storage. Want more reason to like it? Over 5 million users have tried and tested it. Sae your locations to favorite list and be wherever you want to be specific.
VPNa Fake GPS Location – Mock GPS Go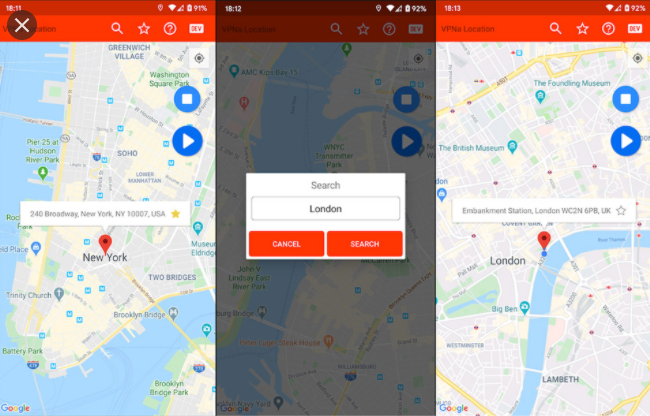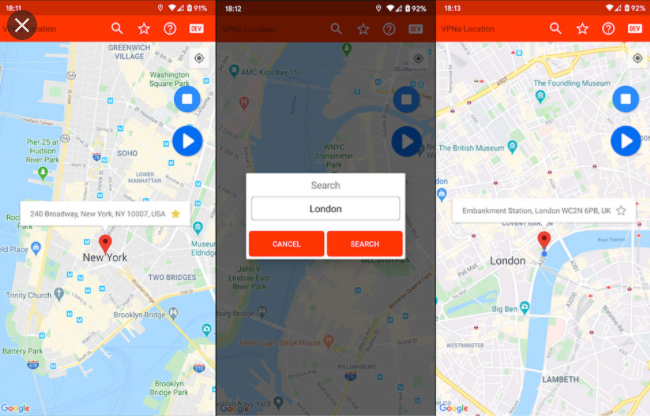 Here is one of the 10 best free fake GPS apps for Android that Guarantees to spoof your phone location and teleport to any place on earth. It's a brand new app that lets you move around any place virtually, making it a favorite among users who prank their friends now and then.
VPNa has an intriguing design that comes with loads of virtual phone navigation App features. You don't even have to have your devices rooted to use this one-click-to-connect app. It's a must-have app when you have social media and messengers to use often.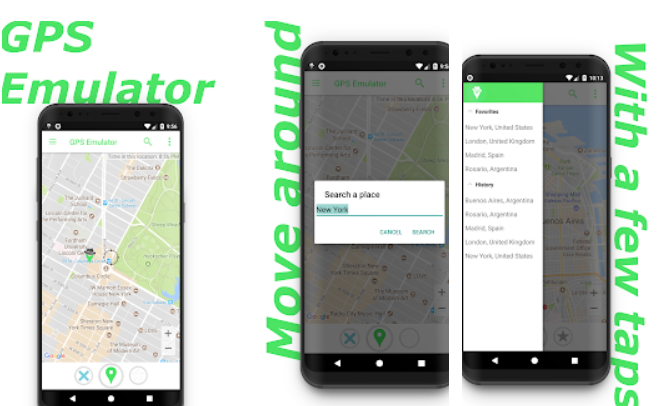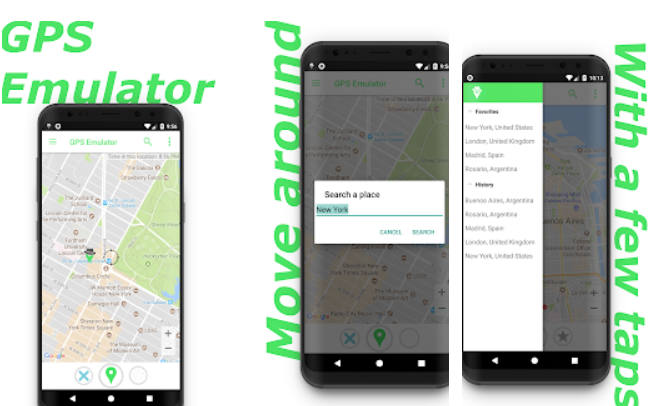 GPSD Emulator is a free tool to fake your GPS location with the faked location's accuracy and current time.  If other apps can't seem to satisfy you, this tool might come in handy. You can choose any of the three map types, namely, Normal, Satellite, and Terrain; you can see other apps just juggle positions between the urban areas only. GPS Emulator is a whole lot different.
It's a simplest GPS Spoofing app that runs on Android 5.0 and above versions. You can make good use of it as it allows you to fake your coordinates using its built-in Google Maps Viewfinder.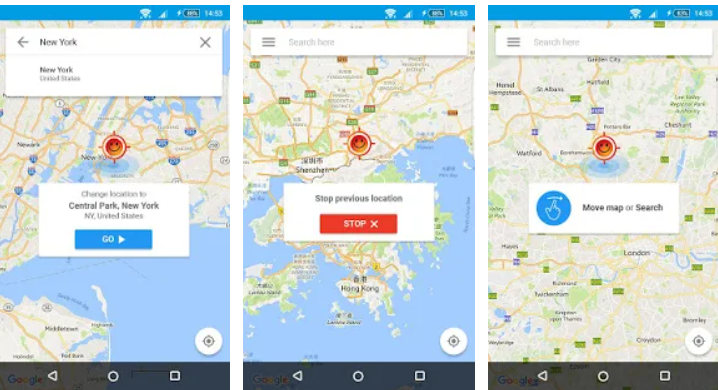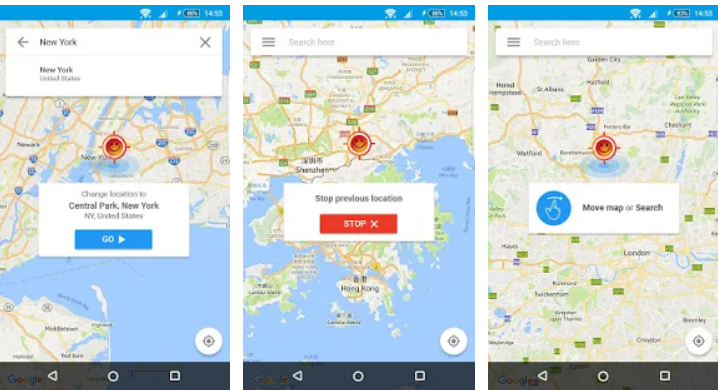 Hola Fake GPS Location is a great tool to fool your buddies. It's a free app that considerably the perfect tool to replace your current to a new fake one. The moment you change your location, you can see different friend suggestions on social media based on your location.
This app accomplishes faking GPS using the Hola VPN service (trusted browser and VPN app) to hide your IP address and reassigns you a new one based on your chosen location. You can choose the location by typing the area name or searching on Map viewfinder. Want to be tightly secure while accessing different locations, wipe all the location history, and enjoy your virtual tour.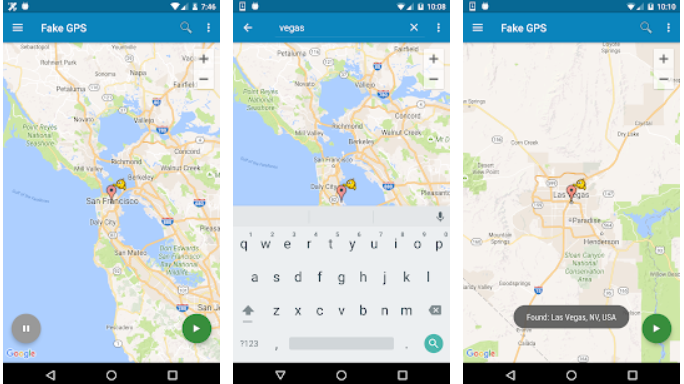 The Fake GPS Location app by the Lexa tools offers a tremendous experience to users with both rooted and non-rooted android devices. Professional users find it worthwhile its advanced features are a good fit for their needs. It can generate fake locations per your need, and when combined with Automation App Tasker, it does that automatically.
If you are travelling to someplace, turn it on and let it switch your location to somewhere else. Like every other app listed here, it also powers your search for locations using Google Maps viewfinder or allows you to connect to the previous locations from the previous locations. Have a look at how many users have used this free Fake GPS app successfully. There are around 1 Million and still counting.
You May Also Like
Final thoughts
Now touring Rome or Paris virtually from a dorm in California within a matter of seconds isn't impossible. At least you can tell your friends that without a doubt. There is one thing in common with all these best Free fake GPS apps for Android Without Mock Location; every developer has made it clear in the end-user agreement; these apps must be used for fun purposes only. How did you find these apps? Have your say in the comments section.
Do you like TechZeal? We Count on You! Don't forget to follow us on Facebook, Twitter, Instagram!