Best Free GPS and Navigation Apps for iPhone – Living in a city with streets like a maze, or driving to unknown locations, anything could be your first reason to use GPS navigation apps.
I like to keep one handy whenever I drive out of the city, just to save some time. This listicle sheds some light on best GPS and Navigation apps for iPhone that can be as useful to you as they are for other iPhone users. Let's talk about some direction-givers, shall we?
Numerous apps offer you GPS navigation services to stay protected from traffic congestions and accidents. A smartphone user must have smart apps and maps to navigate and reroute intelligently.
Do note, that some of the iPhone Navigation apps are excellent at giving directions when purchased in as a premium service. On the other hand, some free apps have their terms and conditions. Open-source apps majorly generate revenue through ads, which may not seem fair according to you. Let's have a look at each. Check Also – Best Download Manager for iPhone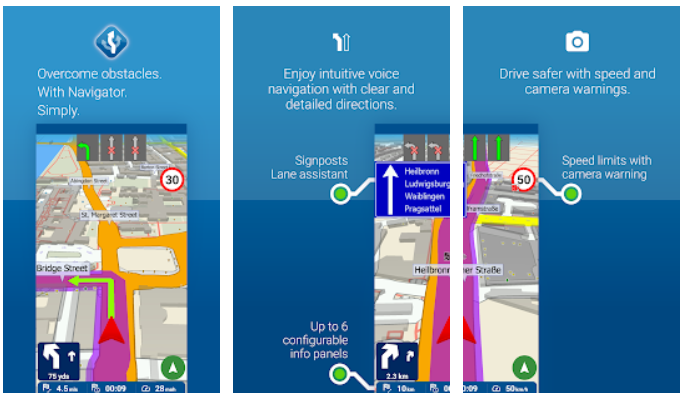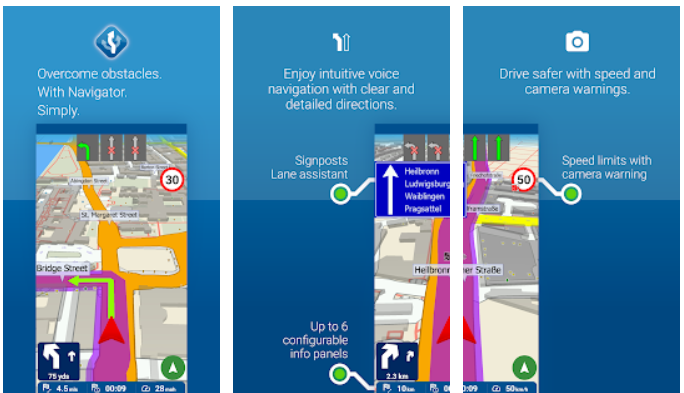 It's an offline navigator build for iPhone as well as android devices. This app works well in 200+ countries, and even if you don't have an internet connection, the app gives you accurate details like speed limits, camera warnings, and voice-guided navigation in multiple languages.
No matter if you are driving a bus, car, truck, or bike, this customizable app has got your route covered. Its 2D and 3D modes detail you with most realistic visual maps. It's a free GPS navigator that you can also purchase for more advanced options if you like.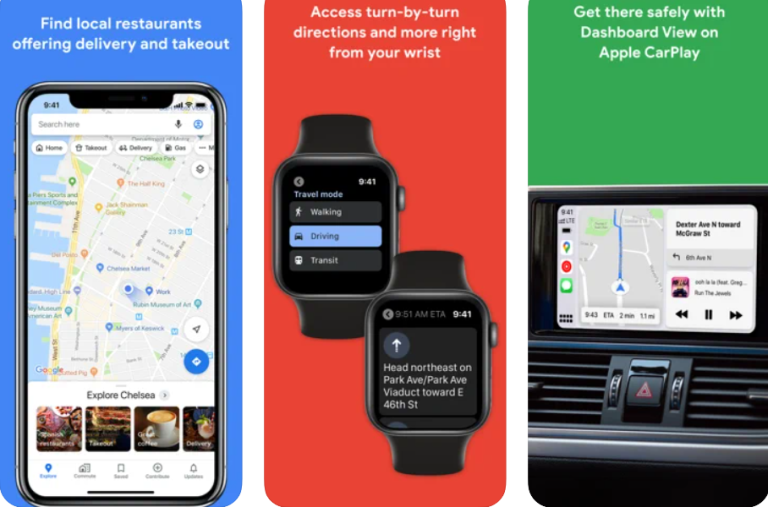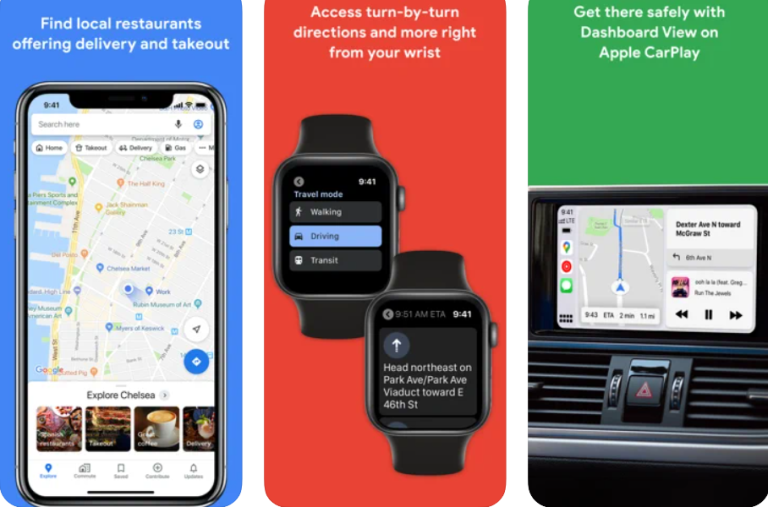 Yes, like Google Maps, Apple also has one of its own. Apple Maps wasn't as famous before as it is now, thanks to the recent upgrades made in the app to display that brings more detailed cities and towns with interactive maps. Now you can easily spot a stop sign and traffic lights in the area or even look for landmarks such as restaurant or business places.
Apple Maps now gives you information on real-time traffic where red-coloured lines indicate routes with heavy traffic. It might just be your time to take a turn and choose the easiest route to work or college. Now, this map can help you save time as you get the best route to reach your destination, dodging the traffic.
OsmAnd | Offline GPS Apps for iPhone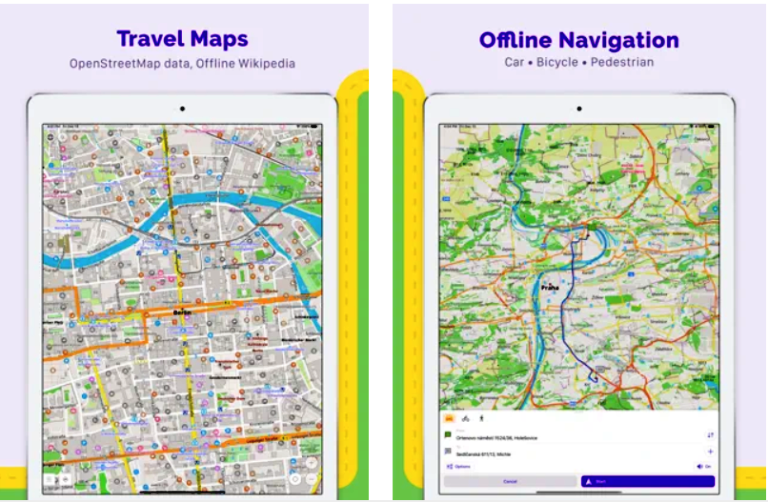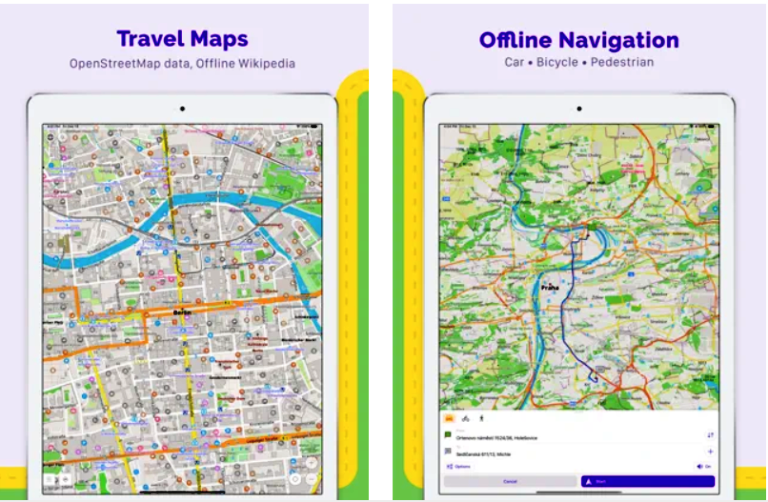 OsmAnd should be your best companion as you plan a long drive. It comes with an offline navigation system which you can use anywhere in the world without paying any money. This app is an open-source navigation tool equipped with high-quality offline maps. There are few good reasons why this app deserves on the top Offline GPS Apps for iPhone.
OsmAnd is backed by Audio Navigation and contour lines visual support, including altitude information. Whether you are in a car or walking, you just need to set a mode in your iPhone and look for directions.
If you worry about exceeding your speed limit on the highway, select to show speed limit in this app, and let it monitor your driving and remind you to slow down. You won't even feel lost on the road as this app quickly generates an alternative route in case you miss your original route.
Sygic


Every 1 in 2 navigation apps come with offline support so you can't get deviated from the route in case your network disappoints you. Sygic is one the widely used GPS navigation App for iPhone, and the number of downloads for it are still counting.
Sygic lets you save offline 3D maps for navigation so you can easily access information to the right place at the right time. Its processing speed is fast and which is the reason why it loads information quickly than its counterparts.
Sygic can be easily integrated into your car navigation controls to make your driving safer by assisting you to drive easy, even in unknown areas. What seems to amaze me is the offline maps that can save you an extra dollar while roaming. Download all the maps before you head out to such a place.
Polaris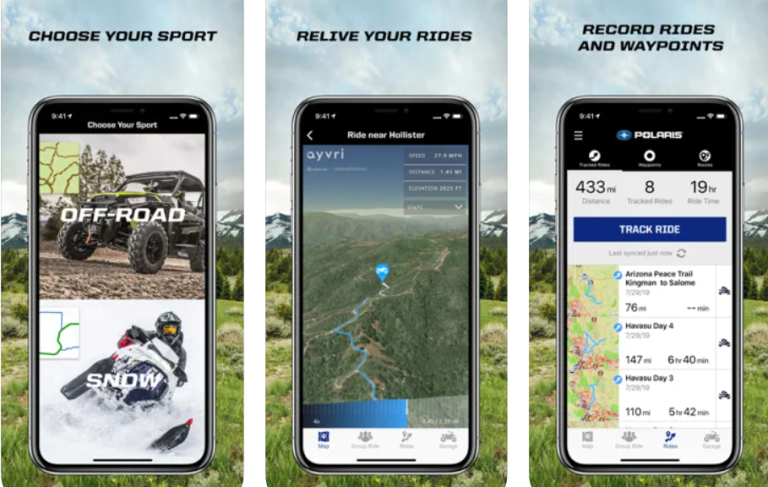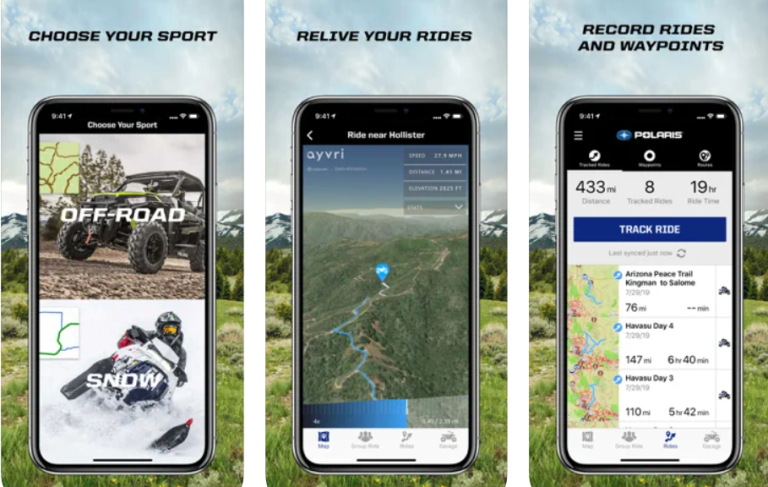 Polaris is an all multi-purpose app that can be your assistance whenever you plan to offroad or hiking. It's the ultimate tool that can help you even in the most unfamiliar places. You can consider installing Polaris rather than buying a handheld GPS satellite navigation Unit.
Polaris is a suitable option when you need your iPhone navigation app to generate stable, accurate, and reliable data. You get to access marine-level charts and directions for free. With all the relevant information about hiking trails and camping locations readily available in this app, you are never going to divert from the mainstream route. Moreover, even military personnel and rescue teams often use help from Polaris to be guided accurately.
MAPS.ME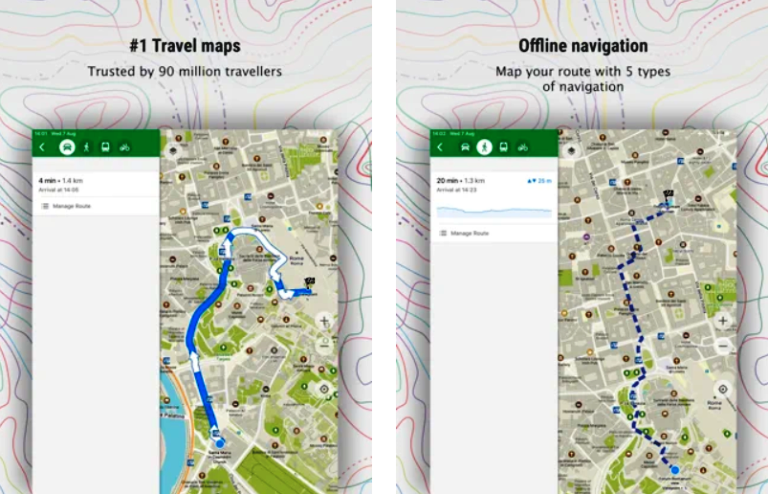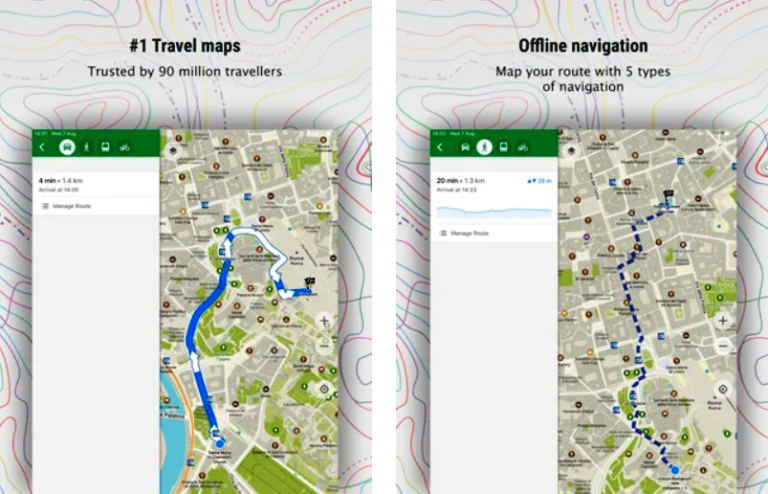 MAPS.ME is a twin brother of Polaris and comes 6th on the Best GPS Apps for iPhone. This cross-platform app does a lot of its tracking and guiding utilizing the OpenStreetMap project to collect accurate geolocation data. Users have found this app a perfect navigation companion while travelling outside their countries.
Even if you are planning to travel to some remote or rural area, this app will never let you get off the right path. Since this app collects information from OpenStreetMaps, it fuses all the OSM features in it, such as Traffic updates from around 36 different countries. All thanks to the contributors who keep its database updated for other drivers and travellers.
Waze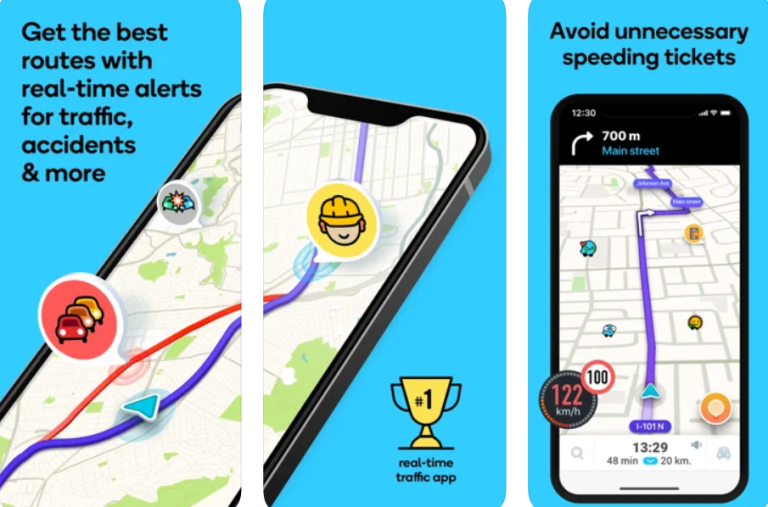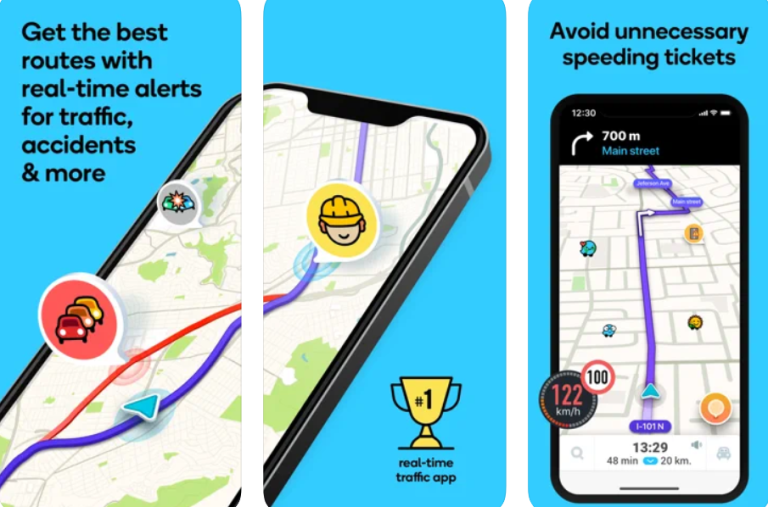 Waze welcomes you with its live navigation and accurate traffic updates, and lots of other GPS-equipped features. Waze keep sits maps regularly updated there are fewer chances for you get lost or mislead. Like MAPS.ME most of the information is frequently refreshed by millions of Waze community members, so there are fewer chances of a mishap.
It's known for bringing you accurate and real-time information on current traffic routes, fuel prices, etc. Waze also lets you share your information to your friends and vice-versa so you can know the ETA. The best part of this app is where it turns a saviour from time-consuming traffic snarls and congested routes. Its Voice-guided navigation will always be helpful to save you some time.
Citymapper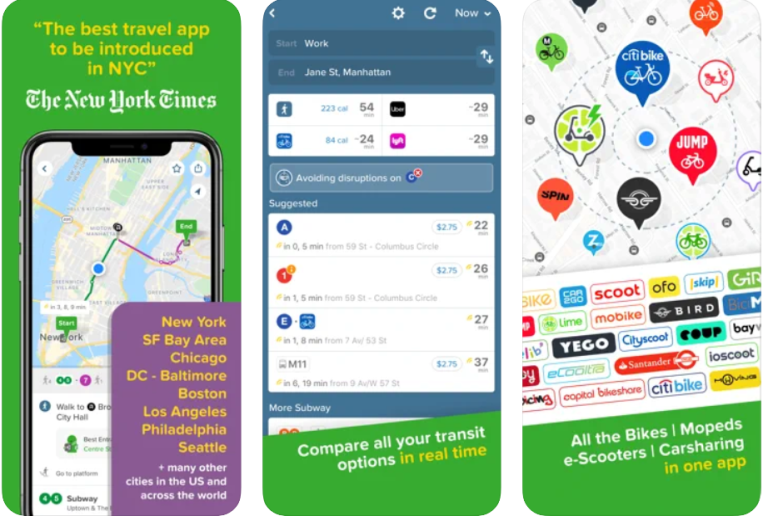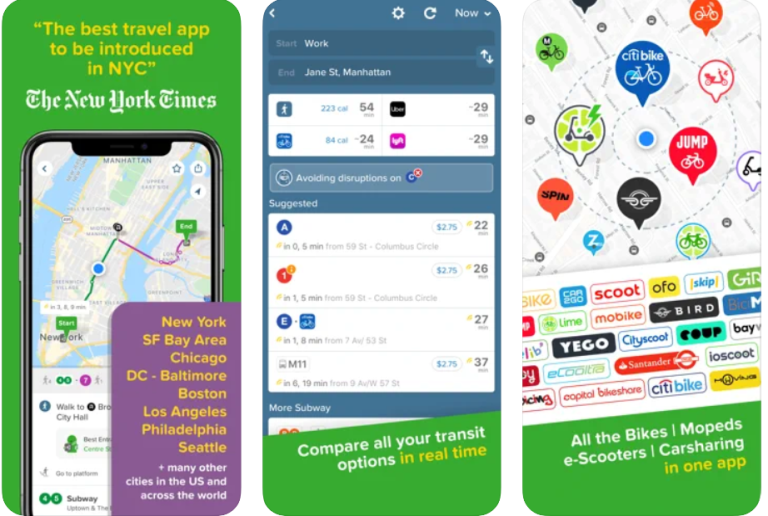 Most of the users commute every day, that's why Citymapper has been kept on number 8 in the 10 best GPS and Navigation apps for iPhone. Mapping all your city's information, this app is a pretty good option when you have to do much of your stuff locally. If it's based on the city's information, you better be aware that you can use it for a few major cities across the globe.
If you want real-time information on routes, bus, tubes, train schedules, or walking directions, no app would as god as CityMapper. It's well-known for keeping its database up-to-date wit real-time traffic information. Most Uber drivers in major cities also rely on this app maybe this app is behind their route accuracy.
HERE WeGo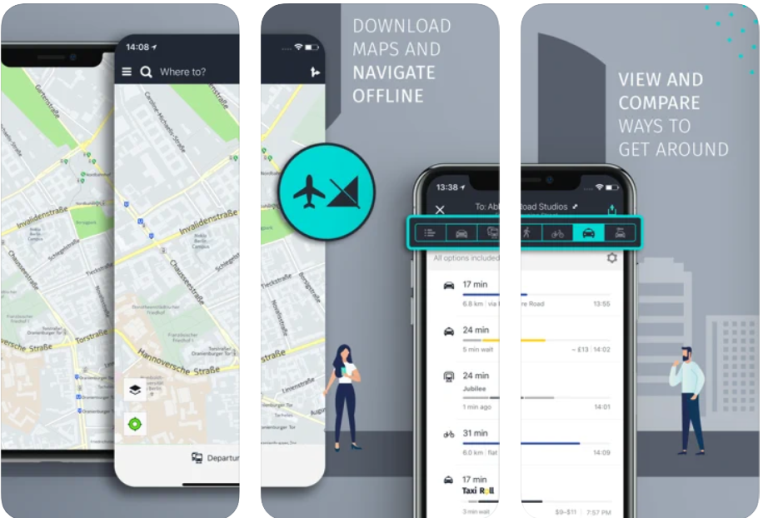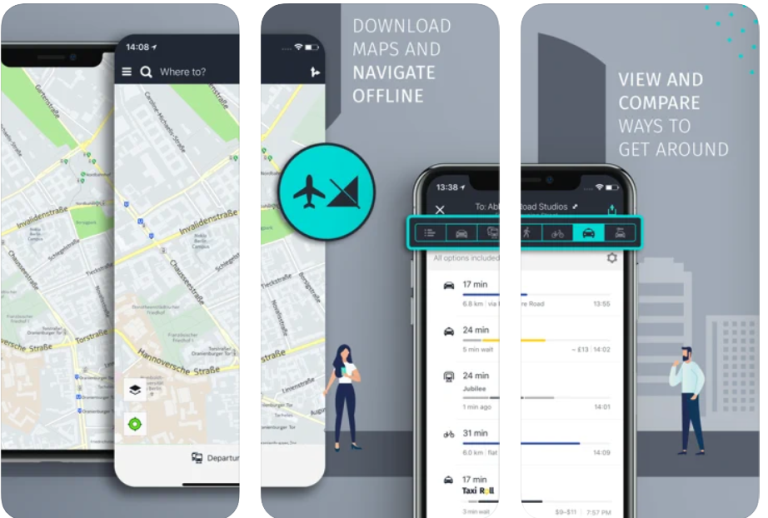 HERE WeGo is akin to Citymapper as this app has turned out to be a boon for commuters. With brilliant and detailed navigation support to users, this one of the best iPhone navigation app will direct your way effortlessly. Equipped with turn-by-turn navigation guide and shortest ways, HERE WeGo makes your commute easy and hassle-free.
Get directions from its voice-based guiding system, drive around the city without any problem. If you are troubled by poor internet, worry not, it's got offline navigation support too. One good reason to prefer it over citymapper is that HERe WeGo lists over 1300 cities in the world bringing you accurate information and updated transit information.
TomTom Go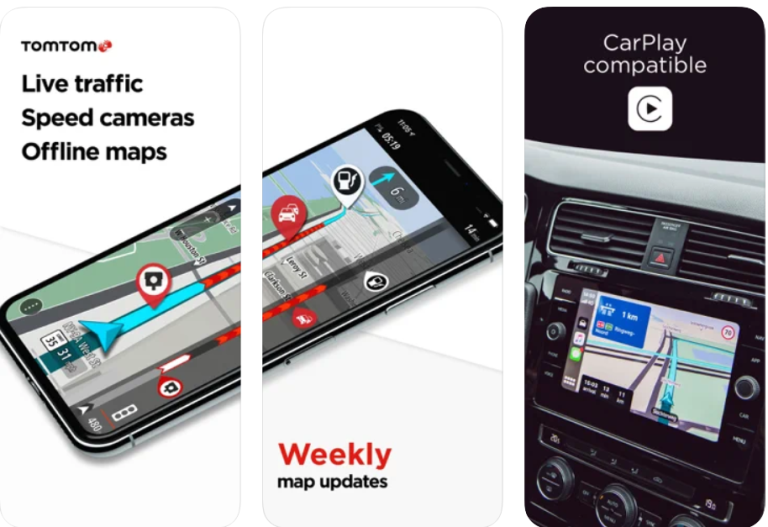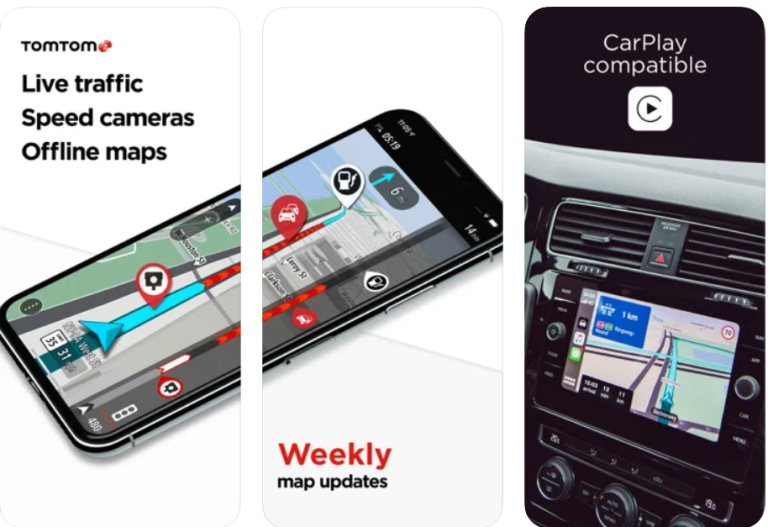 TomTom Go Navigation app may appear lastly in this listicle here, but don't be disguised by its position here. This app is the only tool here that uses the real-time satellite navigation system to bring your highly reliable information. It prompts you about the places where you may get charged for jumping the given speed limit. TomTom Go notifies you about all the cameras located en route.
The only reason I mentioned it last is its subscription fee which I don't think would be bad; after all, it saves you more money than a ticket for speeding. You are allowed to use it for the first 75 kilometres only after that; you'll have to pay the subscription fee to use its advanced features.
You May Also Like
Do you still worry about getting lost?
With these powerful tools as your Best navigation apps for iPhone, I bet you'd find easy routes to any place you want to travel to. My personal recommendation to commuters will be number 8 and 9, as for international travellers, they can find any app from the other ones. These apps can be your GPS navigator and are better alternatives to a handheld navigator.
FAQ
There are many Best Offline Navigation App for iPhone such as Google Map, MAPS.ME, GPSmyCity etc.
Is there a Free GPS apps for iPhone?
There are some also free GPS apps for iPhone like Waze, CoPilot GPS, MapQuest.