Highlight : Top 10 Unique, Best Free Wallpaper Apps for Android 2022 Updated List. All these Wallpaper Apps have there unique Wallpaper category
Best Android Wallpaper Apps– Finding stunning images and backgrounds for your android phone is not difficult anymore. There are hundreds of apps that can do it for you without letting you change the wallpapers manually.
The best part is, now you can find wallpaper apps that work on your homescreen with themes and interactive wallpapers to customize your device's appearance. Let's have a look at Best Wallpaper Apps for Android.
Mobile phones are just more than calling device now, and you know that pretty fact. How good it feels to accomplish everything sitting in your chair. From paying bills to enjoying your favourite movies. When your smartphone is your only companion most of the time, you have a few good reasons to personalize it.
List of Unique and Best Wallpaper Apps for Android 
A user looks at their phone screen at least a thousand times a day, and the wallpaper should be good enough to enlighten their mood. Some are impressed by landscapes, water world, animation, or art. No doubt that everyone has a different taste for pictures and wallpapers. So, here are some selective Android wallpaper apps to make your day.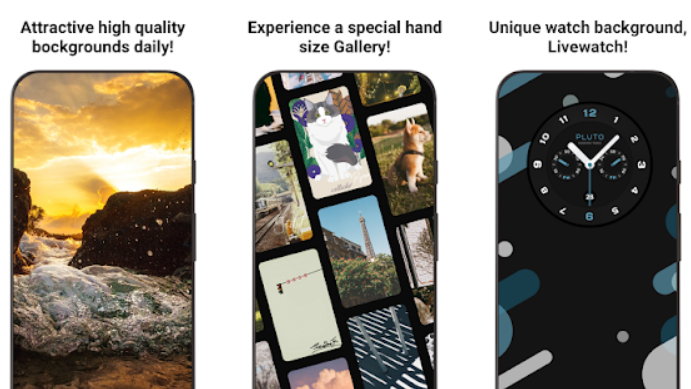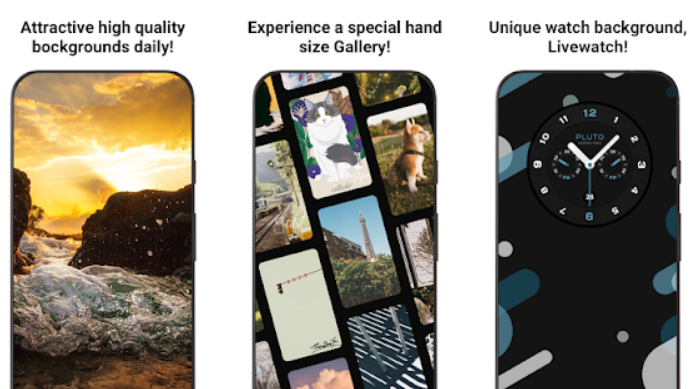 Backgrounds HD Wallpapers or famously known as OGQ Backgrounds, is now past 150 million downloads and over 2.5 million user ratings. This unique app features tons of live backgrounds and videos to fit into your device's homescreen.
Now, you can sign up and set your profile according to which the app suggests you background images. This app has one of the largest HD wallpaper collection which you can set depending on your likes and is you have self-shot pictures, upload them right away to your customized wallpaper section.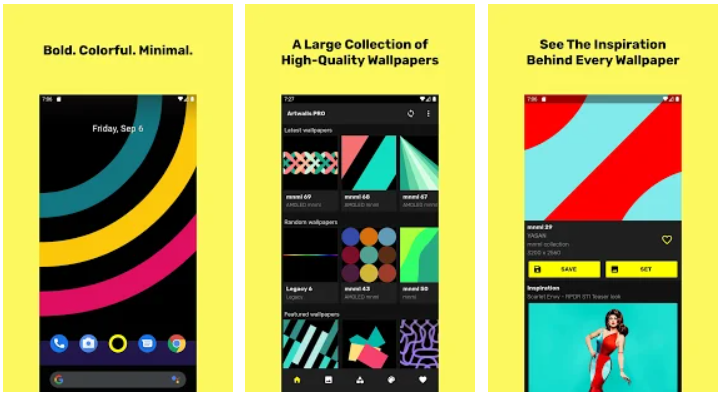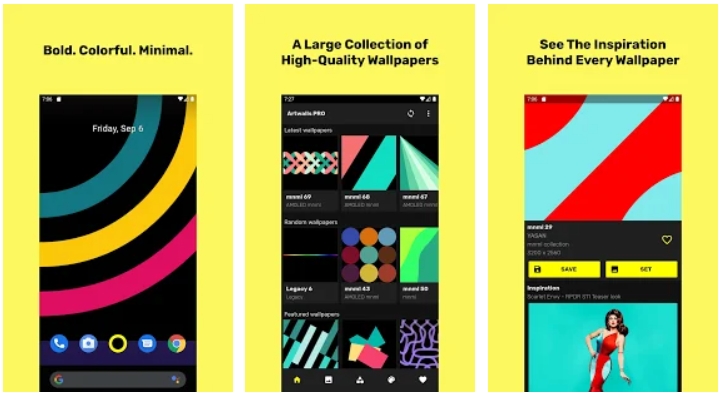 Artwalls is an interesting and best wallpaper app for android which is free to use to set your favorite images on your homescreen, lock screen, and background. Having a large collection of minimal AMOLED wallpapers, this app is inspired by art where each wallpaper has a hidden story behind. You'll get to see your background photos in different variants that change after every few hours automatically.
If you are looking for something new every day, check its daily wallpapers section which brings you a new collection of images in a unique style. Most wallpapers are available in 6K+ quality and are also optimized for AMOLED display to save your phone's battery. Two words for it are, just awesome.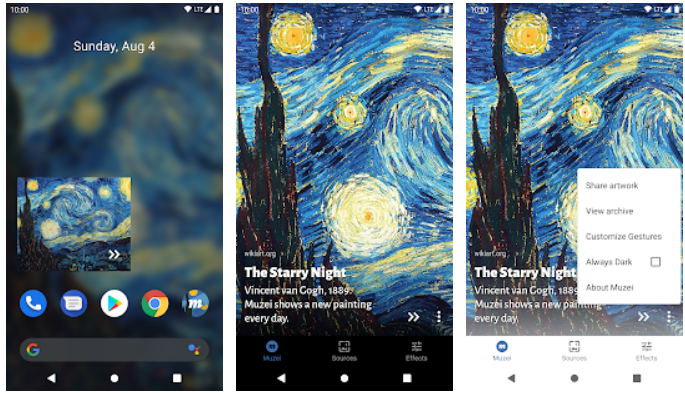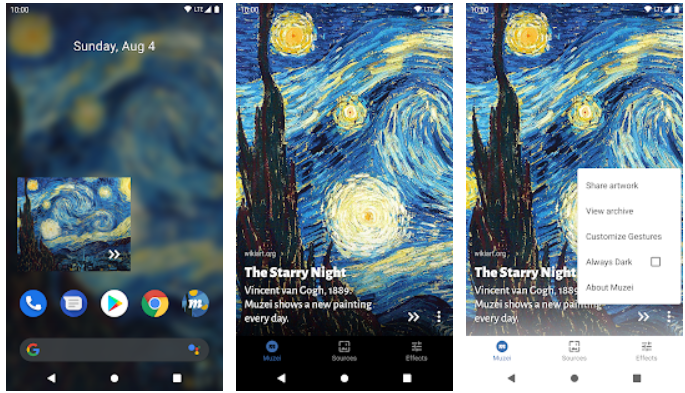 Muzei Live Wallpaper App for android is your ultimate stop if you want to turn your homescreen into an interactive one. The app is a tool to shed focus on icons and apps as the background images are automatically blurred every time you launch the menu.
Muzei turns your artistic experience into something amazing as it gives you the ability to select your favourite images to set them as your homescreen, background image, and lock screen.
This user-friendly app gets your device a new look every day. You'll also love the top-quality artwork from some of the contributors of WikiArt.org. It's developed by a small team and should take your notice if you aim to get rid of dull and sharp wallpapers. It's a free app that you can try for optimum features, no need to go for its premium version.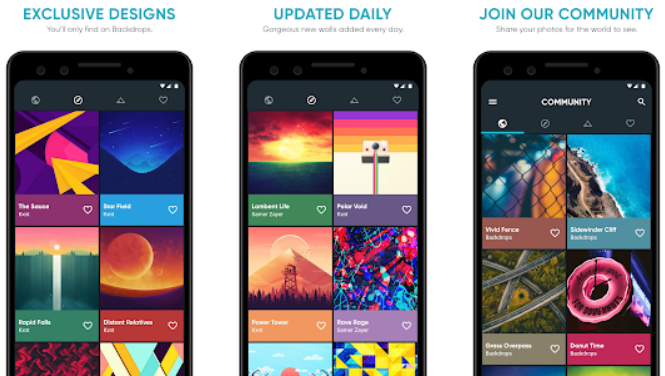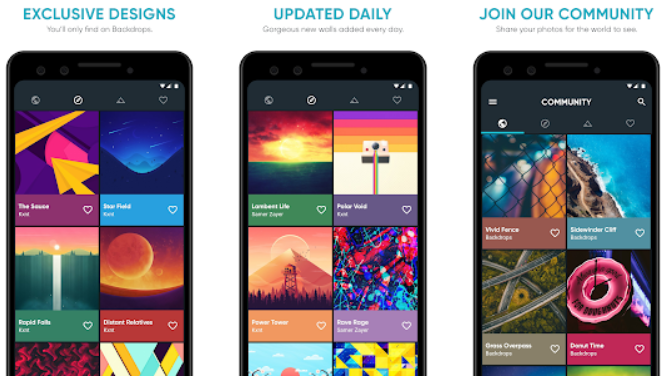 Backdrops App offers you a range of unique wallpapers that you won't elsewhere. This best wallpaper App outcompetes its counterparts in many features such a new wallpaper every day, adding your favorite pics and syncing them to Google, and much more.
There is a competition on social media for the best wallpapers, so you better hone your photography skills here. Backdrops let you enjoy a broad spectrum of images to fill your day with different styles and flavours in Abstract photography, outer space, earth views, landscapes, and many other types. Want to explore more features with original designs? Try the Premium version of this App.
Tapet – Best Wallpaper Apps for Android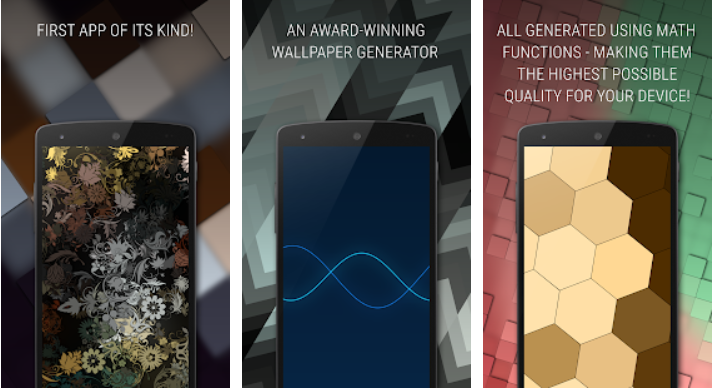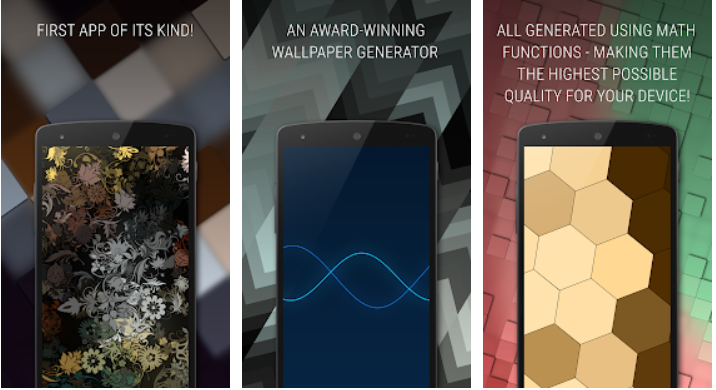 Tapet is basically a wallpaper generator app that allows you to create an interactive yet intriguing set of wallpapers automatically. Its unique features like patterns manager and colour picker let you try on your artistic skills to create unique backgrounds for your device, it all happens according to the size of your mobile screen.
Tapet generates new wallpapers a daily and hourly basis; you can opt for the frequency anytime. There are dozens of different patterns to choose to create premium patterns in just a single tap. This app creates a randomized shortcut that further allows you to do stuff within a single tap.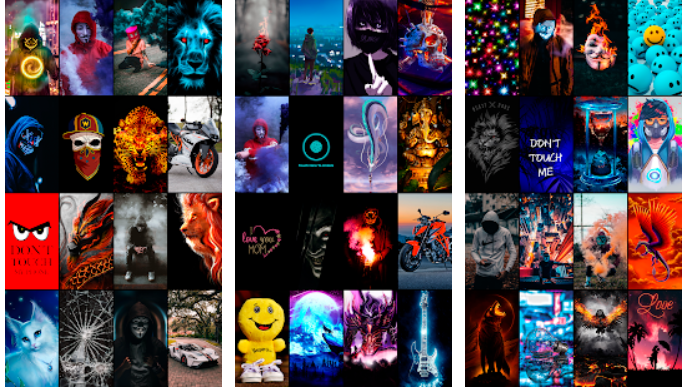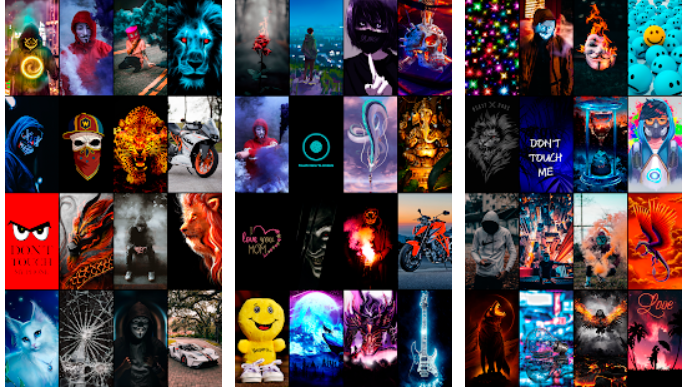 This app is a perfect combination of top-level photography and smartness. You get to choose wallpapers that can only fit your screen. It has a vast library of wallpapers that preselects the usable wallpapers according to your screen size. This app has sorted categories of wallpapers that you can choose for your device.
The library is regularly updated, and you'll never feel tired of the same old set of wallpapers, there is always a new collection on board. Since the app allows you to set wallpapers according to your screen size, the battery consumption is also minimal. It's a free app, to try images worth 2K and 4K resolution.
Abstruct – Abstract and Destruct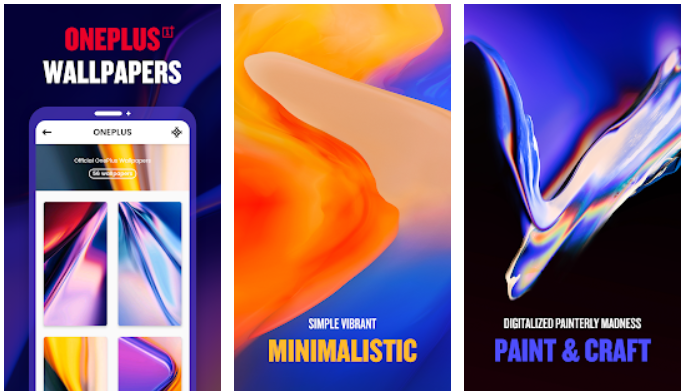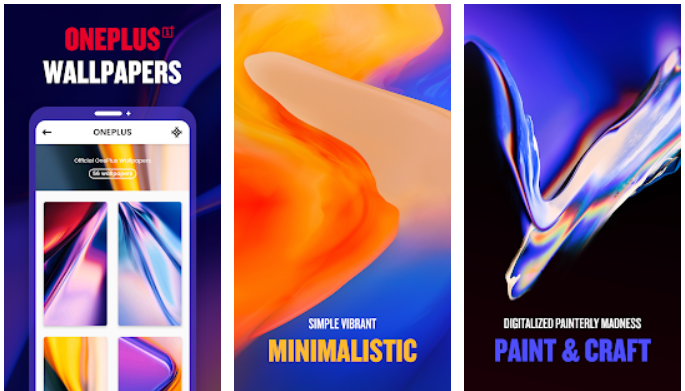 The future proof wallpaper app is here with all the HD wallpapers library for your android device. This free mobile wallpaper app comes with over 360 wallpapers all made by OnePlus artists Hampus Olsson.
Minimalistic vibrant look or an abstract dreamscape, you'll get it all in this smartly built app. All the wallpapers created by Hampus Olsson will get on your device first as soon as you download and install it.
As the developers proudly say, there are more than just 300 wallpapers to be added to kits library. If you opt for its paid version, you'll have more options unlocked.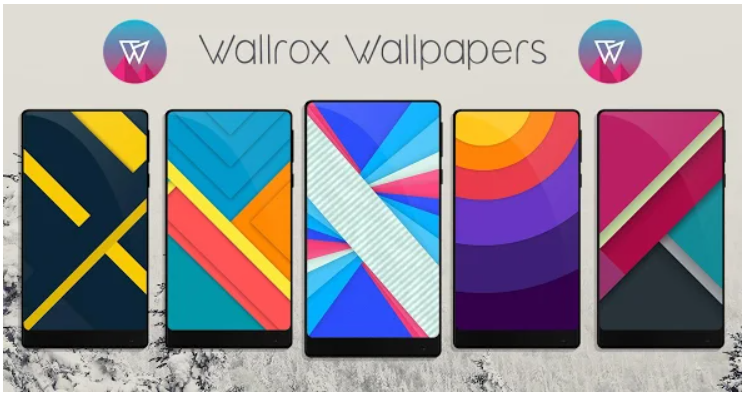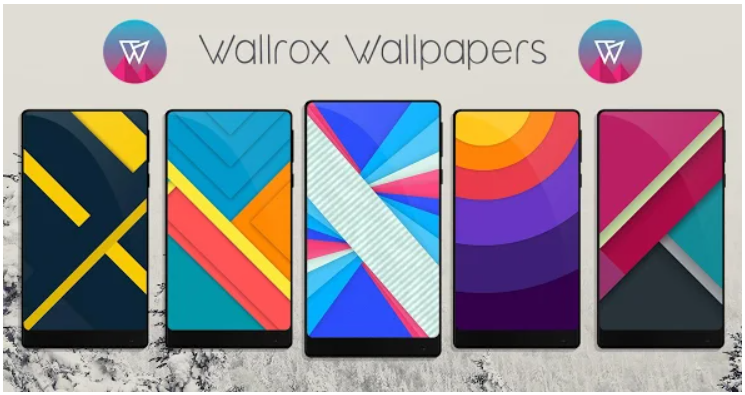 Experience the unique art by Ankit Anand as you get to enjoy 800+ HD wallpapers through Wallrox. It's a free passage to get access to a highly creative artwork and plethora of wallpaper categories to choose from. Change your screen according to your mood.
This app has categorized all the images so you can search your favourite wallpaper quickly and set it to your lock screen, homescreen, and background screen.
Some popular of its categories are Black & White, AMOLED, Abstract, and Material. It's a free app, so try it without any worry, Just make sure not to share the wallpapers anywhere, they are all copyrighted.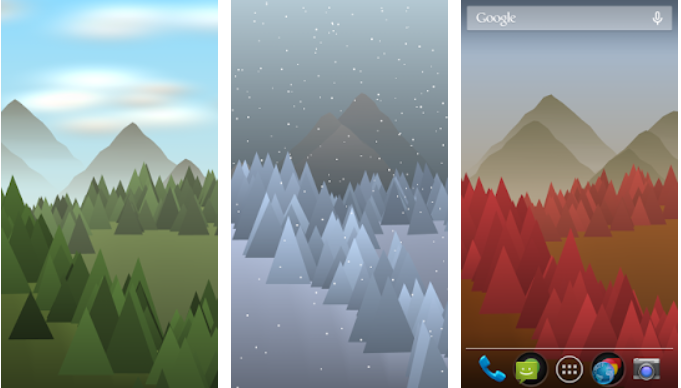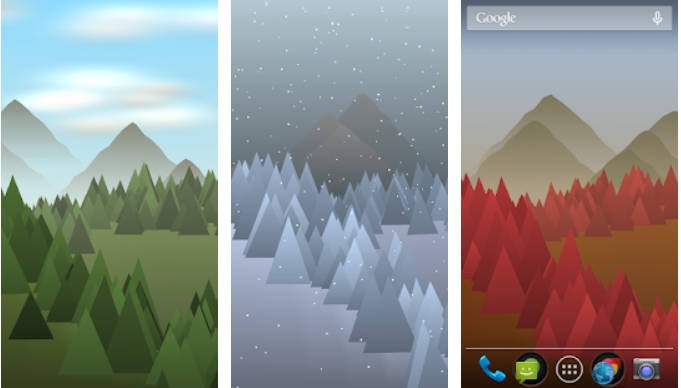 This app I would say is an honest work of art by an individual named KAKA. Forest Live Wallpaper has been developed a person rather than a team, and it pretty much meets our expectations. What makes this app unique is its interactive yet soothing set if wallpapers that also come with a lot of customizable choices.
Do try Night-Time Multiplier in the settings and see how transitions work on trees and the sky from dusk till dawn. There are a few features worth mentioning besides its wallpapers. They are a local weather updater and a 3D/parallax effect. This developer doesn't ask for any payment. However, you can donate to help him continue his project.
Hidey Hole – Best Wallpaper Apps for Android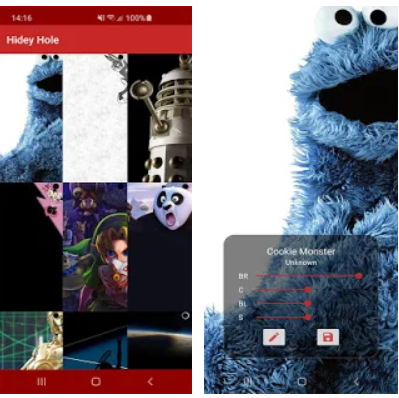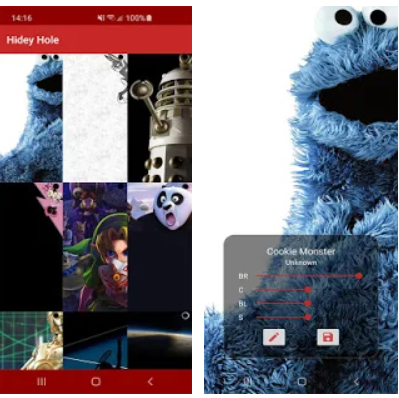 Hidey Hole is one of its kind app that is built for the Samsung Galaxy series. Nonetheless, it's a great wallpaper app for other devices with the same configuration as Samsung Galaxy.
You can browse through tons of images made for the large-screen Galaxy S10, S10 Plus, and its kens. This app has restricted users from trying out the motion effects on wallpapers, but you can still control brightness, contrast, blackpoint, and saturation.
You can scale your wallpapers and can also search for wallpapers according to their popularity and date added.
You May Also Like
Final thoughts
I have no idea which one these Best Wallpaper Apps for Android is going to impress you. As for my opinion, each app has something unique in terms of features and wallpaper categories. You might find some apps better than these, but there are some impressive reasons why the list contained these wallpaper apps. Let me have your opinions in the comments box.
We Write on Latest Tech News, How to Guide, Android, iPhone, Windows, MAC, Reviews and more. Do you like TechZeal? We Count on You! Don't forget to follow us on Facebook, Twitter, Instagram …!