Best English Learning Apps for Android– English is the most spoken language globally, with around 1.3 billion people communicating through this language every day. Language is a vital bridge between individuals, business organizations, and even political leaders. English learning is highly in demand as the world paces towards globalization.
Since mobile phones are also used to communicate, they can also be used to learn English. People prefer to get things done via mobile apps these days; why not try learning the English language using the best tools. Here I'll discuss the Best English Learning Apps for Android to help you find better learning options. 
America ranks the first among English speaking nations, where Pakistan, India, Philippines, and Nigeria follow. An English learning app can help you in many ways, from improving your communication skills to boosting your vocabulary and pronunciation. Another good thing about using such apps is learning and having fun translating English words into any language you want.
Best Android Apps to Learn English
Finding the best English learning apps is somewhat tricky, as tons of local apps let you learn for English free. What about the paid ones? Well, these are free to access, but at some point, you need to get a paid subscription to get advanced learning concepts. I'll be shedding some light on both the free and paid apps that you can find helpful for basic and advanced learning.
FluentU | Best English Learning app Android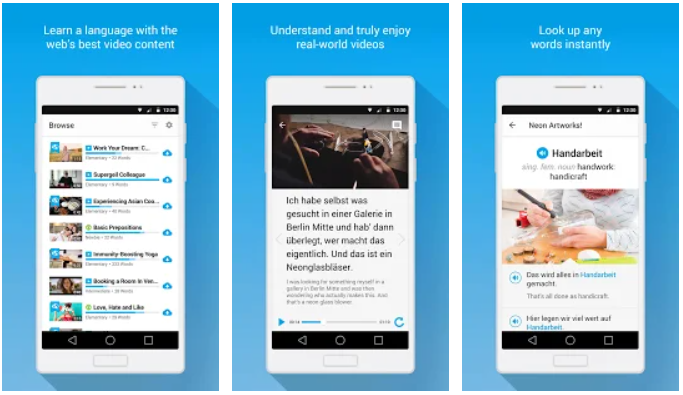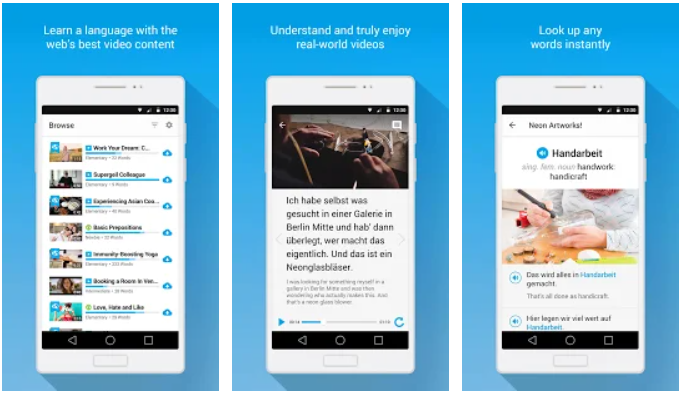 FluentU is an interactive android app to learn English language that up-scales your learning skills through videos. Besides English, this app is also a perfect learning platform for Spanish, German, Italian, French, Mandarin, Japanese, Russian, and Korean languages. This app will make you familiar with the dialects and boost your communication skills with music videos, movie trailers, news, and inspiring talks.
It's an all-in-one app that helps you learn and have fun together. You can also download it on the computer to make it in use quickly. As I said, this app features most of the learning stuff online for free, but to avail more videos and learning concepts, you'll have to refer to the in-app purchases.
Babbel – Recommended by Yale University Researchers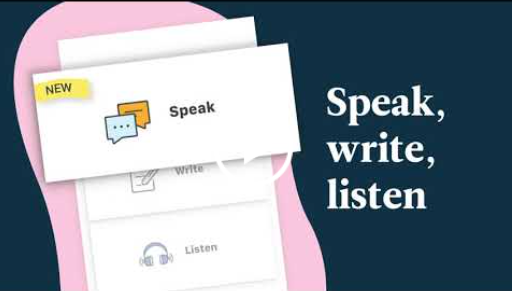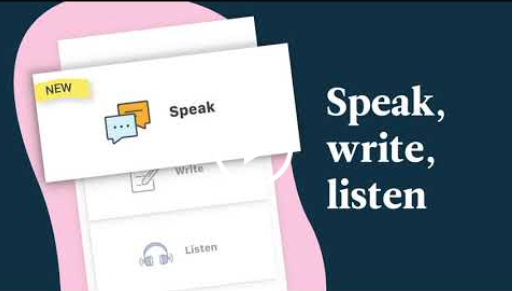 Categorized under the education section, Babbel comes up next to the best English learning apps for Android. Millions of users have downloaded this app so far, and the numbers are still counting. Another specialty of this app is that language learning experts themselves build it. This short, interactive language learning app follows the old-school method to get you to learn a new language with confidence.
Right now, Babbel supports 13 languages besides English (US and UK style), namely, Spanish, Swedish, German, French, Portuguese, Dutch, etc. This app guarantees to make you 100% proficient if you study through regularly for continuous three months.
Grammar Up | Best English Learning app for Android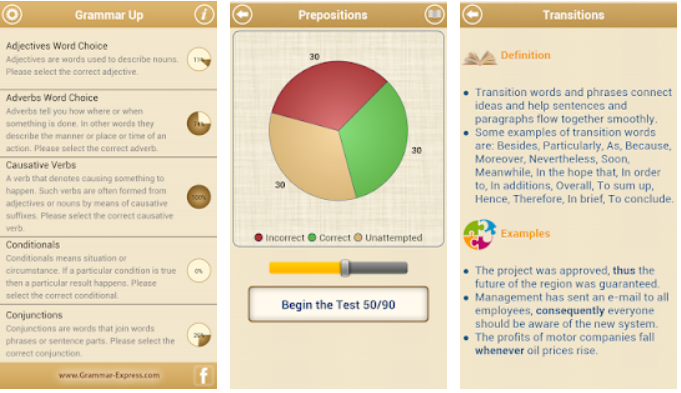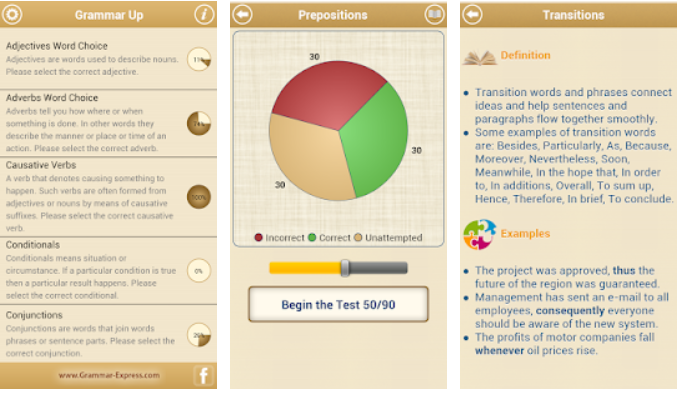 This app focuses on grammar skills and comes as a real tester of your English Grammar. You'll be asked to participate in time-based English quizzes commonly found in TOEIC (TM) English Proficiency Test. You'll get access to limited topics in the lite version; you also get a chance to access 1800 questions in multiple categories if you go for a paid version.
Remember, this app works at the intermediate level English skills, and if you are looking for an app to prepare for a proficiency test, Grammar Up is it. All the questions displayed in the quizzes are Multiple Choice. They are based on different topics such as Causative Verbs, Adjectives, Adverbs, Conditionals, Conjunctions, Nouns, Prepositions, Pronouns, Similar words, and Verb tense.
Duolingo | Best English Learning app for Android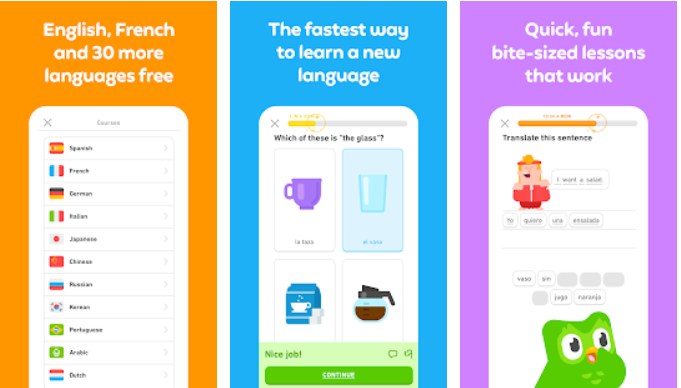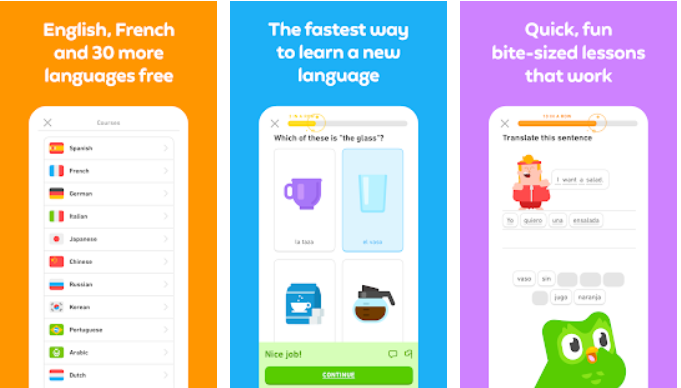 Duolingo is a great app to learn English and have fun at the same time. If you want an all-around improvement in your English skills, do try this free-of-cost provides short lessons to help you practice speaking, reading, listening, and writing. That's not all; you can work on your word power and pronunciation right from the elementary level. There's a new word to learn daily as you master your vocabulary bit by bit.
Half fun half learning, if you spend 34-hours of learning on Duolingo, you will have equaled your English skills to a semester of university-level education. Have you mastered the English language? Try Chinese, Spanish, Japanese, Korean, French, Italian, Italian, German, Russian, Turkish, Portuguese, and others.
Knudge.Me | Fastest English Learning App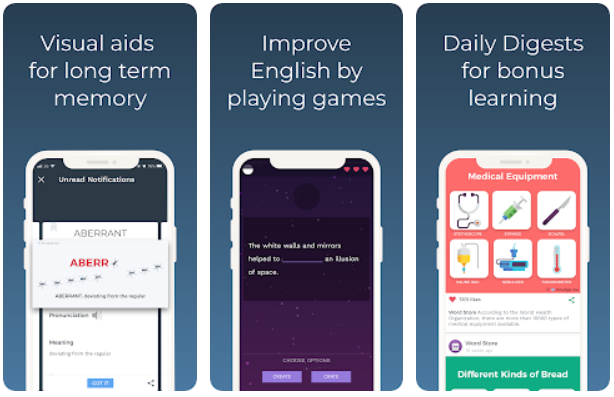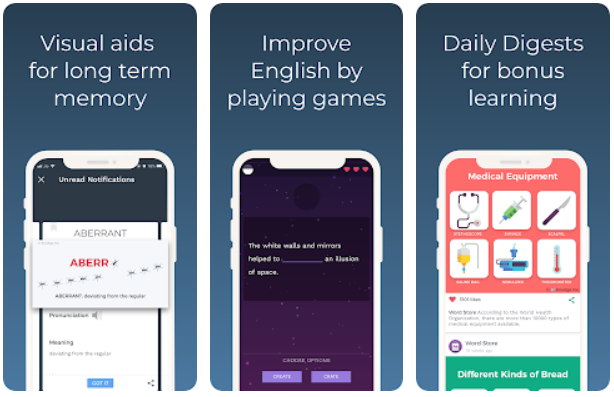 Knudge.me is a handpicked choice of editors on the Google Play Store. It is also an award-winning app to learn English, practicing on Vocabulary, Grammar, and using bite-sized courses, visual flashcards, adaptive quizzes, and interactive games.
This App is an assured way to get past the hurdles you face in learning the English language. You can start from any level, whether easy, intermediate, or advanced. Choose any flashcard course in English Vocabulary, Grammar, Idioms, Phrasal Verbs, etc. and get started with a systematic approach.
This App also lets you focus on maths practice to prepare for famous competitions like CAT, IELTS, TOEFL, and more. Knudge.me has numerous interactive word games and flashcard courses make the learning process on-the-go.
Install the App, and you'll find so many learning topics ranging from writing skills to speaking skills. My best recommendation, do try one of the games featured on this App. Some are Space Pursuit, Word Maze, Words Race, and Spell Safe.
Busuu | Learn Languages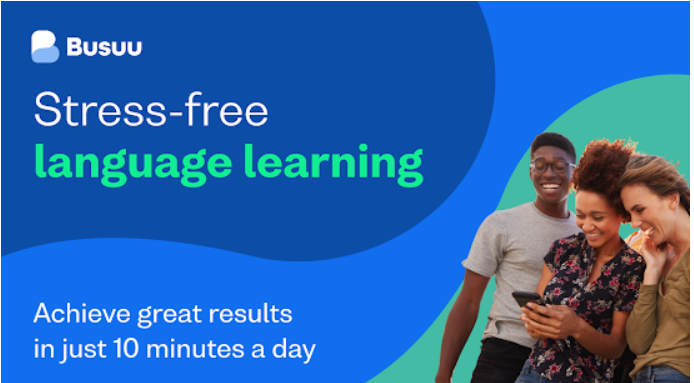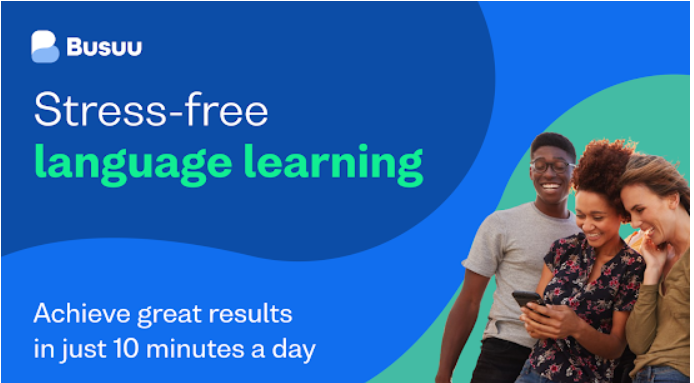 According to a study, 22 hours on Busuu equals a semester studied in college. This app is the second best app (Editor's Choice) and ranks 6th on the list of 10 best apps for learning English language. Busuu lets you start from the beginner's level to continue till the end (intermediate level). Not only English, but you also get to learn 11 other languages in case you feel bored.
There are different topics in English that this app covers for you ranging from vocabulary to grammar. If you are worried about time management, this app covers it all for you. Busuu is the only app that also lets you learn even without the internet or WiFi. If you have a terrible connection or cannot access the content online, you can download it all in advance and start learning later.
Drops: Language learning App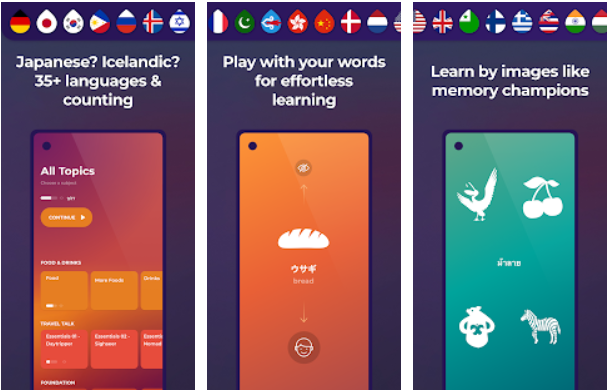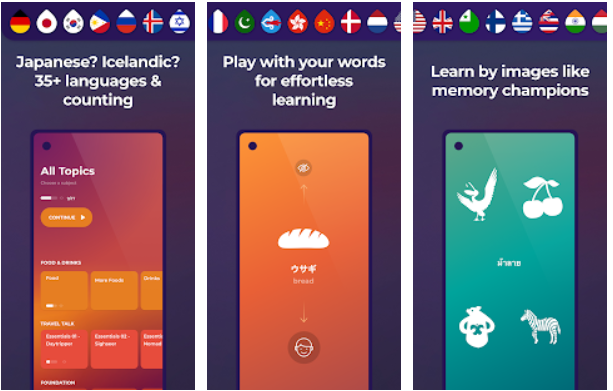 Drop the word boring from your dictionary if you have Drop App on your phone for English learning. Micro-games are the key memorizers to help you remember words and their meanings. Drops App needs only 5 minutes from your day to make you an expert from a beginner. Not just the games, the interactive graphics are worth admiring as well.
With Drops, you can also learn 35 other languages quickly and that too, using 100% visuals. 5 minutes seem quite a short-term to enhance your language learning skills, but practically, it's enough to make you addicted to the micro-games. Drops is the only English learning app where you'll learn about the ticking seconds. Drops App is a personal recommendation for beginners whose focus is on word power mainly.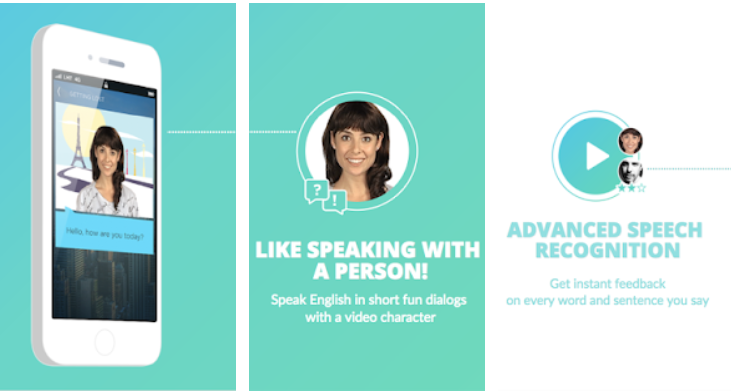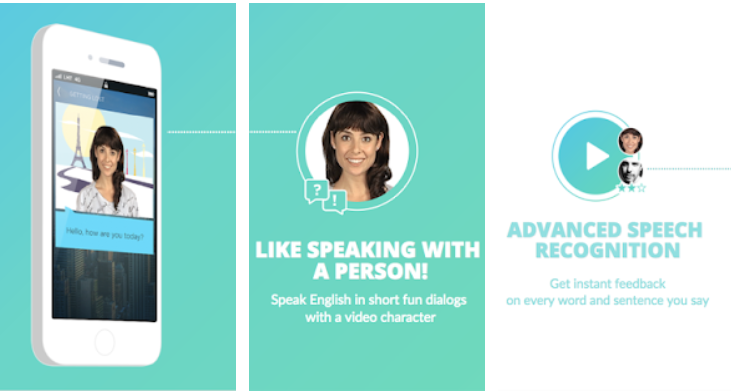 SpeakingPal is your real friend when it comes to taking care of your speaking skills. Millions of users have started speaking Native American English with the help of this American mobile app. Enjoy fun games, or listen to funny dialogues from famous actors; there are many different ways to learn to speak fluently. It's a free tool to hone your communication skills that needs a few minutes a day from you.
Learn around 6000 vocabulary words, 150+ topics, 2000+ video dialogs from native English speakers, and 55+ pronunciation video tips. This app features different quizzes to help you learn and practice on your learning skills with difficult words and grammar structures. The courses available at this app are translatable into 14 other international languages.
Beelinguapp– Learn Languages via Music and Audiobooks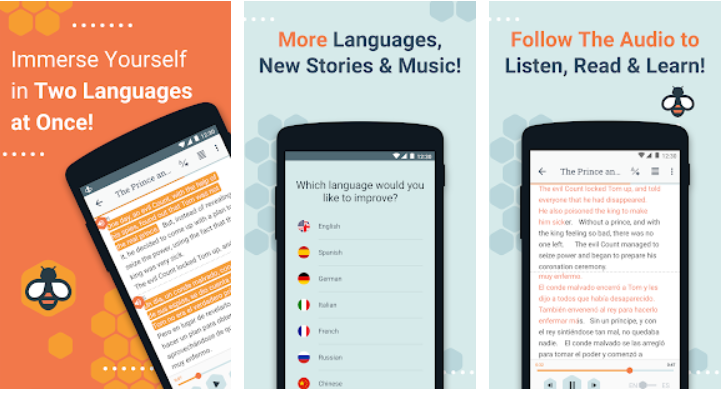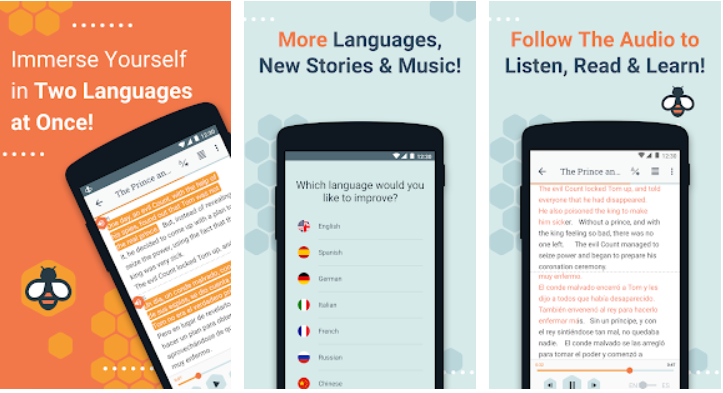 How great would learning be when you had to listen to music and watch audiobooks to learn, that too, in multiple languages? The answer should be awesome, isn't it? Read the best of short stories and learn on your own terms with fun and free language learning apps such as this. If you know learning through audiobooks, Beelinguapp must be your favorite spot to take a few moments and hear something new.
Hear short stories side by side and read the same story on your screen in English or any other language you prefer to learn. Like SpeakingPal, this app also focuses on your speech and gives you guaranteed results. Beelinguapp is free, but you can have access to its complete educational library at a little subscription fee to enjoy more books like be kids.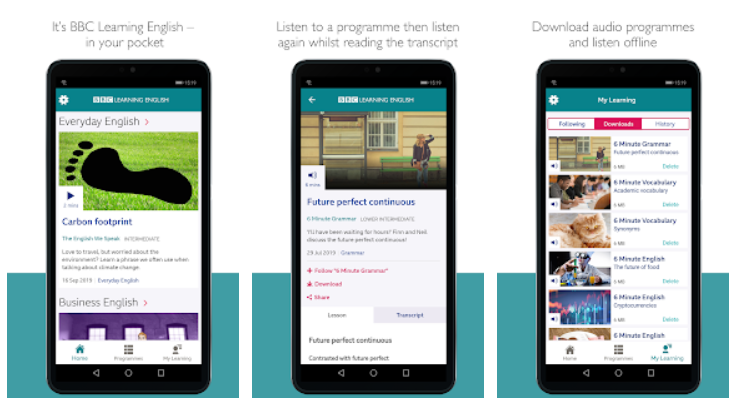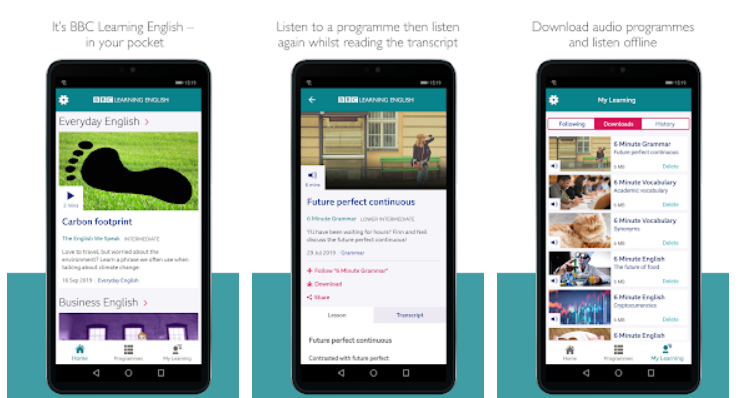 "The best way to learn a language is to practise a little bit every day," says BBC English's creators. Well, this is true for every little thing you want to learn. This official app from BBC helps you understand the English language with daily updates of fun & topical lessons, transcripts & quizzes, and a lot more. The best thing about this app is it doesn't display meaningless ads amid the learning process.
BBC features audio programs, including several other learning materials, and lets you download them before your network fails or you wish to study offline. For everything you play in this learning app, you'll have transcripts and subtitles to improve your speaking and hearing skills.
At the end of every lesson, there are quizzes to test our learning ability. Every learning program lasts about 6 minutes that are enough for you to grasp every knowledgeable topic. It's the lightest of all the Best English Learning Apps for Android that update learning material even before publication on the BBC's official portal.
You May Also Like
Have your Say
It's not easy to find the best English learning app for android when you have a vast array on different ones lined up on the play store. I would say it's not impossible, either. So whenever you have time to sift through the list, do the rightful and start practising. Don't forget to let me know how you liked these apps. The comments section is waiting to hear from you.
We Write on Latest Tech News, How to Guide, Android, iPhone, Windows, MAC, Reviews and more. Do you like TechZeal? We Count on You! Don't forget to follow us on Facebook, Twitter, Instagram …!