Best Caller ID Apps for Android:- I often get annoyed when someone calls me and tries to sell things to me I'll never need. The only words that fill my mind are. What the heck? How did they get my number? And the best thing to happen is that the same agents call me again, from another new number. That is how I thought to have had enough of those spammers and looked for a caller ID app. Here are best caller ID apps for Android as my trusted suggestions to you as well.
You may not have the same reason to search for a android caller ID app as mine, but the feeling is something you can relate to. Callers also use unknown numbers to harass people these days, don't forget they have bots to call you automatically.
Thanks to the smart technology that comes to rescue you from unwanted callers. Now you can reverse lookup and trace a specific number easily using a bunch of android caller ID apps on your phone.
Best caller ID apps for Android to Trace mobile numbers
Android Caller ID apps are a great way to deal with annoying calls and block the users who are hard to handle remotely. Looking up for a number can be a daunting task that not wastes your precious time and requires much of legwork. This is why I have compiled a list of trusted and the best caller ID Apps for Android users. Let's review each one of them to help you find a solution to the problem of spam calls.
Showcaller | Best Caller ID App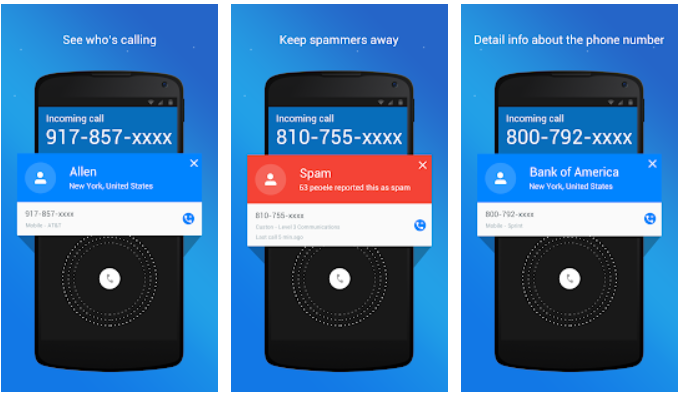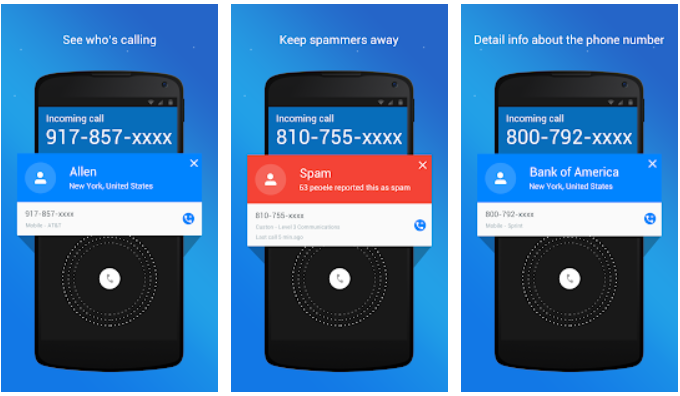 Showcaller comes atop the list of best caller ID apps and also brings you the capability to identify a user offline. The Showcaller app is designed to identify and block spam callers in all four corners of the world.
With a vast database of numbers, it allows you to create and update your own list of spam callers and unwanted numbers by identifying them and putting them into the blacklist. Once you install it, it asks for access to your phonebook obviously because they don't want to identify you as a spam caller.
Some users feel awkward that this app is asking permission to access their contacts, so don't be overwhelmed because that's a security reason to separate you from the real culprits. Showcaller comes with a built-in call recorder, call dialer, and, most importantly, shortcut to quickly access your contacts. This app is hosted on the Play Store as a free tool to lookup numbers; however, if you want to unlock more advanced features, do try its premium version.
Truecaller | Best Android Caller ID App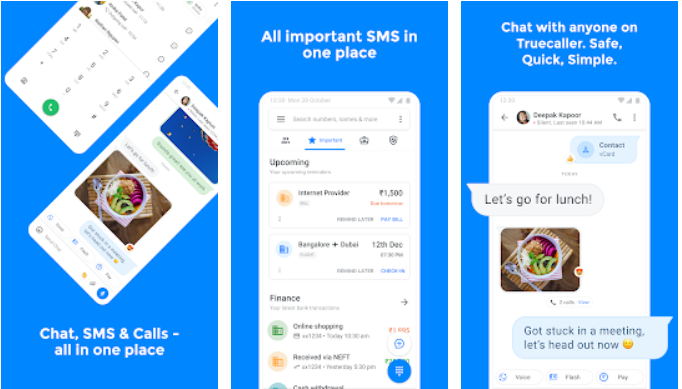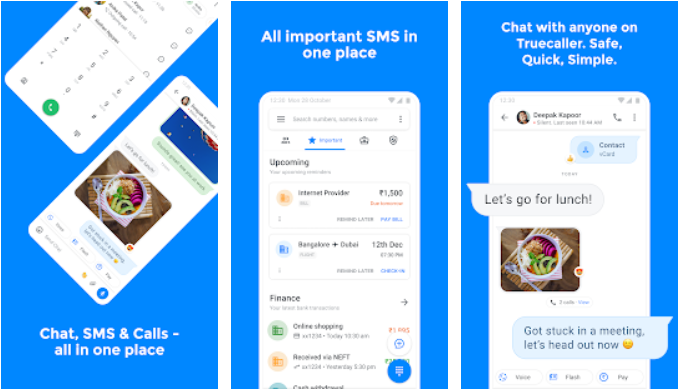 Truecaller is an amazing number tracker and identifier app that has always been up to the mark. When it comes to tracing details, blocking a caller, and identifying potential suspects, Truecaller does the perfect job. Millions of users have downloaded this app and still prefer to use it to track down unknown callers.
Using world-class blocking and spam detection methods, it also lets you use execute one-tap payment on transactional SMS after verifying. You can also use its free chat service to connect with your friends and family in a private group.
In case of an emergency, you can also use truecaller's flash messaging service for urgent messages. Nearly every important feature is available for free, so you need not pay for a premium version.
CIA – Caller ID & Call Blocker App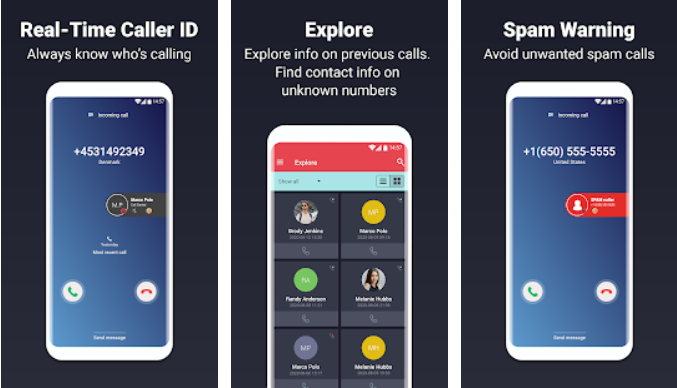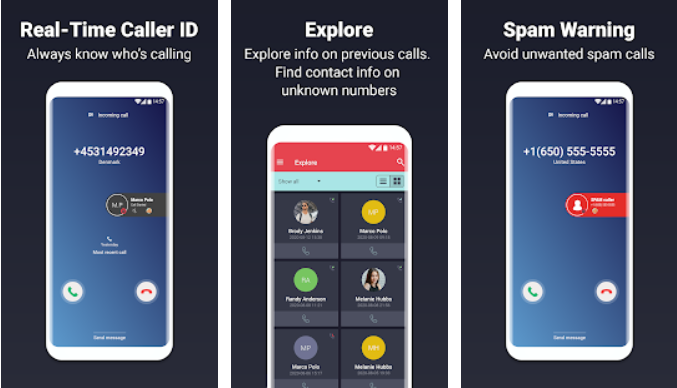 Leave it to the CIA when you are worried about unknown incoming calls. This app identifies and blocks unwanted callers pretty seriously by giving your details of anonymous callers when your phone starts ringing. CIA is a global service that sifts through the database of around 1.5 billion+ contacts. Once you have identified the suspect, it's your turn to block them.
CIA is a suitable option for both personal and business phones with several benefits included. This app also lets you save your contacts on the cloud and delivers you concrete results by integrating with other multiple data sources. You can spot a spoof call or a scammer right away and do the needful to avoid any mishap.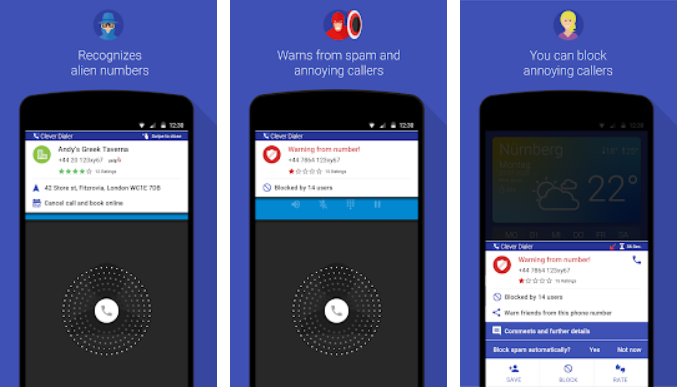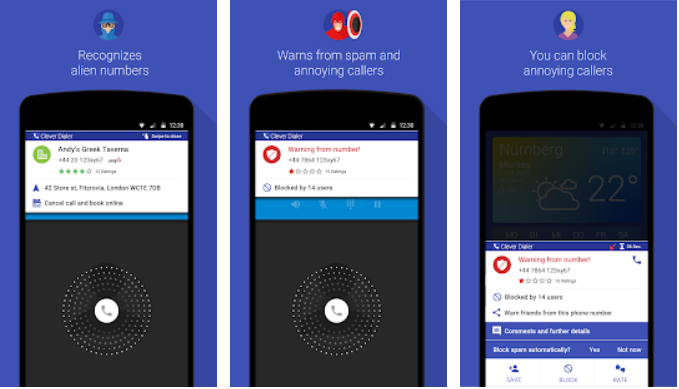 The only reason Clever Dialer is on the list of best caller ID apps for Android is that it doesn't upload your contacts to its server. Maybe this is also the reason why people have liked it.
This app does identification and blocking cleverly and hands you real-time information of an unknown caller. It's a free service that warns you every time an anonymous spammer tries to contact you.
Like other best Caller ID apps, Clever Dialer also has a huge database that accurately delivers details about a caller even if you are offline. Clever Dailer saves the data within the app and the updates it the next time you go online. Most of its services are free to use so; you don't think about any paid service to get the advanced features.
Dialer | Best Android caller ID App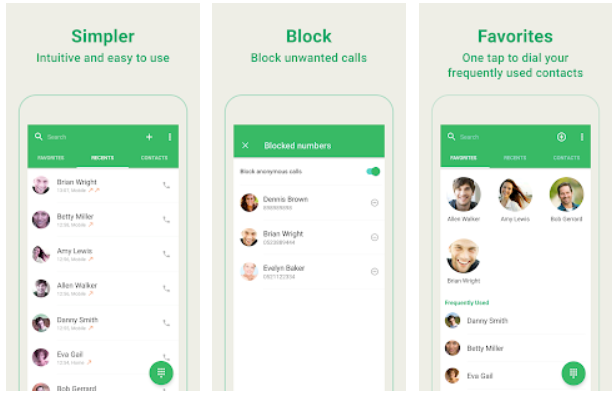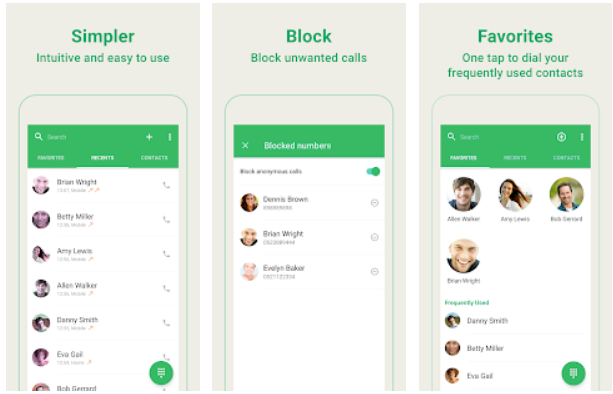 Dialer app is built as an all-in-one package to block calls, monitor caller IDs, smart contacts search, and call log history. Besides the basic functionality, the app also has a set of 40 neat and clean themes to make your experience amazing. Its features include anti-spamming, anti-spoofing, and identifying missed callers.
This app also adds shortcuts to your screen so you can quickly call your favorite contacts. Dialer app is available in 15 international languages so, you shouldn't stress out about country-specific issues.
Dialer takes 5th spot on the list of best caller ID apps for android with registered users already touching 10 million+ mark. It's a free-to-use app to get reliable and accurate search results.
Eyecon | Best Caller ID App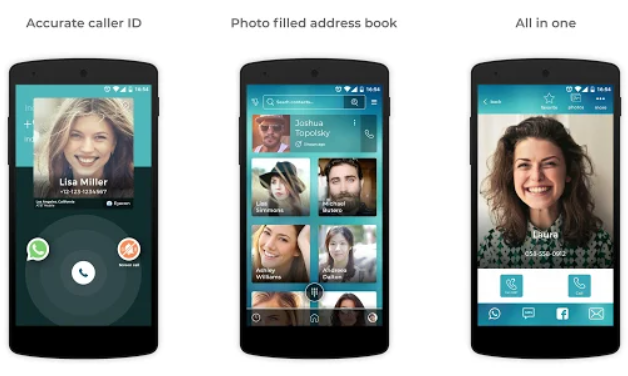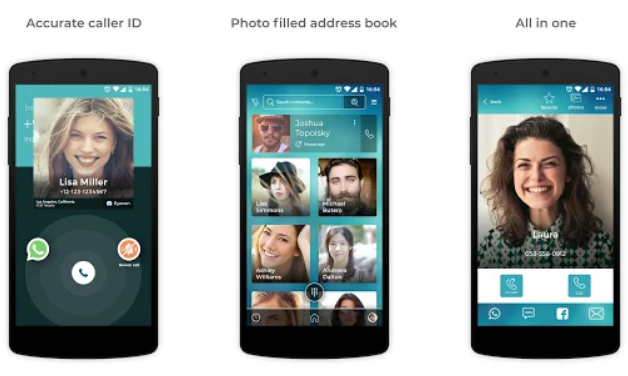 Known as a trusted global caller ID app for android, Eyecon gives big names a tough competition in tracking calls and identifying unknown callers. Eyecon has a unique way of identifying a caller even before you take their call or dial them back. This app brings you visual details of a caller diving deeper into the social media networks and finding if there's any user connected to a particular number.
It takes only one click icon to bring all people, all contacts, and their associated information to your screen. It merges your contacts and address book into one intuitive gallery where you can tap once to call your favorite and frequent contacts. Inspired by Walkie-talkie, Eyecon has added a new calling feature called Toki to connect with your friends instantly. It's a free app that's already on the favorite list of around 10 million users worldwide.
Whoscall | Best Android Caller ID App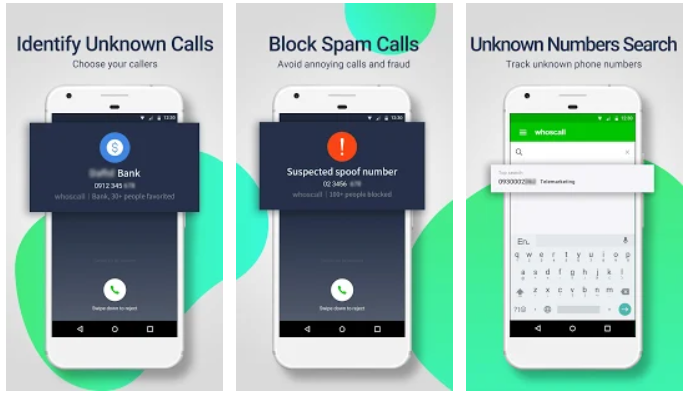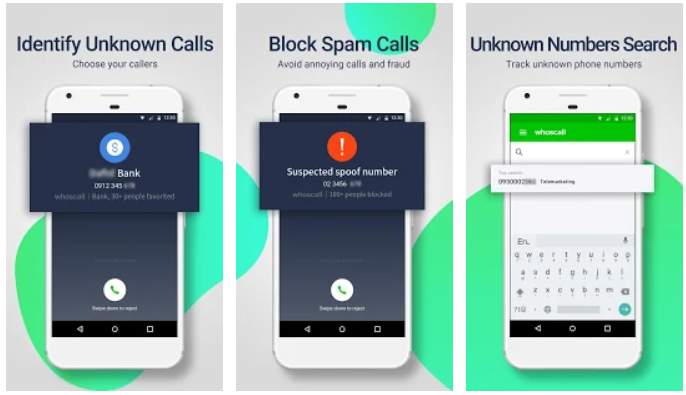 Regarded the best app to block spam calls, Whoscall comes 7th on the list of best caller Id apps. This app also comes with an editor's choice badge and has the most number of users right now.
Whoscall is the only recommended app that's been used globally next to Truecaller. Whoscall app is also the official partner with Taiwan Police Administrations just because of delivering fast and robust results accurately.
The all-in-one android caller ID app is built to manage calls and track unknown callers revealing all the accurate information. It's got a built-in dialer and SMS conversation page to help you further. Whoscall currently has a database of 1 million phone numbers, which is growing every day, working towards genuine users' safety. This app has already got a fan-base of 10 million+ users.
Mr. Number | Caller ID Apps for Android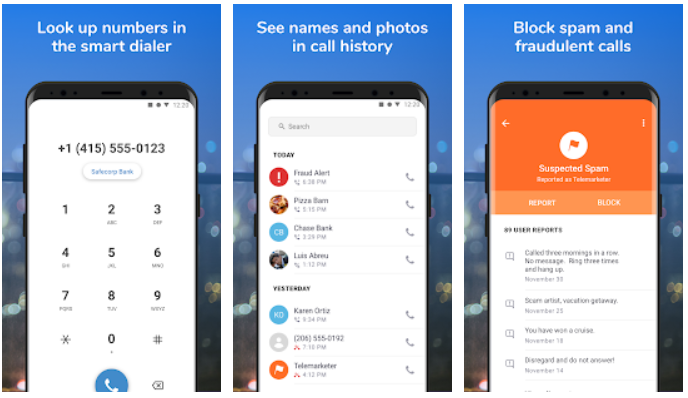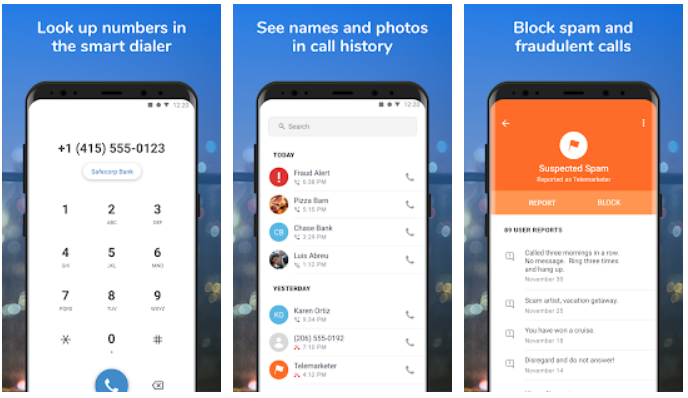 Mr. Number is a proud member of 10 million users club and has served worldwide to keep users safe from scammers and spoofers. This app is a dialer widget that recognizes spam calls and blocks them on your phone. Mr. Number identifies unknown callers by intercepting their calls and redirecting them to your voicemail right away.
You can also block calls from the people you want to avoid, residing in a specific area. If you know the country from where a suspicious call is being originated, you can block calls from that country entirely.
If you have encountered a fake caller recently, you can also report it spam to alert other users and avert future mishaps. It's a free app that brings you essential functionality.
Hiya – Caller ID & Block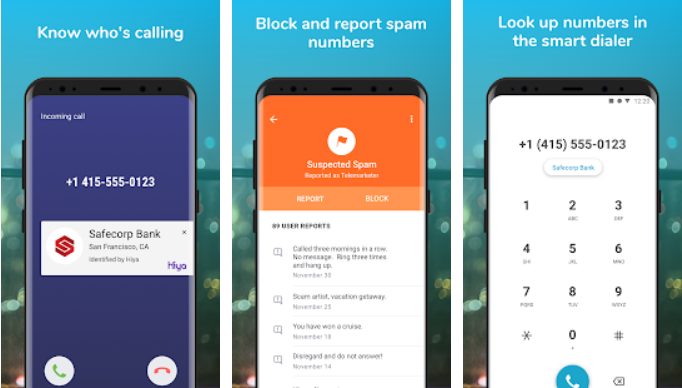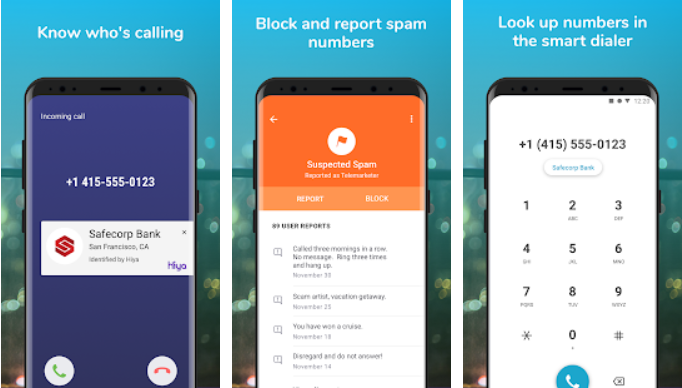 Hiya is a free spam call alert service being used globally by 10 million android users.  It's an open-source yet impressive platform to safeguard you from frauds and spam callers. Giving you details in a real-time context, this app also saves you from online viruses and threats.
Its advanced phone spam protection system identifies and blocks any bots, telemarketers, debt-collectors and scammers automatically. Its reverse phone number lookup service also comes in handy as the Hiya contact manager tool helps you save all its contacts locally to easily spot a potential threat. Millions of numbers are stored in the Hiya database, which assures further accuracy in revealing the caller's true identity.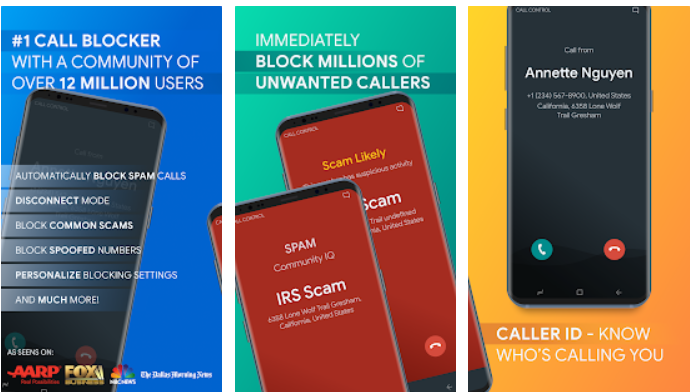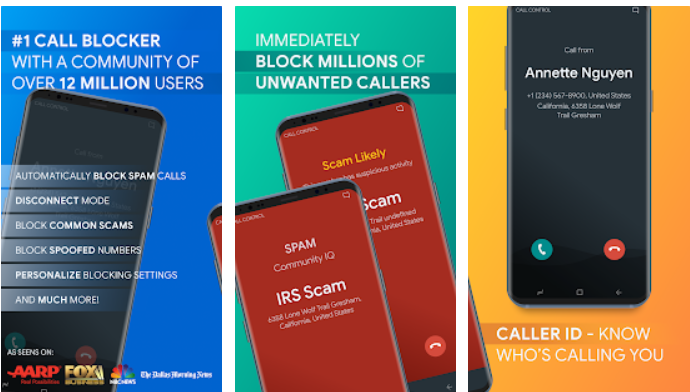 This app has grown faster than any other in a short amount of time. Call Control is an all-in-one tool to block calls, texts and even take your contact backups discreetly. Equipped with advanced call blocker technology and a smart dialer, this app uses flags to let you identify the potential threats and scammers.
With an extra set of features like Extreme calls & SMS blocker and Personal blocklist, Call Control continues surprising its users by assuring 100% protection from unwanted and scam calls. Make sure to make it your default caller ID and SMS handler and allow it to access your contact details for security purposes.
You May Also Like
Conclusion
Have you tried any other app to identify an unknown caller? If so, congratulations. If not, you must give a try to at least one of these best caller ID apps for Android to be on the safer side. Which app are you using right now? Do share your experience with it. And if you have any other suggestions? Feel free to drop your comments.
We Write on Latest Tech News, How to, Guide, Android, iPhone, Windows, MAC,  Reviews and more. Do you like TechZeal? We Count on You! Don't forget to follow us on Facebook, Twitter, Instagram …!