Best Snapchat Saver Apps to save Snapchats secretively Android and iPhone App That Saves Snapchats:- The disappearing images in live updates are somewhat a problem for users who wish to capture a snap, and unfortunately, there is no SnapChat saver function available in this App yet. But it's possible by using some third-party apps, and these apps are available for Android and iPhones.
Here are best Snapchat Saver Apps for Android and iPhone That Saves Snapchats to help you with How to download Snapchat stories. We have also shared other articles related to Snapchat save, you can check – Screenshot Snapchat Without Notification
If you have been using the Snapchat app for over a year, you know how infectious Snapchat is compared to other social networking platforms. It's the unique feature of live story sharing that every competitor has copied from SnapChat. Even if the app is missing out on the key feature of snap saving, some external apps have made it easier for users who have some memories to save. Check Also – Best Download Manager for Android
Best Snapchat Saver Apps for Android and iPhone
If you imagine it, it's possible. There are answers to every problem provided you look for them in the right place. If you are here searching for the answers, Kudos. Now, let's get to the business and help you with best Snapchat Saver Apps of the year. The compilations consist of Apps that are operable on both Android and iPhone. Let's dive in. Check Also – World's Most Secured Phones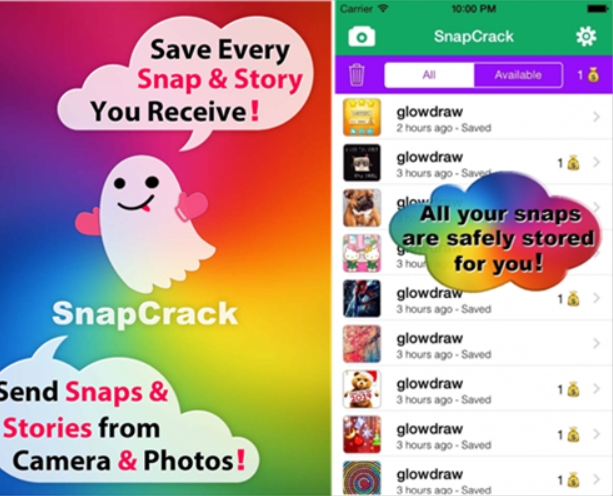 This is one of the best and useful snapchat saver app for iPhone. Since SnapChat has never given access to its private APIs, some apps can still help you save live snaps. SnapCrack Free is one of those.
You can upload or download snaps & stories to your gallery without letting the sender know. This app supports pictures and videos, so it'd be easier for you to handle it. This app enables you to view, zoom, and save the snaps. Check Also – What Does Snapchat Emojies Maening
Story Save | Snap Saver Android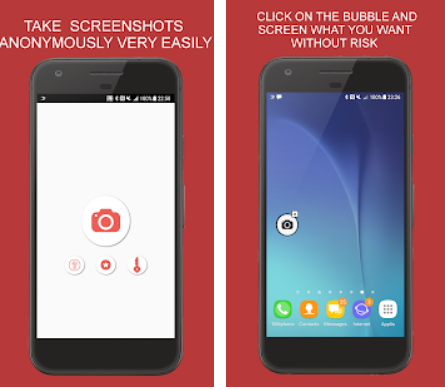 Story save is another best snapchat saver apps for android. Story save is a fast and light app that works fine on non-rooted devices we well. It can take a screenshot, record video on an application anonymously without showing or slipping any notification.
The best thing to use Story Save is you don't need to log in or register to screenshot or record video through this app. It's an easy-to-use app that captures snap stories with just a single click. Check Also – Best Fake GPS Apps for Android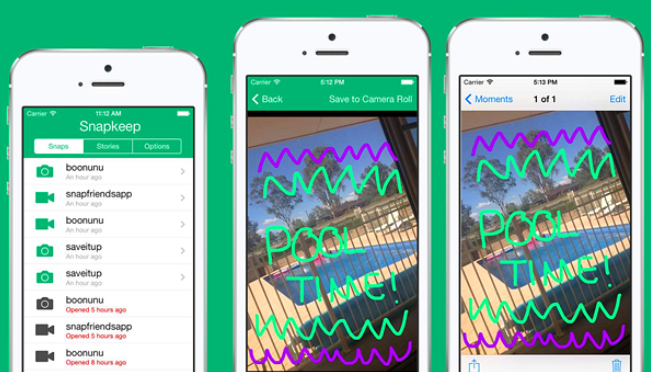 SnapKeep for Snapchat is the lightest app for saving live snapchat stories. If you want to keep your Snapchat memories forever, SnapKeep for snapchat is the best assistant to do that. You can stay anonymous as the sender won't ever know.
You can easily upload your snaps, save images and videos, add multiple lines of text and draw with a broad color palette and different shades.  While you are away, this app downloads all unseen snaps and stories to save them to your photos app. It works best with an iPhone. Check Also – Best Video Downloader for Android
SaveStory | Snapchat Saver Android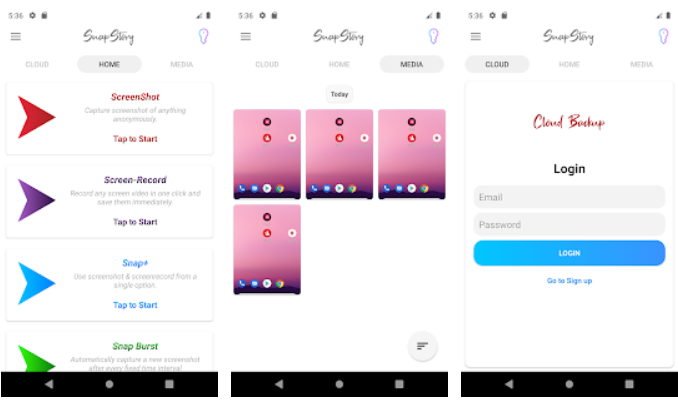 Not only is SaveStory one of the 10 Best Snapchat Saver Apps for Android, but it also serves the same purpose for other apps. SaveStory lets you take a screenshot of any app with video recording capability. You can take continuous screenshots using this app without any notification.
You'll surely fall in love with this masterpiece when you try its fast processing, HQ recording features. You need not register or log in to use this app. The best part is, it works on the chat screen and can capture images from a recorded video. Check Also – Best Android Phone for Rooting & Modding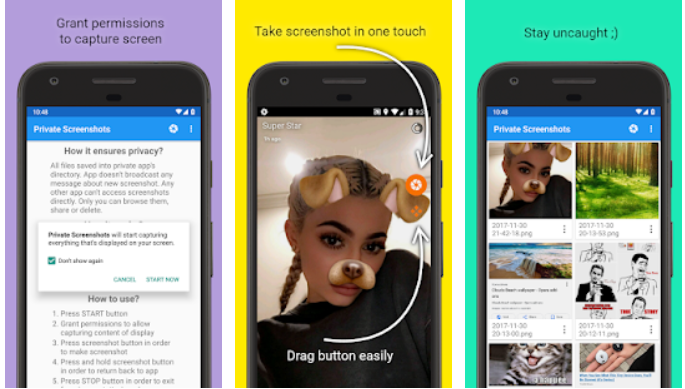 This fantastic app keeps its reputation by keeping your activities confidential. This app saves all your files into a hidden directory to ensure your privacy without broadcasting any messages about the new screenshot being taken.
This app works simply by launching the presentation mode on your phone and capturing the entire content displayed on the screen. You can save any image from the recorded content using a drag button. Private Screenshots app is available for Android 7 and above.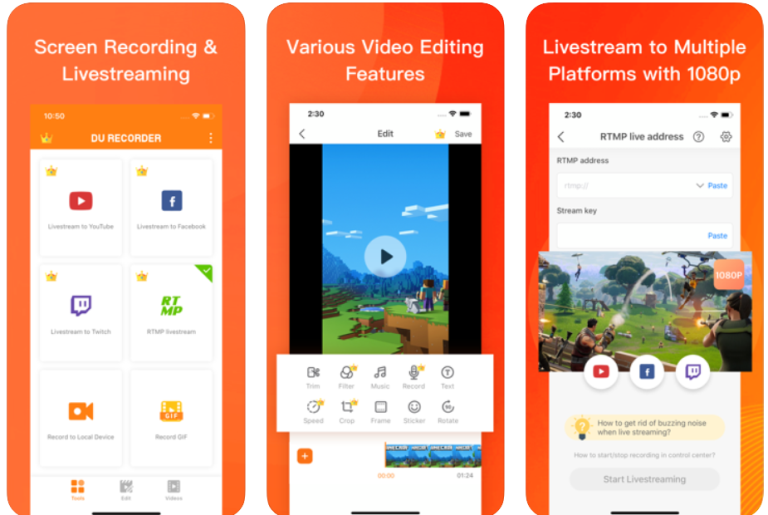 DU Recorder is a powerful snapchat screenshot app to deliver multiple functionalities to both Android and iPhone users. This app not only records screen content in High Quality but also supports simultaneous recording of the microphone and internal audio.
This app comes with an additional video editing tool to tweak the recorded videos further. Besides the previous features, this app comes with video quality adjustment options such as frames per second and the output quality. Don't worry about the notification either; it lets you work discreetly on your snapchat stories also. Check Also – Best Unique Wallpaper Apps for Android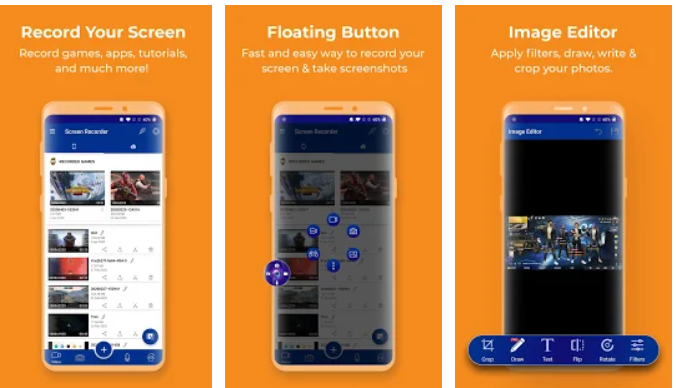 Try this Indian App that allows you to capture a facecam video and recording your mobile screen at the same time. So far, this app has proved to be helpful for app developers who need to record the video to explain the usage of their applications.
You can use it with snapchat while the chat is on or viewing any video or listening an audio. If you are a concerned parent, Screen Recorder is the perfect tool to monitor what your kids are doing. This High-quality app comes free of cost with loads of options to produce high-standard output. Check Also – Best Android Launcher
Apowersoft Screen Recorder is a master tool to save your snaps in HD format without any hassles. If you want to sync your recorded voice with the snaps, this tool must be your first choice. Saving snaps on your android is a walk in the park as this tool can also record your front camera, which is significant in adding your face to game recordings and trimming the ones you shoot or save.
You can share the recorded videos with your friends and family easily on other social networks using your phone. This app incorporates multiple recording preferences and supports medium to HD resolution. The best part is where you just shake your device and start recording with Apowersoft Screen Recorder.
MirrorGo | App That Saves Snapchats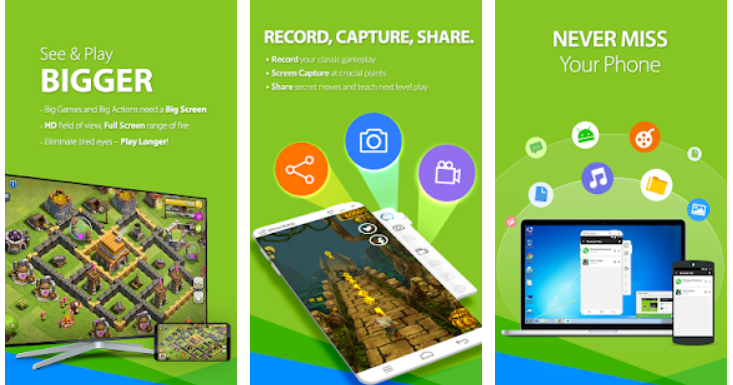 This stream and Snapchat saver app is built by Wondershare Technology Corporates Limited, which not only records your android screen but also mirror your device's screen to the PC flawlessly. You can easily migrate real-time Android screen and watch videos, pictures from the desktop.
MirrorGo is entirely compatible with all of the Android applications, including Snapchat. Besides capturing the small screens, MirroGo is also a handy tool for compiling video tutorials. Take HD screenshot pictures and save videos and stories without any fuss as it goes smoothly with every version of Android. Check Also – Best Android Caller ID Apps
SnapBox | Snapchat Saver iPhone and Android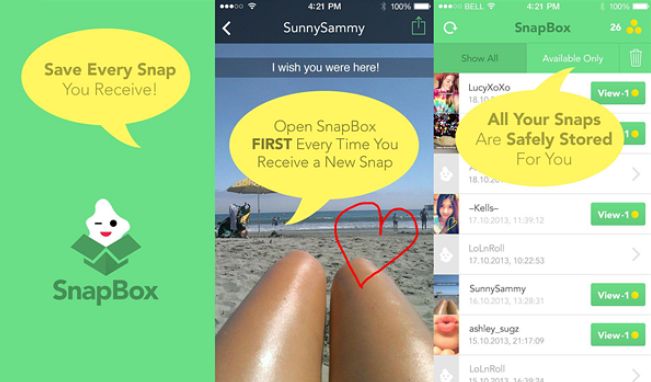 SnapBox is built explicitly to save snapchat stories if you are intrigued to know about it. It's an easy to handle app that protects your Snapchat stories directly to the gallery enabling you to add further editing touches to your photos.
SnapBox keeps your anonymity safe and will also be helpful when you intend to keep things private from your friends. You'll find it pretty friendly that also tends to help you stay up-to-date.
You May Also Like :- Best PUBG Alternatives 
Concluding Thoughts
All the best Snapchat Saver Apps OR Snap Saver for Android and iPhone mentioned above are user-friendly. You'll probably need to read the description for every app if you are worried about your device's compatibility. These certain apps won't require you to register or log in to your account; you can start using these Snapchat savers right away. For an in-depth review, you better read some reviews by other users before installing one. The next time you wonder about how to save snapchat stories? These apps are your answer.
Do you like TechZeal? We Count on You! Don't forget to follow us on Facebook, Twitter, Instagram …!
FAQs
Are There Apps That Save Snapchat?
Yes, there are number of Snapchat saver apps that saves snapchats. You just have to download one of snap saver app to Save Snapchat
How Do I save Snapchats on Android 2022?
Open Snapchat App
Let the app load all the snaps
While the app opened, navigate away from it, so the phone's screen loses focus on it.
Turn off the internet connection.
Go back to snapchat app and open the snap you want to save snap
Take a screenshot
Go back to your profile and click on cog, you may find it at the top right corner (it will open up the setting)
Go to clear cache and click on clear all. That's it.